Police Violence and Perpetual War
Why we shouldn't be surprised that police are using tools of violence against protestors.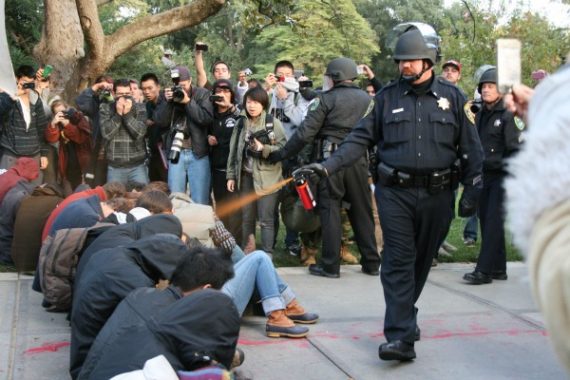 The Atlantic's Alexis Madrigal has an interesting discussion of the ebbs and flows of police violence in crowd control situations in modern American history. Under the provocative headline "Why I Feel Bad for the Pepper-Spraying Policeman, Lt. John Pike," he argues that it's institutions, not individuals, who should receive most of the blame.
Our police forces have enshrined a paradigm of protest policing that turns local cops into paramilitary forces. Let's not pretend that Pike is an independent bad actor. Too many incidents around the country attest to the widespread deployment of these tactics. If we vilify Pike, we let the institutions off way too easy.

That these changes in the police force have occurred is not in dispute. They've been sufficiently open that academics can write long papers detailing the changes in police responses to protests from the middle of the 20th century to today. They are described in one July 2011 paper by sociologist Patrick Gillham called, "Securitizing America." During the 1960s, police used what was called "escalated force" to stop protesters.

"Police sought to maintain law and order often trampling on protesters' First Amendment rights, and frequently resorted to mass and unprovoked arrests and the overwhelming and indiscriminate use of force," Gillham writes and TV footage from the time attests. This was the water cannon stage of police response to protest.

But by the 1970s, that version of crowd control had given rise to all sorts of problems and various departments went in "search for an alternative approach." What they landed on was a paradigm called "negotiated management." Police forces, by and large, cooperated with protesters who were willing to give major concessions on when and where they'd march or demonstrate. "Police used as little force as necessary to protect people and property and used arrests only symbolically at the request of activists or as a last resort and only against those breaking the law," Gillham writes.

That relatively cozy relationship between police and protesters was an uneasy compromise that was often tested by small groups of "transgressive" protesters who refused to cooperate with authorities. They often used decentralized leadership structures that were difficult to infiltrate, co-opt, or even talk with. Still, they seemed like small potatoes.

Then came the massive and much-disputed 1999 WTO protests. Negotiated management was seen to have totally failed and it cost the police chief his job and helped knock the mayor from office. "It can be reasonably argued that these protests, and the experiences of the Seattle Police Department in trying to manage them, have had a more profound effect on modern policing than any other single event prior to 9/11," former Chicago police officer and Western Illinois professor Todd Lough argued.

No one wanted to be Seattle and police departments around the country began to change. "In Chicago for example, paramilitary gear such as that worn by the Seattle Police was quickly acquired and distributed to officers," Lough continued, "and the use of force policy was amended to allow for the pepper spraying of passive resistors under certain circumstances." (That emphasis is mine.)

9/11 put the final nail in the coffin of the previous protest-control regime. By the time of the Free Trade of the Americas anti-globalization protests in Miami broke out eight years ago this week, an entirely new model of taking on protests had emerged. People called it the Miami model. It was heavily militarized and very forceful. The police had armored personnel carriers.
That's a generous excerpt but there's a lot more at the link and I encourage you to read the whole thing. But I tend to agree: Pike's blase spraying of peaceful college students with a chemical agent is a function of his socialization and training; he's probably not a monster at all. As a former military officer, I'm both fully aware of the process of training decent human beings into trained killers and horrified at the notion that we're applying the same techniques to domestic law enforcement forces.
Yesterday afternoon, Glenn Greenwald asserted, "There's a common bond b/w those supporting drones to kill without due process & pepper-spraying peaceful protesters: #Authoritarianism." I pushed back against this quite vigorously, because I simply view domestic law enforcement and warfighting to be completely separate matters with very different rulesets. Democracies have often been quite ruthless in the use of force against wartime enemies while respecting civil liberties at home.
While I've got some serious concerns about our use of drone warfare in Pakistan and elsewhere, it doesn't concern me in nearly the same way that domestic police brutality does. The nature of the state is that the duty of the government to protects its citizens is high. That means bending over backwards to protecting their rights at home. And it sometimes requires being ruthless in the pursuit of enemies abroad. I'm a staunch advocate of the laws of war and the duty to protect non-combatants in war zones. But even the most staunch proponents of humane conduct of war recognize combat as a more permissive environment for violence than the fighting of crime at home.
But Keith Boyea interjected with a salient point: "unending wars can lead to war-like tactics at home."
The United States has seldom not been at war since roughly 1940. We were in World War II well before Pearl Harbor and once our intervention began in earnest it had a tremendous domestic impact. WWII was quickly followed by Korea and then Vietnam. Moreover, the National Security Act of 1947 and the Cold War in general meant that we had a permanent national security state. We didn't draw down our military force and accepted a wartime footing as background noise.
After the Cold War, this abated to some extent. But America's professional soldiers–including its large reserve component that had previously been thought of as an emergency-only force–soon began a deployment tempo that outpaced what had been the norm in the Cold War with action in the Persian Gulf, Somalia, Bosnia, Kosovo, Haiti, and elsewhere. And then 9/11 kicked us into a war with no end in sight against "terrorists with a global reach."
The upshot of all of this has indeed been a creeping authoritarianism. Police forces have become "first responders" whose Orders Must Be Obeyed. (Hell, we've done the same with airline flight attendants.) We've accepted all manner of indignities and intrusions on our liberty in the name of fighting terrorism and keeping the public safe. We dutifully stand in line to be searched in all manner of places now, emptying our pockets and taking off our jackets and shoes. And we're quite literally not allowed to question any of this, lest we be detained. While we're still innocent until proven guilty in a court of law, we're presumed guilty everywhere else and have to prove that we're not terrorists or criminals.
UPDATE: Greenwald was apparently writing his extended analysis at the same time as I was this morning. In a posting titled "The roots of the UC-Davis pepper spraying," he makes several salient points.
Despite all the rights of free speech and assembly flamboyantly guaranteed by the U.S. Constitution, the reality is that punishing the exercise of those rights with police force and state violence has been the reflexive response in America for quite some time. As Franke-Ruta put it, "America has a very long history of protests that meet with excessive or violent response, most vividly recorded in the second half of the 20th century." Digby yesterday recounted a similar though even worse incident aimed at environmental protesters.

The intent and effect of such abuse is that it renders those guaranteed freedoms meaningless. If a population becomes bullied or intimidated out of exercising rights offered on paper, those rights effectively cease to exist. Every time the citizenry watches peaceful protesters getting pepper-sprayed — or hears that an Occupy protester suffered brain damage and almost died after being shot in the skull with a rubber bullet — many become increasingly fearful of participating in this citizen movement, and also become fearful in general of exercising their rights in a way that is bothersome or threatening to those in power. That's a natural response, and it's exactly what the climate of fear imposed by all abusive police state actions is intended to achieve: to coerce citizens to "decide" on their own to be passive and compliant — to refrain from exercising their rights — out of fear of what will happen if they don't.
Now, I think this goes overstates the situation. Rather than a grand scheme to discourage protest, I see it mostly as a police force which sees themselves as warriors and "civilians" as the enemy, who must be bullied into submission. This comes from a variety of sources and is at least understandable, if still impermissible, for police accustomed to dealing with gang violence and a confronted by organized criminal activity hardly distinguishable from an insurgency from a fight-or-flight standpoint.
But there are far too many Americans, as illustrated by some of the comments below, who are under the impression that any infraction of any law–even misdemeanor disturbing the peace or trespass ordinances–can reasonably be met with police violence. This is an authoritarian mindset bordering on Fascism: if you're not doing anything wrong, why, you have nothing to fear.
Pervasive police abuses and intimidation tactics applied to peaceful protesters — pepper-spray, assault rifles, tasers, tear gas and the rest — not only harm their victims but also the relationship of the citizenry to the government and the set of core political rights. Implanting fear of authorities in the heart of the citizenry is a far more effective means of tyranny than overtly denying rights.
Again, I don't see this as part of a coordinated scheme in the way Greenwald seems to. But we're in agreement that the primary harm here is the long lasting damage to society and the citizens' relationship to its government than the incidental harm to individual protestors.
Where we depart most seriously, though, is in this conclusion:
This is the most important effect of the Occupy movement: acts of defiance, courage and conscience are contagious. Just as the Arab Spring clearly played some significant role in spawning, sustaining and growing the American Occupy movement, so too have the Occupy protesters emboldened one another and their fellow citizens. The protest movement is driving the proliferation of new forms of activism, citizen passion and courage, and — most important of all — a sense of possibility. For the first time in a long time, the use of force and other forms of state intimidation are not achieving their intended outcome of deterring meaningful (i.e., unsanctioned and unwanted) citizen activism, but are, instead, spurring it even more. The reaction to these protests are both highlighting pervasive abuses of power and generating the antidote: citizen resolve to no longer accept and tolerate it. This is why I hope to see the Occupy movement — even if it adopts specific demands — remain an outsider force rather than reduce itself into garden-variety partisan electioneering: in its current form, it is demanding and re-establishing the indispensable right of dissent, defiance of unjust authority, and sustained protest.
I truly hope Occupy doesn't devolve into rioting. We've got real problems in this country with the scope of government power but this isn't Mubarak's Egypt. Here "authoritarian" is a tendency that we need to combat and that people like Greenwald and I can openly and forthrightly discuss without fear of reprisal and stronger than stupid comments from Internet trolls. Organized interests, particularly monied ones, have outsized influence in our system precisely because they care whereas most of us are apathetic most of the time. But there are still nonviolent political tools at our disposal and protests must be peaceful and, for the most part, law abiding.
There are times when civil disobedience is permissible, even necessary. The movement to end Jim Crow is a classic example. In that case, the laws themselves were unjust. Massive breaking of those laws–in a nonviolent manner–was necessary to bring attention to that injustice. Throngs of people being arrested for doing nothing more than sitting at the front of a public bus or trying to order lunch in a restaurant created a powerful image. That police often used violence against these peaceful protests only made the message more powerful.
It's hard to make the same case about the right to set up permanent campsites in urban parks or the right to block access to buildings on a college campus. One can question the wisdom of breaking them up with police action; the authorities in Washington, DC have wisely, I think, looked the other way against technical violations of the law to avoid an unseemly conflict with demonstrators. But authorities have a right to demand that the law be enforced and police have a duty to professionally enforce it.