Political Experts Who Don't Understand Politics
49 "experts in governance and democracy" to call for nonsensical reforms to the presidential debates.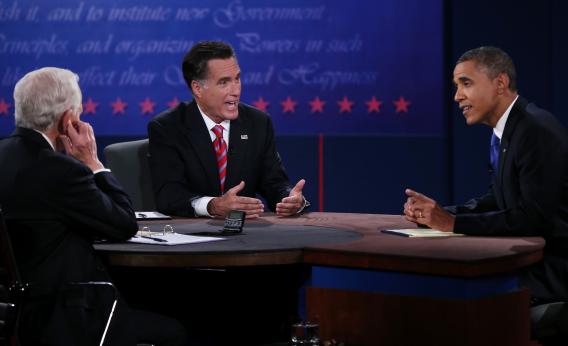 Lee Hamilton and Vin Weber have "joined 47 other experts in governance and democracy" to call for nonsensical reforms to the presidential debate process. In particular:
The outcome we want is simple: to create a viable competition for a third spot on the debate stage. We don't want a clown show, and we don't want our debates, which are steeped in years of great tradition, to be derailed. But if a qualified candidate is not allowed to participate in the general election presidential debates, with the vast media exposure and legitimacy they confer, the party is over before it begins.

What we propose is grounded in three core principles that can provide a road map for reform and are easy for the debate commission to implement.

First, there must be a competition — not an arbitrary polling hurdle — open to all nonmajor party candidates. Second, the competition must feature direct voter engagement in order to measure a candidate's relative strengths and legitimacy. And third, the competition must yield one winner by April 30, 2016, allowing enough time for earned media to boost his or her national name recognition, so that by Election Day it would be equivalent to the Democratic and Republican nominees.

[…]

The debate commission must stop ducking and embrace reforms by early summer or we will be stuck with yet another "closed-door masterpiece" instead of dynamic debates that provide Americans with the political choice they are desperate for. This is stifling the kind of competition that our own parties need in order to move closer to the public mood on important issues.
Now, goodness knows that there are all manner of problems with the presidential debates, both in the primaries and in the general. To the extent that debates theoretically matter in helping people decide for whom to vote—and the evidence on that is thin—the current format is awful. They're boring, stilted, and not really debates at all but a series of mini-speeches followed by attempts to interrupt one's opponent and get in pre-scripted zingers.
But why in the world would we want to add a third person to the debates? The last time we did that was with Ross Perot and that experience may well have been the origin of the term "clown show."
Given our bizarre electoral system of 51 first-past-the-post contests, all but two of which are winner-take-all at-large, adding a third candidate simply acts as a spoiler. Not only would the third candidate take time away from the two candidates who have a theoretical chance of winning the presidency—aka, Hillary Clinton and a Republican nominee yet to be selected—but boosting their name recognition and legitimacy will increase the number of votes cast in favor of the least-disliked plausible winner.  To the extent that 2016 is really a toss-up, Hamilton, Weber, and company are encouraging another 2000, wherein the preferred plausible candidate loses because too many of those who preferred him to the other plausible candidate instead cast their vote for an implausible candidate they'd have preferred in an ideal world.
The 39 signatories are members of something called "Level The Playing Field." While I'm not sure I'd call all of them "experts in governance and democracy," their number include some very prominent political scientists and a gaggle of fairly successful national level politicians along with some business and military leaders. Most of them should know better.