Politics And Gas Prices: In Chart Form!
This chart setting forth the results of two different Washington Post/ABC News polls, one from 20o6 and one from 2012, raises some very interesting points: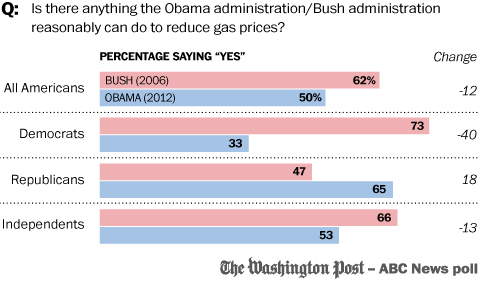 A few observations:
In 2006, the vast majority of Democrats believed that the (Republican) Administration could do more to do reduce gas prices. In 2012, only one-third of Democrats believe that there anything more that the (Democratic) Administration can do to reduce gas prices.
In 2006, a majority of Republicans believed that there wasn't much more the (Republican) Administration could to to reduce gas prices. In 2012, nearly two-thirds of Republicans say that the (Democratic) Administration could be doing more to reduce gas prices
As for independents and the population as a whole, I would argue that the major reason for the difference between the response six years ago and the response today has to do with the relative popularity of the incumbent. By 2006, George W. Bush's approval numbers had already started to dip in to the low 30% range1 so it's not entirely surprising that the public as a whole would have a more negative view of him when it came to a pocket book issue like gas prices.
To me, though, the more striking thing about the chart is two fold. First, there's how clearly it demonstrates partisan bias. Obviously, Democrats are more likely to blame a Republican President for something that they may not actually have much control over than they are a Democrat, and vice versa for Republicans. From my perspective, that's yet another argument against viewing the world through partisan blinders. Second, there's the inherent silliness of polling voters on a question that can really only be answered by economists.Either the President can influence gas prices, or he cannot. What the general public thinks about it is important with regard to that President's overall approval numbers perhaps, but it doesn't change the underlying facts. You may as well be polling people on whether they approve of gravity.
1 According to the historical data from Gallup.