Poll Finds Republicans Think Trump Is A Better President Than Lincoln
Further evidence that the Republican Party has turned into a cult of personalty built around Donald Trump.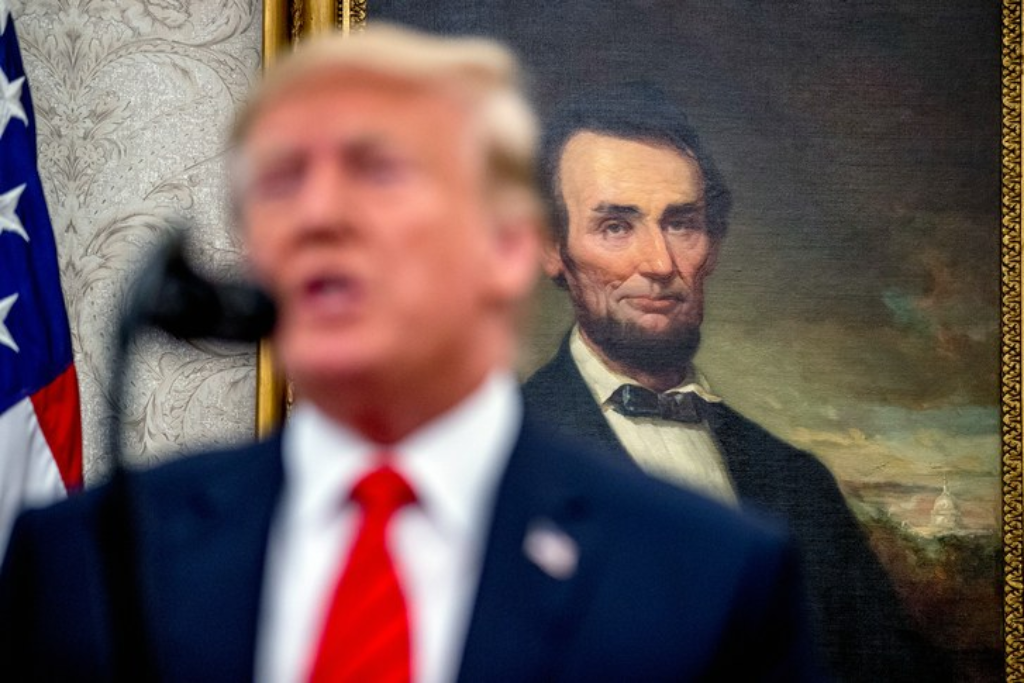 In yet another example of the extent to which the Republican Party has become the Party of Trump, a new poll indicates that a majority of self-identified Republicans believe that Donald Trump is a better President than Abraham Lincoln, the first Republican to serve as President who of course guided the Union through its greatest existential crisis:
A majority of Republicans believe President Trump is a better leader than Abraham Lincoln, who guided the nation through the Civil War.

The Economist and YouGov conducted a poll from Nov. 24-26 of 1,500 American adults. In the wide-ranging poll, researchers asked Americans to compare Trump to past U.S. presidents.

Fifty-three percent of Republicans said that Trump is a better president than Lincoln. For Democrats and Independents, Lincoln is considered to have been the better president with 94% and 78%, respectively.

Republican adults were the only segment polled that considered Trump to be a better president than Lincoln.

Researchers conducted the poll days after House Democrats wrapped up the first round of public hearings in the impeachment proceedings into Trump. Democrats may decide to conduct more hearings after Thanksgiving or pass impeachment articles against the president, which would lead to a trial in the Senate.
Taking into account the fact that President Trump's Job Approval number among Republicans range from the high 70s to the high 80s, it's perhaps not surprising that modern Republicans would view Donald Trump more positively than they would the man who freed the slaves and saved the Union. That being said, there is perhaps no better measure of the extent to which the Republican Party has become a cult of personality with Donald Trump at its center. These are the kinds of things that happen when you have supporters and hangers-on claiming that Trump was "chosen by God" to lead the nation and stomping down anyone who dissents from that view.
In reality, of course, the mere suggestion that Trump is a better President than Lincoln, or indeed better than any of the 18 Republicans who have served as President prior to Trump's inauguration is utterly absurd. With the possible exception of Richard Nixon, who could at least point to a successful domestic policy record that included things such as the Clean Air Act, Clean Water Act, and establishment of the Environmental Protection Agency and a foreign policy that included the opening to China and a detente with the Soviet Union that ended years of high Cold War tensions, there isn't a single Republican who can be said to have done as much damage to the country as Trump has in just 2 3/4 years. Additionally, there are few Republicans who have proven to be as incompetent as he has been when it comes to foreign policy, where he seems intent on engaging in policies that weaken our allies and strengthen our adversaries. To the extent there has been anything of substance accomplished under Trump, it consists of things that any Republican President would have done without bringing along with them the baggage of xenophobia, self-dealing, and corruption that we've seen from this President.
None of this matters to the members of the cult, though In their eyes not only can Trump do no wrong, but he has accomplished so much that questioning his Presidency can only mean that you are a far-left lunatic who hates America, Mom, and Apple Pie. It's insane, of course, but it is exactly what's happening and it's dangerous territory for a representative democracy that presumes that the public will be acting rationally when they go to vote. What poll results like this show us, though, is that there is a significant segment, indeed perhaps a majority, of one of America's major political parties that has quite literally lost its collective mind.