Poll: Wisconsin Residents Evenly Divided On Budget Standoff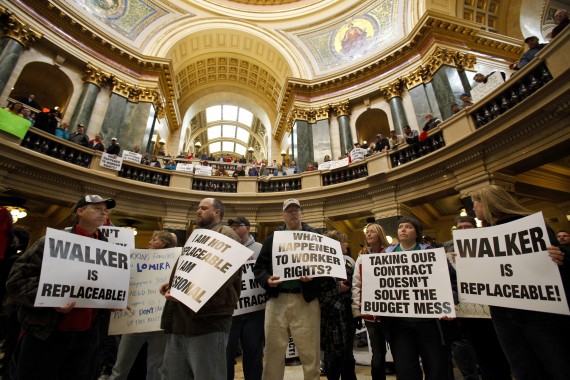 The first poll of Wisconsin residents on the budget showdown between Governor Scott Walker and Democrats and their union supporters shows Badger State residents pretty much evenly divided:
Wisconsinites are split 50-50 on their support of Gov. Scott Walker's budget repair bill and the union workers protesting the legislation, according to a new poll sponsored by WisconsinReporter.com.

The poll of 500 likely voters, which was conducted on Monday, Feb.21, showed 50 percent had a "very favorable" or "somewhat favorable" opinion of Walker's bill, while the same percentage had a "somewhat favorable" or "very unfavorable" opinion.

Similarly, 49 percent of those polled had a "very favorable" or "somewhat favorable" opinion of the protesters, with 48 percent "somewhat unfavorable" or "very unfavorable," and 3 percent undecided.

The results come as the controversy over the $137 million budget repair bill nears the two-week mark Friday. The legislation would require most public employee union members to increase their contributions to pensions and health care plans to 5.8 percent and 12.6 percent, respectively.

The most controversial aspect of the bill, however, calls for the end of most collective-bargaining rights for the state's public employee unions, who only would be allowed to bargain over salary.

According to the poll, 56 percent say Wisconsin state employees and public employee unions should have collective bargaining powers. Thirty-two percent disagree, and 12 percent of those polled are unsure.
There's enough in this poll for both sides to claim their winning the public relations war, which likely means the standoff will continue.