Pope Francis Is Very Good At Being Pope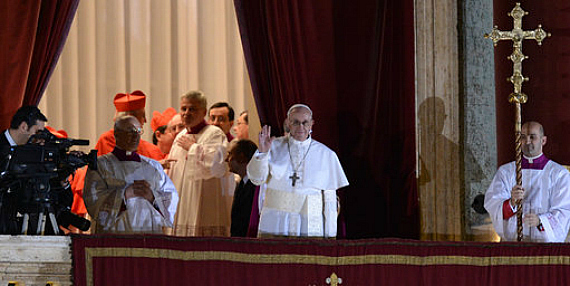 Buzzfeed has the story of an incident that occurred at the close of Pope Francis's regular Wednesday service in St. Peter's Square that strikes me as being an example of the simple kind of humanity and compassion that seems to be lacking in our world today, which this Pope seems determined to demonstrate to the world:
Pope Francis was departing St. Peter's Square after Wednesday's general audience when he saw a severely disfigured man amidst the crowd of worshippers.

Ignoring the deformities covering the man's face and neck, Pope Francis descended from his vehicle, walked to the sick man, and kissed him on the forehead.
Some of the photos at the links are somewhat disturbing, so be warned about that.
While I was raised Catholic, I can't say I'm a particularly religious person at this point, but I must say that Francis has impressed me very much, just as a human being, in the months since his Papacy began.