Post Office Can't Satisfy Christmas Demand
More packages are being mailed than ever and USPS can't keep up.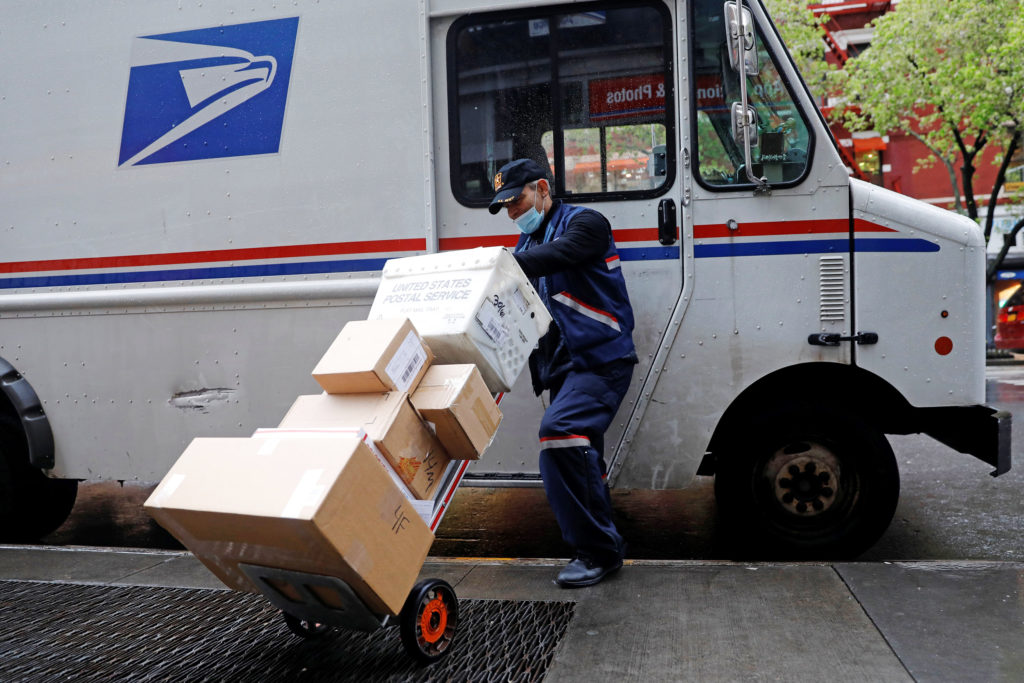 WaPo ("Millions of Christmas presents may arrive late because of Postal Service delays"):
Competing crises are slamming the U.S. Postal Service just days before Christmas, imperiling the delivery of millions of packages, as the agency contends with spiking coronavirus cases in its workforce, unprecedented volumes of e-commerce orders and the continuing fallout from a hobbled cost-cutting program launched by the postmaster general.

Nearly 19,000 of the agency's 644,000 workers have called in sick or are isolating because of the virus, according to the American Postal Workers Union. Meanwhile, packages have stacked up inside some postal facilities, leading employees to push them aside to create narrow walkways on shop floors.

Some processing plants are now refusing to accept new mail shipments. The backlogs are so pronounced that some managers have reached out to colleagues in hopes of diverting mail shipments to nearby facilities. But often, those places are full, too. Meanwhile, packages sit on trucks for days waiting for floor space to open so the loads can be sorted.

"[Customers] are screaming, 'Where's my package? Why did it go to Jacksonville, Fla., when it's going to Miami?' " said Martin Ramirez, president of the APWU Local 170 in Ohio. "I can't speak on that. I've never seen this before where these places are overflowing."

The end result: Many families won't see online orders arrive in time for Christmas.

Through Dec. 12, the start of the Postal Service's busiest period for package deliveries, parcel volume was up 14 percent compared with the same period in 2019, the agency told mailing industry officials. That surge has employees in some areas working upward of 80 hours a week, including some who have worked every day since Thanksgiving without a weekend. In Philadelphia, people are scheduled to work Christmas Day, said one mail carrier, who like others in this report spoke on the condition of anonymity to avoid retribution.

Mail performance has plummeted: Only 75.3 percent of first-class mail, such as letters and bills, arrived within the standard one- to three-day delivery window the week of Dec. 5, according to the most recent agency data available. This time last year, the mail service's on-time score was closer to 95 percent.

Private express carriers, also inundated by package shipments, have stopped serving some retailers, sending more items through the Postal Service.

The agency is receiving as many as 6 million packages a day since FedEx and UPS enacted restrictions on large-volume retail shippers in early December, according to industry tracking firm ShipMatrix. For the week of Dec. 6, FedEx delivered 93.9 percent of its parcels on time, UPS delivered 96.1 percent, and the Postal Service, 87.5 percent. The agency's drop in performance compared with the previous two-week period held up more than 3.5 million parcels by one or more days.

"Companies like FedEx and UPS have done some pretty dramatic things to limit the flow, the volume of packages through their system," said Former Army secretary and GOP congressman John McHugh, chairman of the Package Coalition, an advocacy group made up of businesses and consumers that rely on the Postal Service for mail delivery. "Postal Service can't and wouldn't do that. They take on all comers. So you can well imagine that those are who are being turned away from FedEx, UPS and perhaps others are in all likelihood going to turn to the Postal Service."
The culprit I expected when I clicked on to the story gets only a passing mention in paragraph 12:
Adding to the slowdowns is on-the-ground confusion over the cost-cutting initiatives that Postmaster General Louis DeJoy implemented during the summer and then paused at the direction of five federal courts. The Postal Service has appealed several of those rulings.
So, aside from "confusion," the much-ballyhooed slowdown hasn't happened.
It looks, then, like the culprits are these:
The pandemic has accelerated the trend towards online shopping
We've gotten so accustomed to one- and two-day delivery that we're not adjusting to this
Lots of workers are calling in sick
The Post Office is the mailer of last resort, whereas private delivery services can refuse to take on more than they can handle
Because they're able to throttle the work they take on, FedEx and UPS will maintain their track records whereas USPS will look inefficient—generating more calls to privatize them entirely.
One presumes, though, that most people who don't get their packages on time will blame Amazon and other retailers rather than the shipping companies. After all, they're the ones who promised to get us the stuff in time for Christmas.
So, another fallout is likely to be that Amazon will invest more in its own delivery infrastructure. Already, a goodly number of their packages arrive at our house in their signature vans. But we'll sometimes get two or three deliveries a day: one from an Amazon van, one from the USPS, and another from UPS. I suspect we'll mostly see the vans in the coming years.