Potential Hurricane Could Threaten Tampa During Republican Convention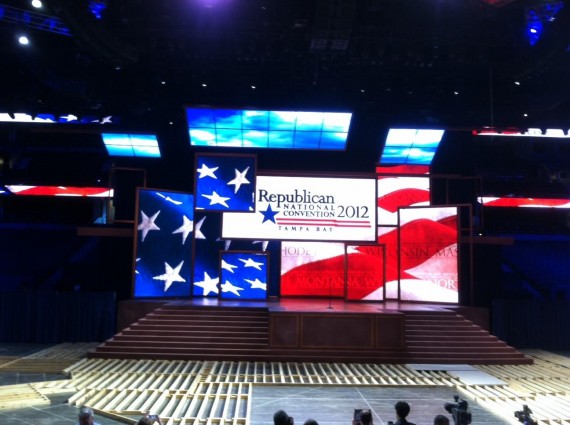 With the Republican National Convention set to start on Monday, there are going to be plenty of people in Tampa paying attention to the weather forecast now that what may become Hurricane Isaac could threaten the Gulf Coast of Florida next week: 
For three straight simulations, NOAA's Global Forecast System (GFS) model has tracked a tropical system right over the Florida peninsula through or close to Tampa just as the Republican National Convention is ramping up. Assuming this system – presently a little swirl in the open Atlantic – strengthens some, it will be named Isaac.

Before anyone gets alarmed or excited, consider forecasts of the path and intensity of tropical systems this far out have essentially no skill. As our tropical weather specialist Brian McNoldy said earlier: "In the 5-7 day period and beyond, weather details become fairly unpredictable.

(…)

Since 1852, the Tampa area been hit by 27 hurricanes including 6 during the month of August the ABC News report said.

Colorado State University Tropical Meteorology Project has developed a toolthat shows the historic probability of a named storm affecting the region around Tampa is 20 percent in any given season. The odds of a direct hit near Tampa is around 3 percent.

Jeff Masters of wunderground, who wrote a detailed blog post on the risk of a storm hitting Tampa during the convention, says the risk of a highly disruptive the storm that would trigger evacuations during the convention itself is smaller:

"[H]istory suggests that the odds of a mass evacuation order being given during the 4-day period that the Republican National Convention is in town are probably around 0.2%," he wrote.

But if powerful hurricane did strike the Tampa Bay region – either during the convention or some other time – the effects could be devastating.

Climate Central's Andrew Freedman ranked Tampa-St. Petersburg the most vulnerable U.S. city to hurricanes ahead of Miami and New Orleans. He noted 125,000 people live below 6.5 feet above high tide, which a large storm surge could overwhelm.

"In St. Petersburg alone, there are more than 45,000 homes that lie below 6 feet in elevation, and would likely be vulnerable to a storm surge of that magnitude or greater," Freedman wrote.
Brendan Loy, the blogger who earned his stripes during the approach of Hurricane Katrina,  reminds us that this isn't the first time a Republican Convention has had to deal with a Hurricane:
Four years ago, the GOP had to struggle with how to set the proper tone for its convention while Hurricane Gustav was impacting the Gulf coast. But the convention was far away in Minnesota. This time, conceivably — and I emphasize again that it's very, very early, and anyone from Mexico to Maine could be this storm's eventual landfall target — conceivably, the party might have to deal with some more direct effects of hurricane season.

The convention is set to begin Monday, August 27. That's also roughly when Isaac might be showing up,perhaps in the vicinity. Stay tuned, as they say.
Indeed. Convention and local officials say they'll be prepared, and it's just as likely that the storm won't be anywhere near  Tampa next week, or that it will have weakened seriously once it hits islands it has to pass over before reaching the Gulf of Mexico. Nonetheless, keep your eyes on the maps, I'm sure the people at the RNC will be.
Photo via Tampa Bay Online