Preschooler Forced to Eat Chicken Nuggets After Bag Lunch Fails State Inspection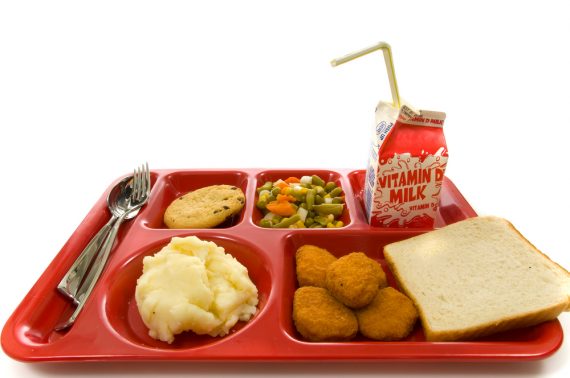 The nanny state's food police cited a preschooler for bringing a turkey sandwich to school, instead of getting the nutritious processed fried chicken parts being sold by the school.
Carolina Journal ("Preschooler's Homemade Lunch Replaced with Cafeteria "Nuggets" – State agent inspects sack lunches, forces preschoolers to purchase cafeteria food instead"):
A preschooler at West Hoke Elementary School ate three chicken nuggets for lunch Jan. 30 because a state employee told her the lunch her mother packed was not nutritious.

The girl's turkey and cheese sandwich, banana, potato chips, and apple juice did not meet U.S. Department of Agriculture guidelines, according to the interpretation of the agent who was inspecting all lunch boxes in her More at Four classroom that day.

The Division of Child Development and Early Education at the Department of Health and Human Services requires all lunches served in pre-kindergarten programs — including in-home day care centers — to meet USDA guidelines. That means lunches must consist of one serving of meat, one serving of milk, one serving of grain, and two servings of fruit or vegetables, even if the lunches are brought from home.

When home-packed lunches do not include all of the required items, child care providers must supplement them with the missing ones.

The girl's mother — who said she wishes to remain anonymous to protect her daughter from retaliation — said she received a note from the school stating that students who did not bring a "healthy lunch" would be offered the missing portions, which could result in a fee from the cafeteria, in her case $1.25.
This sounds outrageous. And . . . a little fishy. Reading further into the story:
"With a turkey sandwich, that covers your protein, your grain, and if it had cheese on it, that's the dairy," said Jani Kozlowski, the fiscal and statutory policy manager for the [Division of Child Development]. "It sounds like the lunch itself would've met all of the standard." The lunch has to include a fruit or vegetable, but not both, she said.

There are no clear restrictions about what additional items — like potato chips — can be included in preschoolers' lunch boxes.

"If a parent sends their child with a Coke and a Twinkie, the child care provider is going to need to provide a balanced lunch for the child," Kozlowski said. Ultimately, the child care provider can't take the Coke and Twinkie away from the child, but Kozlowski said she "would think the Pre-K provider would talk with the parent about that not being a healthy choice for their child."

It is unclear whether the school was allowed to charge for the cafeteria lunches they gave to every preschooler in the class that day.

The state regulation reads:  "Sites must provide breakfast and/or snacks and lunch meeting USDA requirements during the regular school day. The partial/full cost of meals may be charged when families do not qualify for free/reduced price meals. When children bring their own food for meals and snacks to the center, if the food does not meet the specified nutritional requirements, the center must provide additional food necessary to meet those requirements."

Still, Kozlowski said, the parents shouldn't have been charged. "The school may have interpreted [the rule] to mean they felt like the lunch wasn't meeting the nutritional requirements and so they wanted the child to have the school lunch and then charged the parent," she said. "It sounds like maybe a technical assistance need for that school."
So, it sounds like some underpaid cafeteria worker was poorly trained in implementing the regulations and that there isn't some widespread practice of docking parents for providing inadequate lunches.
The wider question is whether the state education system ought to be in the position of inspecting the lunches preschoolers bring from home. My gut instinct is that, Hell no they shouldn't. Where are we, Communist Roosha or something?
Certainly, it's going way too far to have a daily inspection of each kid's lunchbox. On the other hand, there is a lot of really bad parenting going out there. Maybe some parents can't afford to send their kids to schools with decent lunches but are either somehow unaware of free lunch programs or too proud to sign up. Or maybe they've allowed their kids to eat nothing but Twinkies because it's easier than dealing with cranky toddlers. It's reasonable enough for teachers and other school officials to keep an eye out on what the kids are eating and take note if Johnny is eating nothing but junk food every day. And maybe call Johnny's parents and inquire into the matter.
UPDATE: Mark Thompson does more digging and calls this a "non-troversy." Citing a story from something called the John W. Pope Civitas Institute,  he summarizes:
For starters, the context in which all of this occurred was a public school pre-K program run by the state popularly known as "More at Four," but now called the generic name "NC Pre-K."  In order to have a child enrolled in this program, which has a limited number of slots, the parents must actively choose to enroll, with priority going to "at-risk" children, to wit: special needs children and (importantly) low-income children.

[…]

[T]he "state agent" in this story turns out to be nothing more than a researcher from a program that grades the performance of pre-schools and operates out of the FPG Child Development Institute at the University of North Carolina at Chapel Hill.  It also does not appear that this institute has any actual authority other than to provide assessments, which the state then uses in making licensing decisions and in setting the fees it will pay the day care provider for subsidized care.

Notably, as the second-linked story above suggests, the mother's main gripe here does not even appear to be with this "state agent," but instead with the school's teachers, who continue to give the girl milk and vegetables despite letters from the mother asking them not to.  Indeed, the notion that this "state agent" was going around inspecting every single lunch box brought to the school does not appear to have much basis, as the agent apparently ordered full school lunches for every single child in this program and was evaluating the school's compliance with standards, not individual parents' compliance.  Even if he was doing such an inspection, there's a pretty obvious context-specific reason for it: this is an opt-in program for parents who largely can't afford to provide fully balanced meals.

[…]

By and large, what this story boils down to is that a low-income child whose tuition is fully subsidized by the state under a program her mother opted into was offered some additional food to supplement the boxed lunch she brought from home.  This option was provided not because of some overarching, generally applicable law or regulation, but because the program in which her mother and school voluntarily participate requires such an option be available.
This bolsters my initial sense that something "fishy" was going on with regards to the controversy. In an opt-in program for at-risk kids, the rationale for state action increases and the sense of outrage over the presumption that parents wouldn't be providing acceptable nutrition for their children decreases. Even so, I'm a bit uneasy about the notion of state-appointed "researchers" doing an inventory of every kid's lunch.
School lunch image via Shutterstock