President Obama Delivers Low-Key, Low-Ambition State Of The Union
The President's sixth State Of The Union Address was fairly low-key.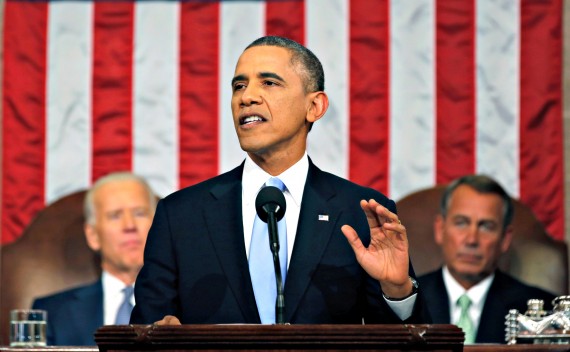 Going into last night's State of the Union Address, early reports indicated that President Obama was going to set a defiant and confrontational tone with a Congress that seems unlikely to do much more to advance his agenda than it did after last year's Address by using his authority to sign Executive Orders to make end runs around Congress where he could, and utilizing the bully pulpit where Executive Orders could not reach. In some sense, he did do that with announcements such as the fact that he would be signing an Executive Order that would raise the minimum wage that Federal Contractors are required to pay their employees when working on Federal Government contracts, although it's worth noting that this order does not impact any ongoing contracts, only applies to future contracts that the government signed, and may well be subject to efforts to block its effectiveness by Congress acting through the appropriations process. There were threats and promises of other actions on the President's part, but, as Ron Fournier notes, in the end the President presented a rather modest agenda, likely in recognition of the fact that he is fast approaching lame duck status:
Is that all there is?

In what may be his last, best chance to revive a presidency that has fallen far short of its promise, Barack Obama unveiled his 2014 agenda Tuesday night: small-bore executive orders, studies, summits, and legislation, long-seasoned and stalled. "America does not stand still," he said, "and neither will I."

He focused on the era's seminal issue, loss of social mobility and income equality in a post-industrial, global economy. "The cold, hard fact is that even in the midst of recovery, too many Americans are working more than ever just to get by—let alone get ahead," Obama said to a joint session of Congress attending his annual State of the Union address.
 Another cold, hard fact: Obama may not have the skill, the will, or the time to do much about it.It was a good speech about a modest agenda delivered by a diminished leader, a man who famously promised to reject the politics of "small things" and aim big—to change the culture of Washington, to restore the public's faith in government, and to tackle enduring national problems with bold solutions. The night he sealed the Democratic nomination in 2008, candidate Obama looked forward to a day when future generations might say "this was the moment when the rise of the oceans began to slow and our planet began to heal."

Tuesday night was no such moment.

It was, instead, a moment in miniature: an executive order to raise the minimum wage for future federal contractors, and another to create "starter" retirement accounts; summits on long-term unemployment and working families; and scores of promises to "continue" existing administration programs.

"What I offer tonight," he said, "is a set of concrete, practical proposals." Oh, such a far cry from "an audacity to hope."
Josh Marshall came away with a similar impression, although he is more upbeat about
There was a lot of talk in advance about the President throwing down the gauntlet and doing a lot through executive action. And then more recently that the essence of the speech would focus on rising economic equality. Both were there. But I took a somewhat different message from listening to him deliver it.

I'd sum it up in two words: "Whatever, guys …"

Gone from the speech was what I'd heard in pretty much every other Obama State of the Union, pressing bipartisan cooperation, finding common ground, pushing points of agreement. There wasn't a contrary note. It was more just ignoring the whole thing, as though the President were saying, "Okay, guys, I get it. You won't do anything. Okay. Fine."

Basically, let's not play that charade anymore.

Partly, he has Obamacare, which he sees as his principal legislative accomplishment. It's still not popular. But neither is repealing it. And the numbers are starting to move in its favor. But as much as anything he said to the Republican opposition, "Fine. You're against it. It may hurt us. But it's not going anywhere. So it's just done. Whether you want to realize it or not."

He also pointed to a handful of things he'll do through executive action.

But as much as anything he seems comfortable (perhaps in some way liberated) with the fact that the legislative phase of his presidency is most likely over and seemed to be announcing what we call its rhetorical phase, using the bully pulpit to point a path for the country to move forward, using executive authority to nudge it forward where he can but mainly leaving a Congress that refuses to function to its own devices.
Ramesh Ponnuru also sees the Clintonian similarities:
It seemed like a laundry list of mostly dinky initiatives, and as such a return to Clinton's style of State of the Union addresses. Those speeches got some bad reviews as oratory but were pretty popular and I suspect this one will go over well too. The speech gives the president the opportunity to present himself as a reasonable guy working hard for the American public, and he did an effective job of that. A few of the ideas in the speech may even be good ones: the "myRA" proposal, for example, seems like it's worth considering. But nobody is going to remember this speech two days from now — with the exception of Obama's very moving closing remarks about Sergeant First Class Cory Remsburg.

Earlier today there was some speculation that Obama would return to the theme of being a "transformative" president who liberated us from the legacy of Ronald Reagan. But the speech was much more cautious than that. The recent campaign against inequality was mostly forgotten (too late for some of the Republican respondents to adjust), cast aside for the theme of expanding opportunity, which has deeper roots in American opinion. Probably the best example of the president's caution came in the section on gun control, which seemed to be there mostly so that nobody could say that it was not — and which mentioned no specific steps Obama was taking to "stand up for the lives that gun violence steals from us." Obama is no longer even trying for a gun control as significant as the one Clinton got. So maybe saying it's a Clintonian speech is giving it too much credit.
In the end, it's not entirely surprising that the President's sixth State of the Union would be fairly low-key. As we enter the final years of his Presidency and, more importantly, another midterm election year, the likelihood of significant legislative action is pretty slim. Indeed, beyond the budget for Fiscal Year 2015 and dealing yet again with the debt ceiling in a matter of only a few weeks, it seems unlikely that we'll see anything major out of Congress this year. Any further action in the area of gun control is dead at least for this year, and likely for the rest of Obama's term. Comprehensive immigration reform still seems like something of a pipe dream not withstanding signs from the GOP that the leadership would still like to find a way to push it through. Initiatives like increasing the federal minimum wage are quite simply not going to make it through the current House Of Representatives. Most importantly, once the spring and summer roll around Congressmen and Senators in both parties are going to start paying attention to primary elections and the ensuing General Election. At that point, the odds of significant legislation passing Congress will decrease significantly, although it is worth noting the 1986 immigration bill passed right before the last round of midterm elections of the Reagan years, and was signed into law by the President just two days after the election itself.
With the possible exception of immigration, though, it's hard to see any significant legislation passing Congress this year. House and Senate Republicans are unlikely to want to cede ground now on issues that they've put up a fight for at least the last four years with primary election fights looming, and Democrats are unlikely to want to make significant compromises on issues that they see as potential campaign issues prior to the General Election. In other words, we're looking at what has become typical Congressional behavior during a midterm election, especially during the sixth year of a two-term Presidency. With midterms around the corner and a Presidential election getting ready to gear up as soon as those are over with, Congress as a whole is going to start paying less and less attention to the President and his agenda and President Obama will begin the quick trip into lame duck territory that every President since the adoption of the 22nd Amendment has experienced. That's why we hear him talking about Executive Orders that, in reality, only accomplish a limited number of things and attempting to branch out into establishing some kind of foreign policy legacy (see e.g., the Iranian nuclear talks and the quixotic quest for an Israel-Palestinian peace deal.) Indeed, when the 2015 State of the Union rolls around, it's likely that President Obama will be even less ambitious in the agenda that he presents to the nation, unless the 2014 elections bring about the rather unlikely event of Democrats taking back control of the House of Representatives.
If nothing else, then, last night's speech was really the beginning of President Obama's status as a lame duck President. He'll resist the implications of that designation for some time, no doubt, but it will come nonetheless and last night we saw the beginning of his transformation.