President Obama Is Down, But Far From Out
There's plenty of good news for Barack Obama in the latest NBC News/Wall Street Journal poll.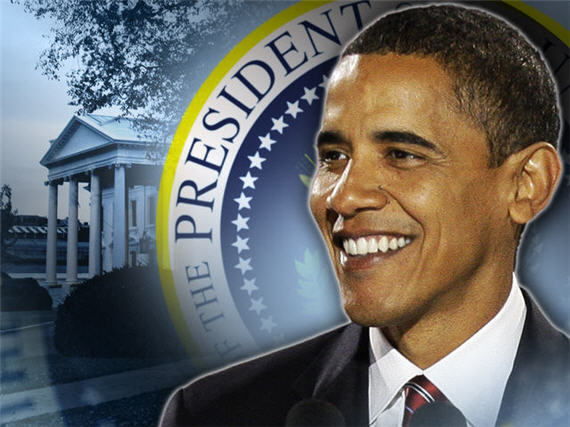 A new NBC News/Wall Street Journal poll shows President Obama in far better shape than one might expect after a mid-term "shellacking" and a tax deal that has put him in trouble with his base:
The survey — which was conducted Dec. 9-13 of 1,000 adults (200 by cell phone) and which has an overall margin of error of plus-minus 3.1 percentage points — comes at essentially the midpoint of the president's four-year term.

In the poll, Obama's job approval rating sits at 45 percent (down two points from last month and tied for his lowest mark on this question), and his economic approval rating stands at 42 percent (which is unchanged from last month).

Indeed, perhaps the most striking observation about Obama's numbers is how stable they've been over the past year.

Despite all the setbacks he and his party have suffered — including the high unemployment rate, the months-long BP spill, and the midterms' shift of power to the GOP in the House of Representatives — his overall job approval rating has remained between 45 percent to 50 percent over the past 12 months.
Perhaps more importantly for Obama, there's evidence that independents may be warming up to him again: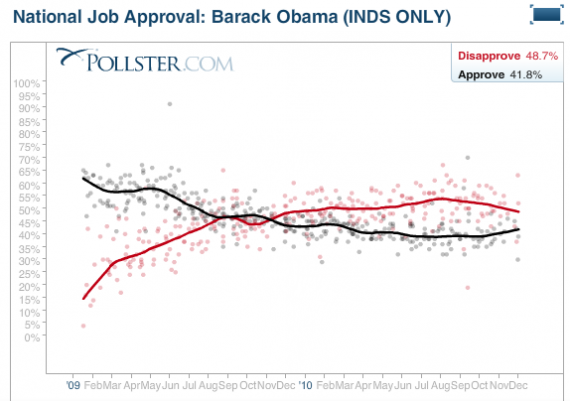 The fact that President Obama is in such  good shape is surprising given the general public attitude about the state of the country. According to the poll, 63% of those survey believe the country is on the wrong track, only 32% think will get better in the next years, and 54% think that the past ten years have been bad, or possibly the worst in American history. So, what explains the President's relatively high approval given such doom and gloom among the electorate? A good part of it seems to be that he remains, on a personal level, a likable person:
For instance, he gets his highest marks for having a strong family and family values (74 percent give him a high rating here), being easygoing and likeable (68 percent), being inspirational and exciting (51 percent) and having strong leadership qualities (49 percent).

But his lowest marks come on being a good commander-in-chief (41 percent), sharing respondents' positions on the issues (35 percent), achieving his goals (33 percent), uniting the country (30 percent) and changing business as usual in Washington (24 percent).

Still, an overwhelming majority of Americans either believe that Obama will be a successful president or they haven't made up their minds yet.

According to the poll, 28 percent say he will ultimately be a successful president, 29 percent say he won't and 42 percent aren't ready to make a judgment.
At this point in his Presidency, Ronald Reagan had a 41% job approval rating, and Bill Clinton had a 42% rating. According to this poll, Obama is outperforming both of them. In other words, the public is still willing to give the President a chance and, if the economy improves, he is likely to be in very good shape when 2012 rolls around.