Presidents, Generals, and War Decisions
Should President Obama do whatever General Petraeus wants in Afghanistan?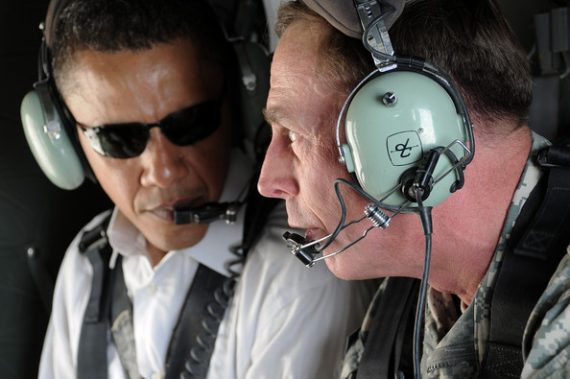 Think Progress' Ali Gharib quotes Senator Saxby Chambliss (R, GA) and Fox host Bill O'Reilly issuing variants of "Whatever General Petraeus says we ought to do in Afghanistan, President Obama should do."
Gharib observes, "For all their crowing about the Constitution, many conservatives would do well to check outArticle II, which explicitly states: 'The President shall be Commander in Chief of the Army and Navy of the United States.'" And adds, "Luckily for the republic, the object of Chambliss and O'Reilly's adoration understands the U.S. Constitution and the role generals are supposed to play in relation to the country's civilian leadership: Petraeus explained the chain of command during the hearing."
Well, yes. But I don't see either Chambliss or O'Reilly saying that the wishes of the generals in the field legally trump those of the president. Rather, they're declaring that they trust David Petraeus' judgment on military affairs over Barack Obama's. Presumably, that's partly because Petraeus is the most revered American military figure since World War II. And the fact that Petraeus' recommendations  happen to coincide with their preexisting policy preference doesn't hurt, either.
Much attention has been given to Petraeus' declaration that "ultimately the decision has been made. And with a decision made, obviously I support that." But that's simply a truism; once the president has made a decision, the commanding general has three options: 1) salute smartly and enthusiastically carry out his orders; 2) resign in protest; and 3) treason.
More importantly, though, Dr. Petraeus actually learned something at his Princeton PhD program. He correctly noted, "The risk being assessed in this case, from my perspective, the risk having to do with the ability to achieve objectives of the military campaign plan, acknowledging that at every level of the chain of command above me there are additional considerations, and each person above me, all the way up to and including the President has a broader purview and broader considerations that are brought to bear." Joint Chiefs Chairman Mike Mullen echoed this, noting, "Only the president, in the end, can really determine the acceptable level of risk we must take."
Petraeus is doubtless more qualified to assess the tactical situation on the ground and assess his logistical and manpower needs and to make the right calls in how to deploy the assets at his disposal than the president. Any president who interferes in such decision-making is a fool. But wars are fought to achieve political objectives and it is up to the president to decide, with some not insignificant inputs from Congress, whether the probability of achieving those objectives is high enough to be worth the costs in blood and treasure.