Previewing The Fourth Democratic Debate
With twelve Democrats set to clash tonight in Ohio, it's time to take a look at the state of the race.

In just about twelve hours, the twelve Democratic candidates who were able to meet the established by the Democratic National Committee will face off in the fourth debate of the 2020 election season. As with last month's debate on ABC News, there will be only one night of debates this time around, but it will nonetheless be the largest debate of the election cycle, with twelve candidates appearing due to the fact that both billionaire Tom Steyer and Hawaii Congresswoman Tulsi Gabbard will be present. Unfortunately, this means that there will be even less time for each candidate to speak, although it's like that the five seeming contenders —-former Vice-President Biden, Senator Bernie Sanders, Senator Elizabeth Warren, Senator Kamala Harris, and South Bend Mayor Pete Buttigieg — will once all be on stage at the same time.
The first debate, of course, resulted in significant changes in the nature of the race from what it looked like prior to the debate. As we saw in a series of polls in the immediate aftermath of the debate — see here, here, here, here, here and here — that immediate impact consisted of significant gains for both Senator Harris and Senator Warren, largely at the expense of Senator Bernie Sanders and former Vice-President Biden. As time went on, though, there were signs that the post-debate bump was relatively short-lived, especially for Senator Harris. The second debate, meanwhile, had relatively little impact on the polls, except to the extent that what had been a four-person race seemed to be slowly transforming into a three-person contest as Senator Harris continued to decline in nationwide polling. (See here and here.) The most notable thing that has happened since the third debate has been the fact that Massachusettes Senator Elizabeth Warren has continued to surge in the polling at the state and national level to the point where she and the former Vice-President are close to forming a tier all their own while Sanders, Harris, and Buttigieg have made up a second tier. Beyond these five candidates, we've mostly got also-rans who have no realistic shot at the nomination. This wlll also mark Senator Sanders' first return to the campaign trail since his heart attack at the beginning of the month.
In any case, as we head into this fourth debate it's once again time to take a look at the polls at the national level, the most recent of which shows Elizabeth Warren taking a lead over Vice-President Biden:
A poll released the day before the Democrats' next presidential primary debate shows Sen. Elizabeth Warren and former Vice President Joe Biden jockeying for the top place among Democratic voters.

Warren leads Biden by 30 percent to 27 percent among Democratic voters and independents who lean Democratic, according to a Quinnipiac University poll published Monday.

Sen. Bernie Sanders, who is expected to return to the campaign trail after recovering from a recent heart attack, came in at third with 11 percent. South Bend, Ind., Mayor Pete Buttigieg received 8 percent, while Sen. Kamala Harris (D-Calif.) received 4 percent. No other candidate topped 2 percent in support.

Biden, according to the poll, remains the most electable candidate in voters' minds, with 48 percent saying he's the one to beat Trump in the 2020 general election, but Warren is gaining ground. The Massachusetts senator sits at 21 percent, an increase from 9 percent in August.

The new poll also found that voters are almost evenly divided over whether President Donald Trump should be impeached, with 46 percent saying he should be impeached and removed from office and 48 percent saying he should not be impeached.
These numbers are largely consistent with other recent polling:
The numbers in the RealClearPolitics Average stand as follows:
Joe Biden — 29.4%
Elizabeth Warren — 23.4%
Bernie Sanders — 15,6%
Pete Buttigieg — 5.2%
Kamala Harris — 5.2%
Beto O'Rourke — 2.6%
Andrew Yang — 2.4%
All other candidates under 2.0%
The RCP chart, meanwhile, provides the best evidence yet of the extent to which this appears to be turning into a Biden-Warren race, at least for now: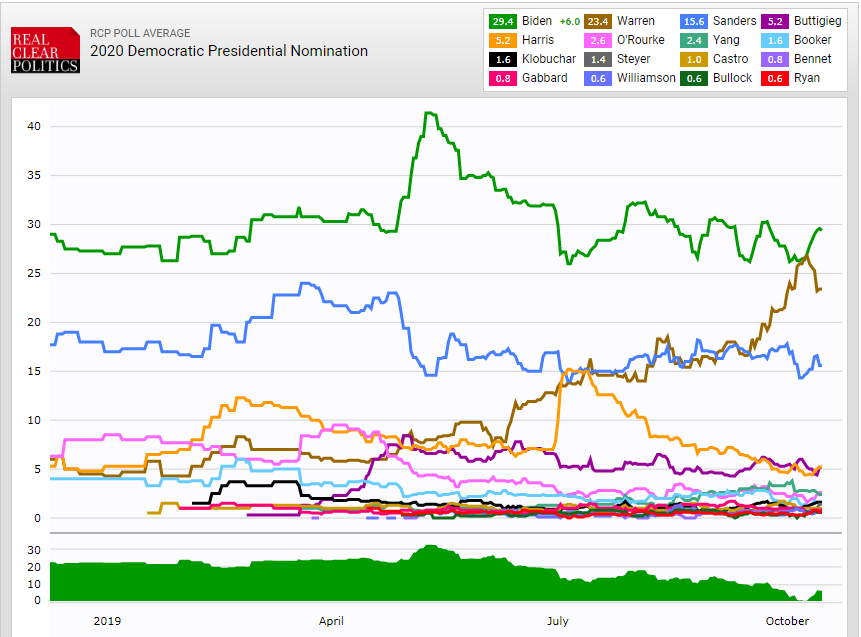 These national numbers can also be seen in the polling averages from the early primary states;
Tonight's debate, of course, will be the first taking place in the shadows of the ongoing impeachment investigation on Capitol Hill, the revelations about President Trump seeking foreign help in obtaining damaging information about former Vice-President Biden and his son from Ukraine and China, the efforts of Republicans to shift the discussion to Hunter Biden's ties to foreign businesses, the President's decision to withdraw troops from Syria and subsequent Turkish invasion, and, as I noted above, Senator Sanders' heart attack.
I would expect all of these issues to come up during the course of tonight's debate. In that respect, Biden will be in focus again as viewers may be looking to see the former Vice-President stand up against the President while others will be looking to see if any of Biden's rivals seek to pick up the Republican ball and go after Biden regarding the advantages his son sought while he was Vice-President. One area where I expect we'll see a benefit for the former Vice-President will be in the foreign policy area as this is an area where he has far more experience than anyone else on the stage. We can also expect to, I would think, the Sanders issue to be used as the jumping-off point for asking the candidates about their own health and about when they intend to make their health records available to the public and the media.
Debate coverage begins at 8pm tonight and it is expected that it will last until roughly 11 p.m Eastern time. You can watch the debate on CNN itself, on its website, or on its mobile app. And, of course, we'll be back tomorrow morning with a post-debate wrap-up.