Previewing The Third Democratic Debate
This evening ten Democratic candidates for President, including all of the front runners, appear on stage together for the third debate of the 2020 election cycle.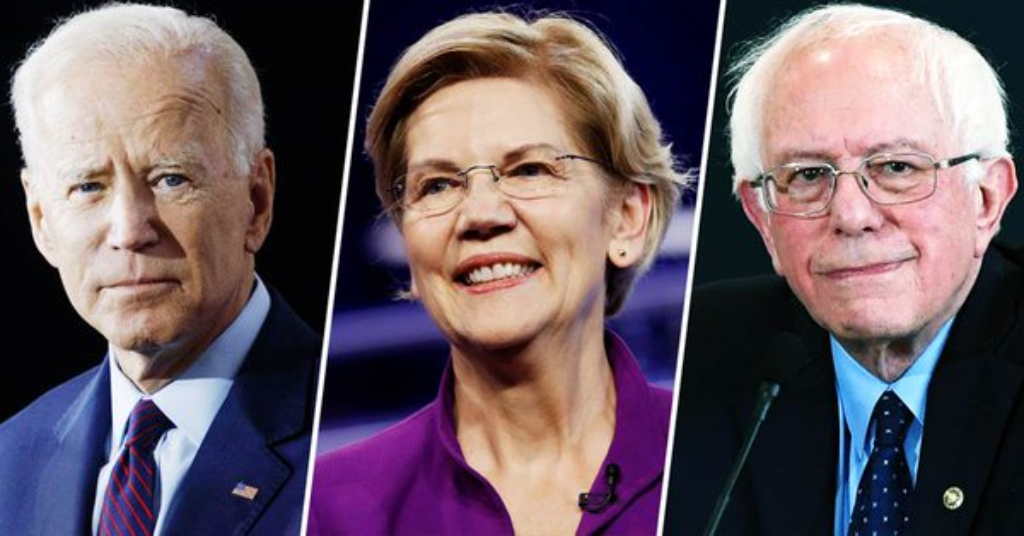 In just over twelve hours, the ten Democratic candidates who were able to meet the established by the Democratic National Committee will face off in the third debate of the 2020 election Unlike the previous two debates, there will only be one night of debates due to the fact that only ten candidates managed to the enhanced criteria for this round of debates. The most significant thing about the lineup tonight, of course, is that this will be the first time that all of the leaders in the race — former Vice-President Biden, Senator Bernie Sanders, Senator Elizabeth Warren, and Senator Kamala Harris — will all be on stage at the same time.
The first debate, of course, resulted in significant changes in the nature of the race from what it looked like prior to the debate. As we saw in a series of polls in the immediate aftermath of the debate — see here, here, here, here, here and here — that immediate impact consisted of significant gains for both Senator Harris and Senator Warren, largely at the expense of Senator Bernie Sanders and former Vice-President Biden. As time went on, though, there were signs that the post-debate bump was relatively short-lived, especially for Senator Harris. The second debate, meanwhile, had relatively little impact on the polls, except to the extent that what had been a four-person race seemed to be slowly transforming into a three-person contest as Senator Harris continued to decline in nationwide polling. (See here and here.) As we head into the third debate, the race appears to be stuck in that pattern, as demonstrated by the new CNN national poll:
Joe Biden leads the Democratic presidential primary but a tight race for second place has formed behind him as Sen. Elizabeth Warren leads Sen. Bernie Sanders by one point, according to a new CNN poll conducted by SSRS.

The former vice president is at 24%, Warren at 18% and Sanders at 17% are once again the only candidates to reach double-digit support. Three other candidates have 5% or support or more in the poll: Sen. Kamala Harris (8%), South Bend, Indiana, Mayor Pete Buttigieg (6%) and former Rep. Beto O'Rourke (5%). The remaining candidates all score 2% or less in the poll.

Biden's lead rests on his support among black voters, among whom he leads by a wide margin with 42% backing him and his nearest competitor — Sanders — earning just 12% support. Warren (23%) and Biden (21%) are about even among white potential Democratic voters, with Sanders not far behind at 15%. Among Hispanics who are Democrats or Democratic-leaning independents, Sanders stands at 24%, with four other candidates in double-digits: Biden at 18%, O'Rourke at 14%, and Warren and Harris each at 10%.

Biden's backing among black voters comes primarily among those over age 50 (53% in that group support him vs. 30% among those under age 50) and from those who are moderate or conservative (47% in that group support him). That mirrors the pattern among Democrats more generally, but holds to a greater degree among black voters. Sanders' strong showing among Latinos comes more from younger Hispanic voters than from older ones.

Warren's support notably spikes among college educated voters — 26% in that group back her vs. just 11% of those without degrees. Sanders, whose ideological views are similar to Warren's, doesn't have as much of an education gap in his support (19% among those without degrees, 13% among those with), largely due to his stronger support among whites without college degrees (21% vs. 10% among those who do hold degrees).

As they have in past polls, Democrats are more apt to say they want the party to nominate a candidate with a strong chance of beating Trump (55%) over one who shares their position on major issues (39%). But Biden's advantage among those who want a candidate who can defeat the President has shrunk some since August. In that poll, 35% of those who favored someone who can beat Trump backed Biden, 15% Warren and 14% Sanders. Now, that group splits almost evenly between Biden (26%) and Warren (21%), with Sanders at 11%.

Democratic voters are narrowly more concerned that the party will nominate a candidate who is too liberal (49%) vs. one who is not liberal enough (41%). Biden fares better among those worried the party will lean too far left (27% in that group back him, 15% Sanders, 13% Warren) than among those who are worried the nominee won't be liberal enough (27% in that group favor Warren, 22% Sanders and 20% Biden).

(…)

Overall, deep enthusiasm about voting in 2020 continues to outpace the level measured in previous presidential cycles at about this stage of the contest. Overall, 45% of registered voters report feeling "extremely enthusiastic" about voting, compared with 30% who said so in early September 2015, 28% who felt that way in October of 2011, 26% in June 2007 and just 19% in October 2003. Democrats and Republicans are about equally likely to express deep enthusiasm for voting: 51% of Republicans are extremely enthusiastic and 47% of Democrats say the same.
Enthusiasm is more fervent at the ideological edges of each party, with 54% of liberal Democrats and 56% of conservative Republicans deeply enthusiastic vs. about 4 in 10 in the ideological middle.

Asked to rate the importance of seven top issues, voters overall place health care at the top of the list (51% call it extremely important to their vote for president, the only issue to top 50%), followed by the economy (48% extremely important) and gun policy (47% extremely important).

But the partisan divide on which issues matter is stark. Among Democrats and Democratic-leaning independents, 59% call health care extremely important vs. 40% of Republicans and Republican-leaners. A majority on the GOP side consider the economy critical (53%), while fewer Democrats agree (45%). The sharpest gap comes over climate change. Among Democrats and Democratic-leaners, 56% call it extremely important vs. just 11% of Republicans and Republican-leaners.
Looking at other more recent polls, we find the same three candidates at the top, although the margins vary from poll to poll:
Turning to the RealClearPolitics average, we find the following:
Joe Biden — 26.8%
Bernie Sanders — 17.3%
Elizabeth Warren — 16.8%
Kamala Harris — 6.8%
Pete Buttigieg — 4,8%
Andrew Yang — 3.0%
Beto O'Rourke — 2.8%
Cory Booker — 2.3%
Tulsi Gabbard — 1.3%
Amy Klobucher — 1.2%
All other at candidates averaging under 1%
And the RCP chart shows a race that seems at the moment to be becoming a three-person race: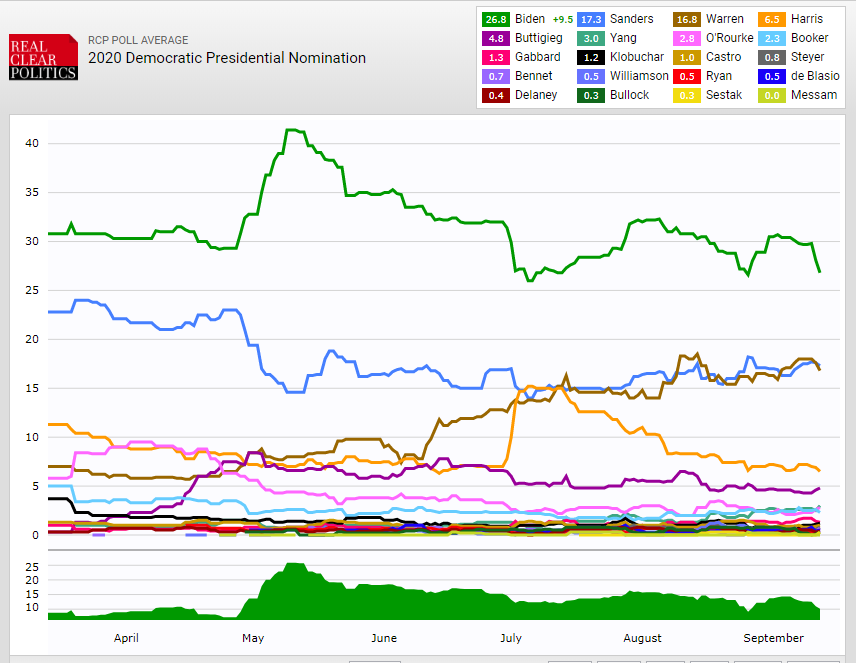 As I noted above, the most significant thing about tonight's debate is that it will be the first time that all of the front runners will appear on the same stage at the same time. Previously Senator Elizabeth Warren largely had the first night of both the first and second debate to herself, with the other participants being mostly a handful of also-ran candidates who didn't spend much time challenging her or her campaign platform. By contrast, Vice-President Biden and Senators Sanders and Harris, found themselves sharing the stage. In the first debate, that led to Senator Harris going on the offensive against Biden in a manner that significantly boosted her position in the polls. The second debate between these candidates, though, was more muted, which may be one reason why the post-debate polling since the end of July has shown less movement than we saw after the first debate.
In any case, tonight's single-night format means that these four people will all be on stage together and it will likely be their interactions that will drive much of the narrative of the debate. For example, will anyone take on Senator Warren, who has gotten off relatively unscathed in the first two debates? Additionally, the interactions between Senators Warren and Sanders, both of Democratic Party's progressive wing, will be interesting to watch. The same is true of Vice-President Biden, who essentially has claimed the center-left "lane" in the Democratic race, a strategy that appears to be working out for him. Biden's performance in the first two debates has been somewhat erratic, especially in the first debate, so it will be interesting to see if anyone tries to claim part of that lane from him or to undercut his campaign's central argument that he is the most likely candidate to beat Donald Trump in the 2020 General Election campaign. So far Biden has been relatively unscathed on that issue, but if candidates start to raise doubts about his ability to take Trump on in a General Election, it could have a real impact on his standing in the race.
The debate will air from 8 to 11 p.m. ET on your local ABC broadcast station as well as with Spanish translation on Univision. For those who wish to watch online, it will be available on ABC News Live. The streaming channel is available on the ABCNews.com, Good Morning America and FiveThirtyEight websites and mobile phone apps, as well as Hulu Live, The Roku Channel, Facebook Watch, AppleTV, Amazon Fire TV, YouTube, Apple News, and Twitter. And, of course, we'll be back tomorrow morning with a post-debate wrap-up.