Prosecution Case In Sandusky Trial Already Nearing The End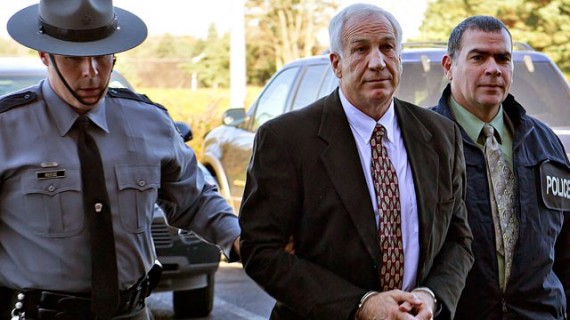 The sex abuse trial of former Penn State coach Jerry Sandusky is moving quite rapidly, and is on a pace that could bring the prosecution's case to an end by the end of this week:
(CBS/AP) BELLEFONTE, Pa. – Prosecutors appear to be winding down their case against Jerry Sandusky, the former Penn State assistant football coach charged with abusing 10 boys over a 15-year span.

Judge John Cleland said the prosecution could rest by the end of the day on Friday. Five of Sandusky's accusers have now testified, including three on Wednesday. Sandusky has maintained his innocence.

On Wednesday, one of his accusers said he stayed quiet to keep going to Penn State football games.

Another man, who was a foster child when he met Sandusky through his Second Mile charity, spoke of a threat — that Sandusky told him he would never see his family again if he told anyone what happened.

Those were among the ways Sandusky held sway following alleged inappropriate encounters, the two men testified Wednesday at his child molestation trial.

"He told me that if I ever told anyone that I'd never see my family again," said the man, now 25. He said he was terrified when Sandusky uttered the threat after the coach pinned him while wrestling in the basement of the Sandusky home and performed oral sex on him.
There's more at the link, including more testimony I really don't feel the need to repeat here. I haven't been following the case closely, but it's been apparent that the victim testimony has been quite devastating. At one point, when the person identified as Victim #1 was testifying and began choking back tears, reporters said several of the jurors could be seen doing the same thing.  If this pace picks up, Sandusky's defense should start next week, although I'm honestly unsure what defense they could mount at this point, especially since his attorneys have apparently not been very aggressive in cross-examining the victims and have done little to attempt to undermine their credibility.   Sandusky's fate seems to be headed in a rather obvious direction at this point.