Proud Boys Convicted of Seditious Conspiracy
The worst of the worst Capitol Riot players have been brought to justice.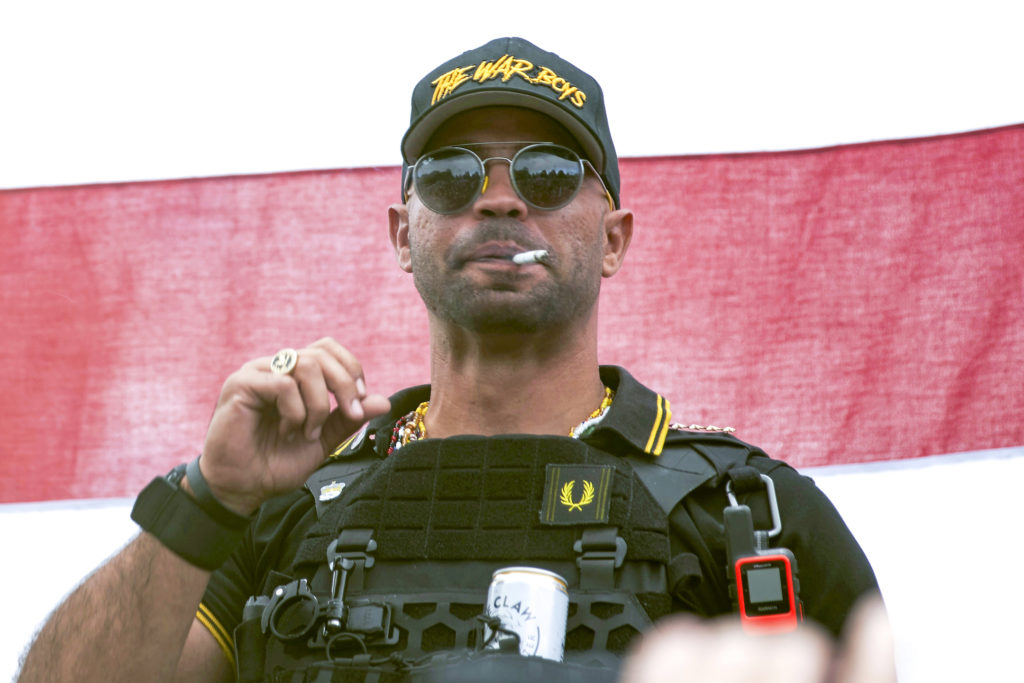 AP ("Proud Boys' Tarrio guilty of Jan. 6 seditious conspiracy"):
Former Proud Boys leader Enrique Tarrio and three other members of the far-right extremist group were convicted Thursday of a plot to attack the U.S. Capitol in a desperate bid to keep Donald Trump in power after the Republican lost the 2020 presidential election.

A jury in Washington, D.C., found Tarrio and three lieutenants guilty of seditious conspiracy after hearing from dozens of witnesses over more than three months in one of the most serious cases brought in the stunning attack that unfolded on Jan. 6, 2021, as the world watched on live TV.

Jurors cleared a fifth defendant — Dominic Pezzola — of the sedition charge, though he was convicted of other serious felonies. The judge excused the jury without delivering a verdict on some counts — including another conspiracy charge for Pezzola — after jurors failed to reach a unanimous decision.

It's a significant milestone for the Justice Department, which has now secured seditious conspiracy convictions against the leaders of two major extremist groups prosecutors say were intent on keeping Democratic President Joe Biden out of the White House at all costs. The charge carries a prison sentence of up to 20 years.

[…]

The verdict comes after a trial that took more than twice as long as originally expected, slowed by bickering, mistrial motions and revelations of government informants in the group. Securing the conviction of Tarrio, a high-profile leader who wasn't at the riot itself, could embolden the Justice Department as a special counsel investigates Trump, including key aspects of the Jan. 6 insurrection.

Special Counsel Jack Smith in recent weeks has sought the testimony of many people close to Trump. They include former Vice President Mike Pence, who testified before a grand jury last week, likely giving prosecutors a key first-person account about certain conversations and events in the weeks preceding the riot.

Tarrio was a top target of what has become the largest Justice Department investigation in American history. He led the neo-fascist group — known for street fights with left-wing activists — when Trump infamously told the Proud Boys to "stand back and stand by" during his first debate with Biden.

Tarrio wasn't in Washington on Jan. 6, because he had been arrested two days earlier in a separate case and ordered out of the capital city. But prosecutors said he organized and directed the attack by Proud Boys who stormed the Capitol that day.

In addition to Tarrio, a Miami resident, three other Proud Boys were convicted of seditious conspiracy: Ethan Nordean, Joseph Biggs and Zachary Rehl.

Tarrio, Nordean, Biggs and Rehl were also convicted of obstructing Congress' certification of Biden's electoral victory and obstructing law enforcement as well as two other conspiracy charges. The four were cleared of an assault charge stemming from Pezzola, who stole an officer's riot shield.

[…]

The backbone of the government's case was hundreds of messages exchanged by Proud Boys in the days leading up to Jan. 6 that show the far-right extremist group peddling Trump's false claims of a stolen election and trading fears over what would happen when Biden took office.

The backbone of the government's case was hundreds of messages exchanged by Proud Boys in the days leading up to Jan. 6 that show the far-right extremist group peddling Trump's false claims of a stolen election and trading fears over what would happen when Biden took office.

"It was Donald Trump's words. It was his motivation. It was his anger that caused what occurred on January 6th in your beautiful and amazing city," attorney Nayib Hassan said in his final appeal to jurors. "It was not Enrique Tarrio. They want to use Enrique Tarrio as a scapegoat for Donald J. Trump and those in power."

The Justice Department hadn't tried a seditious conspiracy case in a decade before a jury convicted another extremist group leader, Oath Keepers founder Stewart Rhodes, of the Civil War-era charge last year.

Over the course of two Oath Keepers trials, Rhodes and five other members were convicted of seditious conspiracy for what prosecutors said was a separate plot to forcibly halt the transfer of presidential power from Trump to Biden. Three defendants were acquitted of the sedition charge, but convicted of obstructing Congress' certification of Biden's electoral victory.

The Justice Department has yet to disclose how much prison time it will seek when the Oath Keepers are sentenced later this month.
NYT ("Four Proud Boys Convicted of Sedition in Key Jan. 6 Case") adds:
The jury's decision to acquit only Mr. Pezzola of sedition was notable: He was the sole defendant who was not a leader of the Proud Boys, but among the five men he was also the most violent during the Capitol attack.

[…]

The sedition trial sprawled over the course of more than three months and was characterized by frequent delays, frayed relations between the defense and prosecution and several decisions by the presiding judge, Timothy J. Kelly, that tested the boundaries of conspiracy law.

Judge Kelly's rulings allowed prosecutors to introduce damning evidence about the violent behavior and aggressive language of members of the Proud Boys who had only limited connections to the five defendants. The rulings also permitted jurors to convict on conspiracy even if they found there was no plan to disrupt the certification of the election, but merely an unspoken agreement to do so.

From the outset, the trial provided a unique and disturbing glimpse into the Proud Boys' culture, as a trove of internal group chats and recordings revealed a toxic stew of machismo, homophobia and misogyny often accompanied by sophomoric humor and rampant alcohol use. The jury heard members of the group engaging in casual antisemitism and, in some cases, promoting outright Nazi sympathy.

[…]

In a series of searches before the trial began, investigators collected more than a half million text messages from the Ministry of Self-Defense and other Proud Boys group chats. While some of the messages were overtly violent and hinted at action at the Capitol, none set forth an explicit plan to storm the building or to forcibly disrupt the election certification taking place inside.

Lacking a smoking gun, prosecutors used two cooperating witnesses, Jeremy Bertino and Matthew Greene, to make what amounted to an inferential case that the five defendants had worked together to violently subvert the democratic process.

Mr. Bertino, a Proud Boy from North Carolina who pleaded guilty to sedition in a deal with the government, told the jury that the Proud Boys' culture of violence and increasing desperation after the election came together with cataclysmic results on Jan. 6. Even if there were no explicit orders to attack the Capitol that day, he said, members of the group believed there was an implicit agreement to band together and to take the lead in waging "all-out revolution" to stop Mr. Biden from entering the White House.

[…]

From the start of the trial, prosecutors faced another difficult hurdle.

The Proud Boys as a whole were some of the most violent actors in the huge mob that stormed the Capitol as scores of its members played decisive roles in breaching barricades and assaulting the police.

But violence by the defendants themselves — who were mostly leaders of the group — was relatively limited. Mr. Tarrio was not even in Washington on Jan. 6, having been kicked out of the city days earlier by a local judge presiding over a separate criminal matter.

To build a case against the five men on trial, prosecutors convinced Judge Kelly to let them introduce videos of other Proud Boys and Trump supporters in the crowd who had acted violently, even if they had only limited connections to the defendants. Prosecutors argued that Mr. Tarrio and the other defendants wielded the others rioters as "tools" of their conspiracy — a novel legal strategy.

The defense was outraged by this theory and argued — unsuccessfully — that the approach was "absurd" and armed the prosecution with "an expanded power."

"The argument is that just because defendants associated with people who did bad acts, they did bad acts," Nicholas Smith, Mr. Nordean's lawyer, said in court. "The other term for that is guilt by association."

Unlike the Oath Keepers, who were largely rendered defunct by the Justice Department's Jan. 6 prosecution, the Proud Boys have by and large survived. While they have dismantled their national leadership, they remain, in words Mr. Bertino used from the stand, "foot soldiers for the right." The group in recent years inserted themselves at the local level into conflicts over issues like coronavirus restrictions, the teaching of antiracism in schools and efforts to use threats and violence against drag shows.

Several members have also sought more traditional levers of power and run for public office. The most successful of these efforts took place in Miami, where a half-dozen current and former Proud Boys secured seats on the Miami-Dade Republican Executive Committee, seeking to influence local politics from the inside.
I have been making three, related arguments pretty consistently since the dust settled on the Capitol Riots.
First, it was multiple, overlapping things—everything from an attempt to steal an election to violent thugs using politics as an excuse for mayhem to Trump supporters whipped up into a mob by a speech to idiots joining in the aftermath to take pics for their social media—rather than one thing.
Second, that the justice system should treat these things differently. To my surprise, it by and large seems to be doing so. Those who were violent and/or participating in a conspiracy to overthrow the results of a democratic election are being punished severely while those who were simply in it for the luls are getting relatively light punishments.
Third, it was going to take a frustratingly long time for the Justice Department to build cases against and convict the worst of the worst. But, finally, more than two years after an event we saw unfold live and in color on our television sets, the leaders of the Proud Boys and Oath Keepers have been brought to justice. We'll see how sentencing goes but I suspect they will get long prison terms, commensurate with their crimes against the Republic.
That said, I must confess to not paying much attention to the unfolding of the trial against Torrio and company and am somewhat worried that Judge Kelly may have bent over too far in deference to the prosecution in letting in prejudicial evidence and testimony. I'm not an attorney and seditious conspiracy is such a rare charge that even most criminal law specialists therefore have little experience in the applicable rules of evidence. It may simply be that more leeway is appropriate in a conspiracy case. Still, admitting texts that served simply to demonstrate that the defendants are racist assholes strikes me as problematic.