Public Opinion Souring On Occupy Wall Street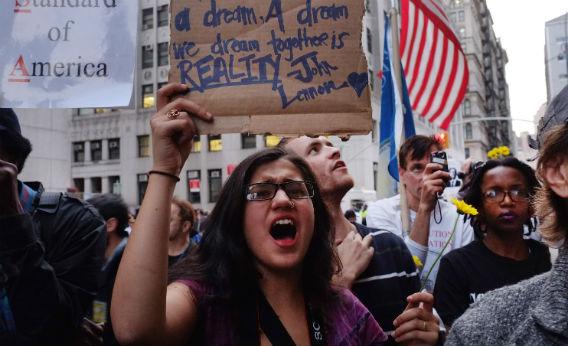 A new Quinnipiac Poll seems to suggest that the public is starting to sour on the Occupy Wall Street movement:
A sign that the Occupy Wall Street movement isn't the best long-term vehicle for Democrats to connect themselves with: A new Quinnipiac poll, showing a plurality of voters viewing the group unfavorably.

The poll, released today, show 30 percent of voters surveyed view the movement favorably, 39 percent unfavorably, with an additional 30 percent not hearing enough to have an opinion.  It's one of the first national polls to suggest voters are growing skeptical of Occupy Wall Street- and it comes as police have clashed with protesters in several cities.  Previous national polls have shown a plurality of adults supporting the movement.

These numbers comes as Democrats, from the White House on down, have struck a decidedly populist tone in recent months, from President Obama calling on the wealthy to pay a higher share in taxes, Senate Democratic officials rallying behind the campaign of Elizabeth Warren, who has embraced the Occupy Wall Street movement, and House Democrats, who sent out a petition last month aimed at leveraging the Occupy Wall Street movement against the Republican Party.

The poll found that Occupy Wall Street's negatives aren't quite as high as the Tea Party's unfavorables, but aren't far off.  Just 31 percent of voters view the Tea Party unfavorably, 45 percent unfavorably, and 24 percent haven't heard enough.

Among independents, the Occupy Wall Street movement and Tea Party movement are now viewed equally unfavorably.  Occupy Wall Street has a net -13 favorable rating with independents (29% favorable/42% unfavorable), while the Tea Party holds a net -11 favorable rating (34% favorable/45% unfavorable).
This is isn't entirely surprising. Public opinion about the Tea Party peaked pretty early and has leveled off ever since then, it seems only logical the same thing would happen with OWS. The fact that it's happened quicker is, perhaps, a reaction to some of the seedier elements that have been made public, such as yesterday's near riot in Oakland. As with the Tea Party, radicalism doesn't play well in American politics, it never really has.