Public Remains Deeply Opposed To Military Action In Syria
Even before the Russian curve ball, the public opposition to military strikes on Syria was mounting.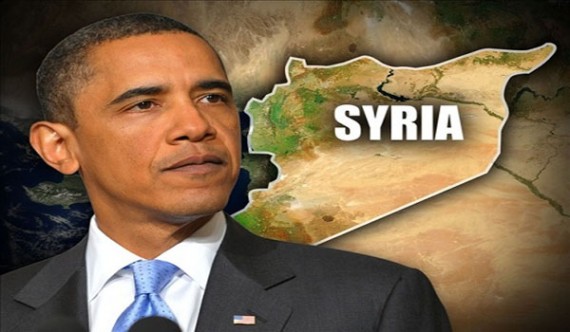 The developments out of Russia yesterday make almost any discussion of Syria today difficult because the situation seems to be changing so quickly and because the previous status quo, in which Congress was headed toward a vote on military action, seems likely to change very soon. Nonetheless, it remains worth noting that the American public continues to be heavily opposed to military action against Syria's chemical weapons, something confirmed in four new polls. First up, a Pew poll released late yesterday shows that opposition has actually increased significantly in the week the matter has been before Congress:
Over just the past week, the share of Americans who oppose U.S. airstrikes in Syria has surged 15 points, from 48% to 63%, as many who were undecided about the issue have turned against military action. By contrast, the share of Americans who support airstrikes remains virtually unchanged: Just 28% favor U.S. military airstrikes against Syria in response to reports that its government used chemical weapons. The new survey by the Pew Research Center and USA TODAY, conducted Sept. 4-8, 2013 among 1,506 adults nationwide, finds that this growing opposition to Syrian airstrikes is intense: 45% say they oppose airstrikes very strongly. That is roughly three-times the percentage (16%) that strongly favors airstrikes.
This surge in opposition is also reflected in a new ABC News/Washington Post Poll, which shows opposition to a strike rising to 64% from 59% last week. In both polls, the opposition is bipartisan across the board, although it does tend to be stronger among Republicans than Democrats. You see the same numbers in the CBS/New York Times poll:
WASHINGTON — A broad majority of Americans, exhausted by nearly a dozen years of war and fearful of tripping into another one, are opposed to a military strike on Syria, even though most say they think Syrian forces used chemical weapons against civilians, according to the latest New York Times/CBS News poll. Those findings illustrate the depth of the challenge facing President Obama as he tries to win support for a limited strike from a deeply reluctant Congress and an American public that has become steadily more skeptical of foreign engagement. Mr. Obama's task was further complicated on Monday by a Russian proposal that President Bashar al-Assad of Syria give up his chemical weapons — a plan that muddies the president's case for military action. The poll underscores a steady shift in public opinion about the proper American role in the world, as fatigue from the wars in Iraq and Afghanistan has made people less open to intervening in the world's trouble spots and more preoccupied with economic travails at home. In the Syrian crisis, 6 in 10 Americans oppose airstrikes, according to the poll, with similar majorities saying they fear military action could enmesh the United States in another long engagement in the Middle East and would increase the terrorist threat to Americans. But the antipathy to foreign engagement extends beyond the current crisis. Sixty-two percent of the people polled said the United States should not take a leading role in trying to solve foreign conflicts, while only 34 percent said it should. In April 2003, a month after American troops marched into Iraq, 48 percent favored a leading role, while 43 percent opposed it. When asked whether the United States should intervene to turn dictatorships into democracies, 72 percent said no while only 15 percent said yes. That is the highest level of opposition in a decade of polling on this question. At the start of the Iraq war, 48 percent favored staying out and 29 percent favored getting involved.
And the NBC News/Wall Street Journal poll:
President Barack Obama faces a "tall order" in convincing Americans on Syria with nearly 60 percent who say they want their member of Congress to oppose the use of military force there, according to a new NBC News/Wall Street Journal poll.

With Obama set to address the nation Tuesday night to advocate U.S. intervention against Syrian President Bashar Assad's regime, just 24 percent of Americans believe military action in response to Assad's reported use of chemical weapons is in the United States' interest.

More ominously for Obama and his allies, opposition to military action only has grown since the president first sought approval from Congress and since the administration began waging an intense campaign to win congressional support. Congress is expected to vote on authorization this week but the timing is uncertain.

And in another sign suggesting the public's reluctance to intervene in Syria's bloody civil war, almost three-quarters of respondents agree with the statement that the United States should focus more on its domestic problems than promoting democracy and freedom abroad.
All of these polls, of course, were conducted before yesterday's developments out of Russia's and today's formal acceptance of the Russian proposal by the Syrians. If anything, those developments are likely to make the public even less willing to support military action than they are currently. Additionally if, as seems likely, this all develops into a full blown diplomatic initiative at the United Nations, then we'll be at a point where the President's request for an authorization to use force will be essentially moot. Indeed, one has to wonder whether Congress will even both to vote at this point.
President Obama will still be going ahead with his speech tonight, of course, and reports indicate that he's still going to be making the case for military force while still acknowledging the existence of the Russian proposal. However, to the extent that he faced an uphill battle before yesterday afternoon, he's got an even bigger one now. The American public was ambivalent about military action before the option of a diplomatic out presented itself, they're likely to become even more so now that there appears to be a clear way out of this crisis of Obama's own making without resorting to military force. As his speechwriters work on the final drafts of tonight's address,perhaps they should take that into account.