Qaddaffi Proposes Cease Fire Talks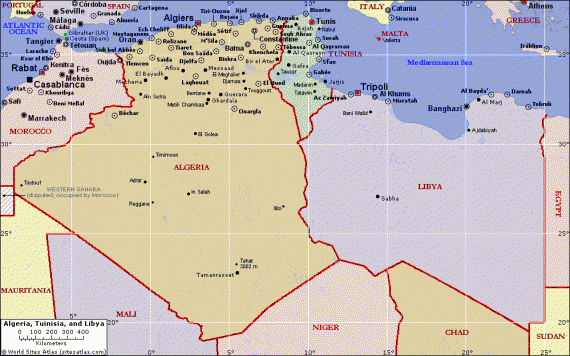 Libya's leader says he wants to talk about ending the conflict with the rebels, but not about leaving power:
BENGHAZI, Libya — In a disjointed, defiant speech broadcast early Saturday morning on Libyan state television, Col. Muammar el-Qaddafi said that he was ready for a cease-fire but that he had no plans to leave the country.

"Come France, Italy, U.K., America, come we'll negotiate with you," Colonel Qaddafi said as NATO warplanes bombed the capital, Tripoli. "You lie and say I'm killing my own people. Show us the bodies."

The speech, which was broadcast about 2:30 a.m., was the latest in a season of rambling proclamations from the Libyan leader, and it came as NATO forces have said they will broaden their list of targets to include palaces, communication centers and other administrative buildings that Colonel Qaddafi relies on to maintain power.

The NATO bombing on Saturday struck a government complex, which reporters were told housed a commission for women and children along with the parliamentary staff offices, The Associated Press reported. A television tower nearby was unharmed, though the broadcast went dark three times during the colonel's speech, The A.P. reported.

During the speech, Colonel Qaddafi repeated assertions that the rebel forces belonged to Al Qaeda or that they were terrorists and mercenaries, but he asked them to lay down their arms. "We are one family," he said.
I wouldn't count on the rebels accepting this office. Then again, I also wouldn't count on the conflict ending any time soon.