Racial Tensions Getting Ugly at University of Missouri
Massive boycotts and protests likely spell the end of Tim Wolfe's tenure as president.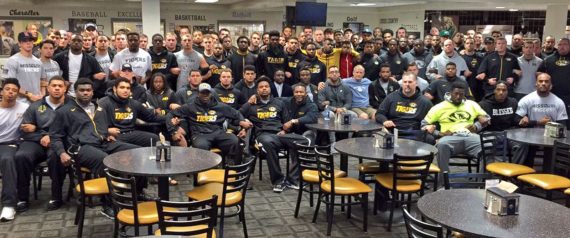 A black student group has been calling for the resignation of University of Missouri president Tim Wolfe. Threats by black football players to boycott until Wolfe resigns or is fired has landed the controversy on the national stage.
USA Today ("Missouri football players to boycott until president Tim Wolfe resigns"):
More than 30 football players at the University of Missouri will not participate in any practices or games until Missouri System president Tim Wolfe resigns or is terminated. Several black team members announced their decision to strike on social media Saturday night and Missouri's Legion of Black Collegians posted a statement on behalf of the team with a picture of players unified in support of the boycott.

Wolfe's response to a series of racist incidents has been considered inadequate by many students who believe racism has poisoned the campus. A graduate student, Jonathan Butler, announced earlier in the week he was going on a hunger strike until Wolfe was removed. The most recent racist incident came Oct. 24 when a swastika was drawn with human feces on a college dorm's white wall.

[…]

Missouri's athletic department issued a statement saying it's "aware of the declarations made tonight by many of our student-athletes. We all must come together with leaders from across our campus to tackle these challenging issues and we support our student-athletes right to do so."
The team's white head coach has expressed his support:
The Mizzou Family stands as one. We are united. We are behind our players. #ConcernedStudent1950 GP pic.twitter.com/fMHbPPTTKl

— Coach Gary Pinkel (@GaryPinkel) November 8, 2015
The prospect of losing $1 million if the team has to forfeit Saturday's game against Brigham Young University has gotten people's attention.  CSM ("niversity of Missouri racism walkout spreads to faculty"):
With one student on a hunger strike, a growing crowd camped out in the center of campus, and professors and star athletes supporting their cause, protests over incidents of racism at the University of Missouri now have national attention.

The sudden surge in public outcry – some coming from the state government – could now cost the president of the four-college system his job.

After weeks of sidestepping student questions about a string of racist incidents on campus – including several black students being targeted with racial slurs and a swastika drawn in feces in a dormitory bathroom – the prospect of a significant financial loss could be the last straw for state system President Tim Wolfe.

Student protesters say they have been trying to get Mr. Wolfe's attention for months.

Frustrations flared during a homecoming parade Oct. 10 when black protesters blocked his car and he would not get out to talk with them. On Nov. 2, graduate student Jonathan Butler began a hunger strike which he has said will not end until Wolfe is gone. And on Friday night the president angered protesters even further when, after stepping out of a fundraiser, he was caught on video seeming to dismiss their questions about oppression on campus.

On Saturday, the protests gained national attention as players on the University of Missouri football team, including several stars, announced that they are joining the protests.

"We will no longer participate in any football-related activities until President Tim Wolfe resigns or is removed due to his negligence toward marginalized students' experiences," they wrote in a statement posted on Twitter. The next day the head football coach, Gary Pinkel, expressed solidarity in his own tweet.

The prospect of a boycott from the university's  lucrative football team appears to have got the attention of both state politicians and the university's board of curators, the system's governing body.

If the boycott doesn't end in time for the team's next game – against Brigham Young University on Saturday – the will forfeit $1 million for breaking a contract between the two colleges.

Wolfe hasn't indicated he will resign, saying in a statement Sunday afternoon that "change is needed."

"My administration has been meeting around the clock," he added. "Clearly, we are listening to all sides, and are confident we can come together to improve the student experience on our campuses."

But pressure is building around him. The board of curators is holding a special closed-door meeting on Monday morning, and on Sunday the state's top legislator on education called for Wolfe to step down.

"It has become clear that the MU system leadership can no longer effectively lead and should step aside," said Rep. Steve Cookson, Republican chairman of the Missouri House Committee on Higher Education, according to the Missouri Times.

Rep. Caleb Jones, a Republican who represents the district that is home to the university's flagship Columbia campus, added: "The lack of leadership Mizzou has been dealing with for months has finally reached the point of being a national embarrassment."

Meanwhile, a university faculty group has urged professors to walk out of classes on Monday and stage a "teach-in" at a growing student sit-in at Carnahan Quadrangle in the heart of the Columbia campus.

Abigail Hollis, a black undergraduate participating in the sit-in, said the campus is "unhealthy and unsafe for us."

"The way white students are treated is in stark contrast to the way black students and other marginalized students are treated, and it's time to stop that," she added. "It's 2015."
While I've obviously closely followed the controversies over police abuse of black suspects sparked by the Ferguson incident, I had previously been unaware of the tensions at the University of Missouri until this weekend. The newspapers accounts I've seen don't rise to the level of presidential resignation. A few students have claimed to have been called the "N-word" and are incensed that Wolfe didn't do more about it.  And a mob surrounded his car at homecoming and he didn't use the opportunity to have a friendly chat with them.  Offhand, neither of those sounds like a reason to replace a university president.
But an interview in The Missourian with hunger striker Jonathan Butler reveals a broader problem.
2. Why does Butler want Wolfe out?
Because of Wolfe's inaction in response to a "slew of racist, sexist, homophobic, etc., incidents that have dynamically disrupted the learning experience at the University of Missouri," according to Butler's letter.

Wolfe did not respond to the group's concerns while he was in the car. His driver revved the convertible's engine, and the car bumped into Butler. Some bystanders at the parade heckled Butler and the activists.

The Homecoming Parade incident represents larger issues with racism at the UM System, Butler said.

He said Wolfe has the power to create change within the four-campus system, but that Wolfe has remained silent about racism that makes students of color feel unsafe and unwelcome. Wolfe has only spoken out when students have pressed him, Butler said.

"When you look at something like Tim Wolfe — when you look at the way the system is set up — what Tim Wolfe is representing at this moment is this corrupt system that doesn't value the lives of marginalized students," Butler said in an interview.

In the 23 days between the Homecoming Parade and Nov. 2, when Butler began his hunger strike, "(Wolfe) had all the time in the world to come up with a statement to actually say that he cares about black students, to come up with something, and he failed to do so," Butler said.

In early September, Missouri Students Association President Payton Head was called the n-word behind a fraternity house in Greektown. Members of the Legion of Black Collegians were called the same slur during an event at MU's Traditions Plaza in early October. And, on Oct. 24, a swastika drawn with human feces was found in an MU residence hall.

"He's never responded to Payton Head and that situation, didn't respond to the LBC incident, didn't respond to the incident with the swastika in the residence hall.
"That's not what leadership is. We look at his physical job description, (which is to) provide a safe learning environment for students. He's not fulfilling that part of the duty."
So, it's not just a couple of incidents but a widespread climate on campus wherein groups of students feel marginalized, if not outright fearful of their safety. While I wouldn't expect Wolfe to necessarily publicly respond to any of them individually, he's simply not leading.  Not surprisingly, then, he's lost the confident of large swaths of not only the student body but the faculty.  He has to go.
Alas, that's not enough for the main student group behind the protests. Concerned Student 1950 wants a whole lot more than a new president:
The group outlined eight demands. Highlights include:
A news conference of Wolfe reading a handwritten, formal apology.

The immediate removal of Wolfe as UM System President.

Enforcement of mandatory racial awareness and inclusion curriculum for all faculty, staff and students, controlled by a board of color.

An increase in the percentage of black faculty and staff to 10 percent by the 2017-18 academic year, and the development by May 1 of a 10-year plan to promote a safer, more inclusive campus.

An increase in funding to hire more mental health professionals for the MU Counseling Center, particularly those of color, and more staff for the social justice centers on campus.
Expecting Wolfe to simultaneously be fired and yet humiliate himself in public is absurd. While the larger goal may be worthwhile, a rapid change in the demographics of the faculty is highly problematic. And subjecting students and faculty to mandatory propaganda from a "board of color" is just antithetical to academic freedom.
Regardless, things have spiraled so far out of control that Wolfe's continuance in office is untenable. While I'm generally uncomfortable with the notion that students—much less football players—should dictate the leadership of our universities, academic leaders have a responsibility to ensure the safety of their students and provide a climate conducive to the free exchange of ideas. That, sadly, is not happening at the University of Missouri.
UPDATE:  Minutes after publication of this post, Wolfe announced his resignation. Details to follow.
UPDATE 2:  Here's the AP report:
President Tim Wolfe, a former business executive with no previous experience in academic leadership, took "full responsibility for the frustration" students had expressed and said their complaints were "clear" and "real."

He made the announcement at the start of what had been expected to be a lengthy closed-door meeting of the school's governing board.

The complaints came to a head a day earlier, when at least 30 black football players announced that they would not play until the president was gone. One student went on a weeklong hunger strike.

"This is not the way change comes about," Wolfe said, alluding to recent protests, in a halting statement that was simultaneously apologetic, clumsy and defiant. "We stopped listening to each other."

He urged students, faculty and staff to use the resignation "to heal and start talking again to make the changes necessary."
The lack of experience with academic leadership may have been an issue, although plenty of universities have hired former political, military, or business leaders and they've been successful. University presidents aren't provosts but fundraisers and figureheads. But Wolfe clearly had no idea how to handle dissent from below and allowed a manageable situation to get way out of hand.