Rahm Emanuel Inspires @MayorEmanuel, The Best Fake Twitter Account Ever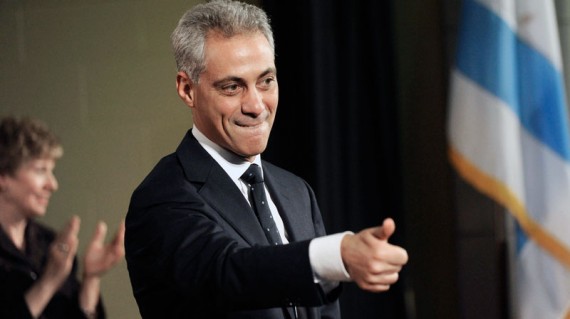 Chicago's political world is abuzz about Rahm Emanuel, and  not just the one who's running for Mayor:
When the Illinois Appellate Court dropped Rahm Emanuel from the Chicago mayoral ballot, he (or someone in his campaign) tweeted, under the name @RahmEmanuel: "Rahm on today's decision: I have no doubt that in the end we will prevail at this effort … This is just one turn in the road."

Another Rahm Emanuel, this one listed on Twitter as @MayorEmanuel, had a less measured response to that ruling: "Mother(expletive) (expletive) (expletive) (expletive) (expletives). What the (expletive) (expletive) mother(expletive) happened?!"

When the Illinois Supreme Court reinstated him a few days later, @RahmEmanuel returned to Twitter to declare: "The IL Supreme Court just ruled that Rahm will stay on the ballot. Thx for your support & let's get ready to vote!"

@MayorEmanuel tweeted: "MOTHER(EXPLETIVE) STREET LEGAL, (FEMALE DOGS)!"

(…)

"The fake Rahm account has thousands more followers than (almost) any real elected official's does," said Cook County Commissioner John Fritchey, who further blurred the line between fiction and reality by engaging in two Twitter exchanges with @MayorEmanuel on Tuesday. "I would look at the @MayorEmanuel account as the social media equivalent of a newspaper cartoon. It gives people a virtual caricature of Rahm."

The @MayorEmanuel Twitter feed certainly offers a far richer sense of drama — and comedy — to the candidate's rollercoaster campaign than the dry official account does. The night after Emanuel got knocked off the ballot, @MayorEmanuel narrated a hilariously dark journey of the soul in 140-character bursts.

Yes, there was much swearing, but there was also an account of Carl the Intern (a recurring character) and political consultant David Axelrod trashing Emanuel's apartment before the would-be mayor wandered off with Axelrod's puppy, Hambone, and, quoting Guns N' Roses along the way, wound up at the Chicago River, where he encountered a mustachioed duck he nicknamed "Quaxelrod." Then Mayor Richard Daley appeared on an ice floe to offer such advice as: "Here's something my Dad told me once: The role of the mayor is to be the guy that everyone takes a (dump) on. And then to (dump) on them back."

After Daley disappeared into the fog, the faux Rahm declared: "Quaxelrod? Hambone? We've got a (expletive) election to (expletive) win. Let's do this (expletive)."

At the end of such vividly drawn, punchily told episodes, it's hard not to feel like you've been on a journey with the man, even though the man has nothing to do with it.
So far there's no clue who's behind "Mayor Emanuel" and several requests on Twitter for interviews have been met with an expletive filled response. With 19 days left until the election I'm sure we'll see more, but if the past month has been any indication I'm sure it'll be entertaining. And, if Rahm wins it could be even more fun.
So, if you're on Twitter, you've got to check Mayor Emanuel out. Be warned, of course, that it is most definitely not safe for work.