Rahm Emanuel Opens Up Huge Lead In Chicago Mayor's Race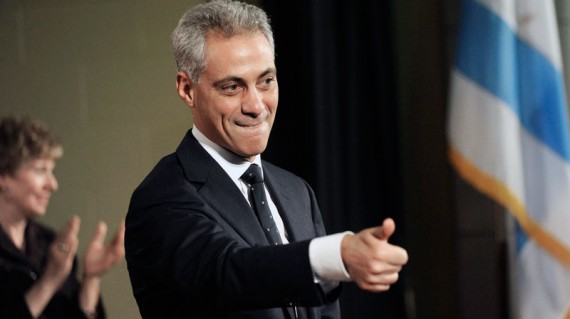 Get used to saying Mayor Rahm Emanuel:
Rahm Emanuel is headed toward victory in the race for Chicago mayor, a new poll of the city's likely voters suggests.

With less than two weeks to go until Election Day, 54 percent of voters surveyed by Chicago's ABC affiliate WLS-TV said they plan to vote for the former White House chief of staff — almost four times the percentage of respondents who said they would support his closest competitor. If he is able to capture more than 50 percent of the vote in the Feb. 22 general election, Emanuel would avoid a runoff and replace Richard M. Daley as mayor.

The poll shows Emanuel with his biggest lead yet, with former city schools official Gery Chico trailing for a distant second with the support of 14 percent of those surveyed. Former Sen. Carol Moseley Braun (D-Ill.) had been Emanuel's closest opponent in polls conducted throughout January, but has dropped to fourth place in the race, with the support of 6 percent of voters, also trailing City Clerk Miguel del Valle, who got the support of 8 percent of Chicagoans.

(…)

Though Braun was endorsed by Rep. Danny Davis (D-Ill.) when he dropped out of the race in December, and has tried to fashion herself the consensus candidate for the city's black voters, she has not managed to break through with that constituency. Emanuel leads with the support of 53 percent of African-Americans, the poll found.

Emanuel also has the support of 57 percent of white voters and 47 percent of Hispanic voters.
One has to think that January's legal battles have actually helped Emanuel.