Rand Paul: Government Shutdown I Was Totally Behind With My Floor Votes Was A "Dumb Idea"
The Junior Senator from Kentucky does some re-writing of history.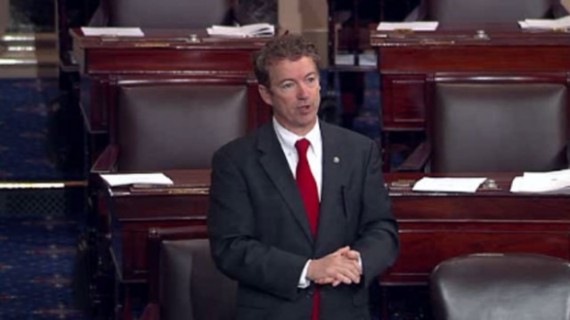 With a months worth of hindsight behind him, Kentucky Senator Rand Paul isn't a much of a fan of the government shutdown idea as he appeared to be in late September and early October:
"Shutting down the government was a dumb idea," Paul said on Special Report Monday night. "Even though it did appear as if I was participating in it, I said it was a dumb idea."

Paul also said that he was pressured into holding out for some concessions over the debt limit, saying, "Unconditionally raising the debt ceiling, nobody at home wants me to vote for that, and I can't vote for that. But the conundrum is, if I don't, we do approach these deadlines."
Here's the video:
Now, it is true that Paul wasn't out front on the government shutdown idea in the same way that Ted Cruz and Mike Lee were. At the same time, though, he wasn't exactly one of the vocal critics of the idea in the way that Senators like John McCain and Tom Coburn were, and he voted with both of them at the crucial times in the Senate on various budget matters both before and after the shutdown. So there's no small degree of rewriting of history going on here. Indeed, even Cruz and Lee themselves have toned their rhetoric down significantly in the weeks since the shutdown ended, largely because of the negative reaction it received from the public at large.
Nonetheless, this does open Paul up to some criticism for seeking to have his cake and eat it to. As one commentator to the National Review article put it, you might say that Rand Paul was against the government shutdown while he was for it. After all, if Paul thought the shutdown was a dumb idea, then why was he out there on the Senate floor, along with Lee and others like Marco Rubio, seemingly supporting Ted Cruz's 21 hour "filibuster" of the House Continuing Resolution that, bizarrely, Cruz had urged the House to pass only to then urge his fellow Republicans in the Senate to vote against? Why wasn't he among the dozen or so Republicans who voted for cloture on that bill? Why, for that matter, did he seemingly stand by and not say "Hey, this is a dumb idea" at any point during the run up to the shutdown or while it was going on? Why did he vote against the final deal?
The answer, obviously, is that there's no small degree of political gamesmanship going on here. More so than other Senators associated with the Tea Party with the possible exception of Marco Rubio, Paul has been made a conscious effort to keep his political feet in both the Tea Party and "establishment" worlds. One example of the later can be seen in his early decision to forge a political alliance with his fellow Kentucky Senator Mitch McConnell to the point where he has now endorsed him rather than the Tea Party candidate running against him. To the extent Paul is worried about potential challengers from Kentucky's establishment win should he run for reelection to the Senate, this is a pretty smart move. At the same time, though, Paul needs to keep his ties to the Tea Party base that put him in the Senate and which would be the base of a campaign for President should he chose to go that route.
In other word, Rand Paul is attempting at least to be a pretty crafty politician. Taking two seemingly opposite positions on the shutdown is yet another example of all this. What the Tea Party will think about all of it, of course, is another question.