Rand Paul Is Right: End Welfare To Israel, And The Rest Of The World
The debate over Senator Rand Paul's proposed $500 billion spending cut plan has focused almost exclusively on one issue, and one nation.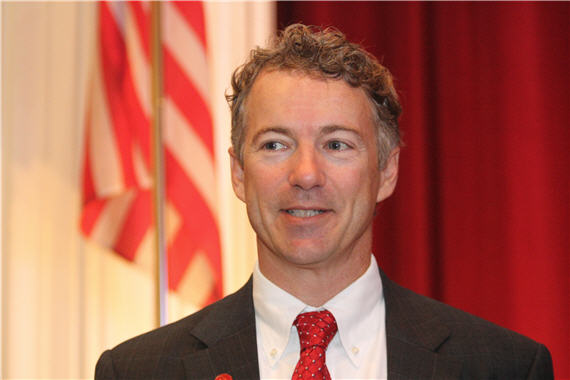 At the end of a page long piece about conflicts between Tea Party goals on spending and the reality of what Washington Republicans are actually doing, Politico's Jennifer Epstein focuses Rand Paul's call for cuts in the foreign aid budget on one specific country:
Paul also defended his calls to end aid to Israel, saying they're just part of his bigger efforts at fiscal responsibility. "I'm not singling out Israel. I support Israel. I want to be known as a friend of Israel, but not with money you don't have," he said. "We can't just borrow from our kids' future and give it to countries, even if they are our friends."

And, he said, giving money to the country is especially unwise considering Israel's relative wealth. "I think they're an important ally, but I also think that their per capita income is greater than probably three-fourths of the rest of the world," he said. "Should we be giving free money or welfare to a wealthy nation? I don't think so."
The same thing happened last week when CNN's Wolf Blitzer interview Paul about his proposed $500 billion in spending cuts, which include massive across-the-board cuts in the foreign aid budget:
WASHINGTON (JTA) — U.S. Sen. Rand Paul wants to end all foreign assistance, including aid to Israel.

Paul, a Republican newly elected in Kentucky, was on CNN Wednesday outlining where he would cut the $500 billion in government spending he says is critical to sustaining the U.S. economy. His focus was on the departments of energy, education and housing.

Interviewer Wolf Blitzer then asked about foreign assistance, asking if he wanted to end "all foreign aid." Paul said yes, and Blitzer asked him about aid to Israel.

"Well, I think what you have to do is you have to look," Paul said. "When you send foreign aid, you actually [send] quite a bit to Israel's enemies. Islamic nations around Israel get quite a bit of foreign aid, too.

"You have to ask yourself, are we funding an arms race on both sides? I have a lot of sympathy and respect for Israel as a democratic nation, as a, you know, a fountain of peace and a fountain of democracy within the Middle East."

Blitzer pressed, "End all foreign aid including the foreign aid to Israel as well. Is that right?" he asked.

Paul answered, "Yes."
Foreign aid to Israel amounts to roughly $3 billion a year, which amounts to a mere 5 percent of the total foreign aid budget, and that budget itself amounts to about 1 percent of total Federal spending. It's a small amount in the grand scheme of things and, yet, when the subject of cutting the foreign aid budget comes up, it inevitably focuses on Israel and anyone who suggests that maybe we need to rethink the idea of sending billions of dollars a year overseas when we can't even afford to do so, they're asked the question what about Israel?
Well, here's the truth. It's not about Israel, and it never should be.
To the extent foreign aid should even exist the sole question that matters is whether it is being spent in a manner that advances and protects the interests of the United States. That's all. Despite what groups like AIPAC may say, it isn't the job of legislators on Capitol Hill to worry about the interests of Israel.
In this case, Senator Paul is making an argument that others have made recently; namely that it isn't at all in the interests of the United States to be spending money that we don't have and, if we're going to cut spending (which we have to do) then it makes sense to start with money that is going to nations that can afford to pay for their own defense. This doesn't just mean Israel, but the countless other nations around the world who are living without the worries of a defense budget thanks to a U.S. military umbrella that they don't contribute to financially. The gravy train is over folks, you're going to have to do a little more to take care of yourselves from now on.