Rand Paul The GOP Frontrunner?
Calling anyone a front-runner in a race where we're still two years away from anyone casting votes is silly. Nonetheless, Rand Paul is an interesting guy to watch for those wondering if the GOP has actually changed.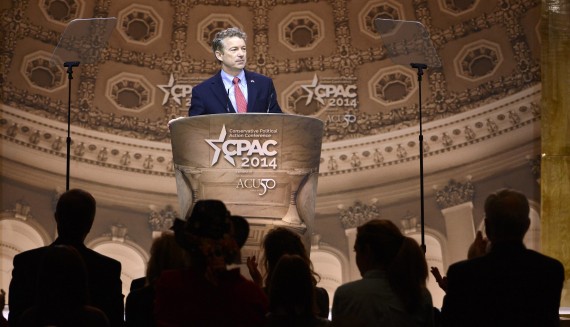 Nati0nal Journal's  Josh Kraushaar argues that the Junior Senator from Kentucky is the front-runner for the Republican nomination in 2016:
Republican strategists like to say the party's next nominee needs to hail from the GOP's gubernatorial ranks. It's a response to how unpopular Washington is—particularly the party's congressional wing—and a reflection of the party's strength in holding a majority of governorships. But another reason for the gubernatorial focus is to sidestep the one formidable candidate that gives the establishment heartburn: Sen. Rand Paul.

Make no mistake: The Kentuckian scares the living daylights out of many Republicans looking for an electable nominee capable of challenging Hillary Clinton. At the same time, he's working overtime to broaden the party's image outside its traditional avenues of support. The 2016 Republican nominating fight will go a long way toward determining whether Paul is the modern version of Barry Goldwater or at the leading edge of a new, more libertarian brand of Republicanism.

"That's the big challenge—is America ready? I think that Rand and his small-L libertarian Republicanism can break through," said Paul's longtime adviser Jesse Benton. "He's a fundamentally better messenger than Barry Goldwater—[Goldwater's 1964 campaign slogan] 'In your heart you know he's right' is not very compelling. Rand is a wonderful communicator, and I think a message of individual liberty can build wide support."
As I've noted before, Paul is not your typical Republican in many respects, and indeed differentiates himself significantly from fellow "Tea Party" Senators such as Mike Lee, Marco Rubio, and Ted Cruz when it comes to issues like foreign policy, which may well be his biggest vulnerability should he run for the Republican nomination. Even before the recent events in Ukraine, during which Paul has been far more circumspect in his criticism of the Obama Administration and bellicosity toward Russia than other Republicans in Congress have, Paul was becoming a target of many prominent pundits on the right who are identified with what can fairly be called traditional Republican/conservative foreign policy positions. Those people have ranged from The Washington Post's Jennifer Rubin, to former United Nations Ambassador John Bolton, to New York Congressman Peter King, who has been mentioned as a potential Presidential candidate himself. Assuming Paul continues to gain prominence in the media, and does indeed run for President one can expect these criticisms of Paul's foreign policy views to ramp up and to begin coming from those who might be running against him, such as Marco Rubio, Chris Christie, or Ted Cruz.
Despite this and other factors that could pose a problem if he runs, such as past statements regarding civil rights and his association with some of the same shady characters that his father has associated with, Kraushaar argues that Paul is moving in a direction that makes him the front-runner in a race that hasn't really even started yet:
At the same time, Paul has been doing more than almost any other Republican to expand the party's appeal to nontraditional GOP voters—the type of activity that's imperative for future success. He spoke at Howard University and historically black Simmons College in Kentucky (twice) as part of an outreach effort toward African-Americans. His Jack Kemp-like pitch for "economic freedom zones" has even drawn the interest of the NAACP, which invited him to speak. He's been leading the call for reforming drug sentencing, an issue that's won support from many young voters and minorities who disproportionately bear the burden of current zero-tolerance policy. This week, at a Missouri Republican Party banquet, he said the party needs "a more diverse party—with tattoos and without tattoos."

Meanwhile, the politics of the 2016 Republican nomination look increasingly favorable to Paul. He is one of the top fundraisers in the field, has a ready-made base of support from his father's presidential networks, and has proven his savvy political instincts with a made-for-TV drone filibuster and NSA lawsuit. The newly compressed Republican presidential calendar should benefit a Paul candidacy, since he's got the grassroots support to play in the small states and the money to fight forward in the big media-market states that follow.

Paul's mutually beneficial alliance with Senate Minority Leader Mitch McConnell, who faces reelection this year, is a prime example of his political foresight. McConnell has helped him build chits with the establishment, including donors skeptical of his national viability. McConnell, meanwhile, has gotten tea-party validation to get him through a contested primary against businessman Matt Bevin. He's also benefited from Paul's swipes at former President Clinton, who is emerging as an important surrogate for McConnell's Democratic challenger, Alison Lundergan Grimes. McConnell, if he survives the general election, could become the next majority leader. But Paul, in taming the establishment skepticism toward him, could end up with the bigger prize.

"He is the Republican front-runner," said Republican strategist Scott Jennings, who served as deputy political director in the George W. Bush administration and is now running a pro-McConnell super PAC in Kentucky. "The political instinct of when to do things is not something you teach—you either have it or you don't. He's got a knack for finding populist issues showing why the government is stupid, and people like it."
These are all good points, and a Rand Paul run for the White House would certainly be an interesting thing to watch, not the least because of the fact that it would be interesting to see how GOP voters handle someone who dares to question Republican orthodoxy. At the same time, though, calling Paul the "front-runner" at this point in time strikes me as being pretty silly for several reasons.
First of all, it's worth noting that Rand Paul wouldn't be the first potential candidate that some analyst somewhere has claimed to annoint a Republican front-runner for 2016. In the immediate aftermath of the 2012 election, Florida Senator Marco Rubio was placed at the top of nearly everyone's list both because he comes from a state that the GOP absolutely has to win if it's going to win a Presidential election and because of his warnings to the GOP regarding it's problems with Latino voters, most of which are related to the party's position on immigration. When Rubio seemingly lost favor with the GOP's hardcore right wing base thanks to the fact that he actually tried to accomplish something in the Senate, attention shifted to other names like Ted Cruz.  In the lead up to the 2013 elections, New Jersey Governor Chris Christie was anointed as the new front-runner. Now that he's taken a dip in the polls thanks to a "Bridgegate" scandal that quickly seems to be amounting to much ado about nothing at least as far as Christie himself is concerned, it's not at all surprising that attention is shifting to someone else, and Rand Paul is nicely situated at the moment to be the person who gets touted as the "front-runner."
Second, before we place too much importance on any of these names, though, it's worth noting that the fact that pundits have anointed someone as the "front-runner" for 2016 really doesn't mean much of anything. At this point during the 2008 cycle, for example, Rudy Giuliani was seen as a front-runner for the Republican nomination. He ended up spending $50,000,000 on a campaign that barely made it past the first four primaries. In 2012, there were no less than five so-called "front-runners" during the period before people started actually voting ranging from Romney, to Mike Huckabee, to Rick Perry, to Herman Cain, to Newt Gingrich. The same thing will happen as we get closer to 2016. Rand Paul is getting a moment in the sun right now, but politics being what it is that is going to come to an end soon. Paul will stumble somewhere, or some other Republican will rise to prominence for one reason or another. That cycle will continue from now until voting actually starts in Iowa and New Hampshire in early 2016, just as it always has in every Presidential cycle for decades now. Therefore, declaring Paul, or anyone, a "front-runner" at this point is really kind of silly.
Finally, it's worth noting that what we're seeing here is really just another example of the "horse race" journalism that has come to characterize political reporting in this country. Rather than analyzing issues or uncovering real stories, political writers end up spending most of their time covering polls that are mere snapshots in time and latching on to whatever the "flavor of the month" happens to be. As a blogger who writes primarily about politics I've been guilty of it myself, and the pressures to produce content that come with being a paid writer for sites like National Journal and Politico makes it inevitable that there's a lot more time spent focused on day-to-day stories like this. I'd like to say that we're going to see that change in the 2016 cycle, but the fact that we've got journalists anointing front-runners for little reason other than to get traffic hits seems to indicate that this is unlikely.
Notwithstanding all of that, I do agree that Rand Paul is proving himself to be a very skilled politician, far more skilled in fact than his father ever was given the fact that he seems to be far better at not saying things that make him sound, well, crazy. If he does run, he will be an interesting candidate to watch if only because his success, or failure, will be seen as an indication of just how much the Republican Party has actually changed since the George W. Bush years.