Rand Paul's Ridiculous Slavery Analogy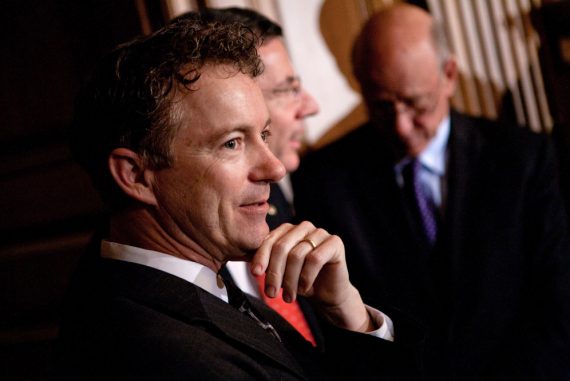 Earlier this week, Kentucky Senator Rand Paul, who I normally have a pretty decent amount of respect for considering he's a Senator, took a little trip into rhetorical fantasy land when he tried to analogize universal health care to slavery:
Rand Paul, the freshman senator from Kentucky, was speaking recently about healthcare, specifically the new healthcare law some refer to as "Obamacare."  Like many Republicans, Paul, the son of Rep. Ron Paul (R-Texas), doesn't like it. Unlike many conservatives, the "tea party" darling doesn't like the law  because it reminds him of slavery.

"With regard to the idea of whether you have a right to healthcare, you have to realize what that implies. It's not an abstraction. I'm a physician. That means you have a right to come to my house and conscript me," Paul said recently in a Senate subcommittee hearing.

"It means you believe in slavery. It means that you're going to enslave not only me, but the janitor at my hospital, the person who cleans my office, the assistants who work in my office, the nurses," Paul said, adding that there is "an implied use of force."

"If I'm a physician in your community and you say you have a right to healthcare, you have a right to beat down my door with the police, escort me away and force me to take care of you? That's ultimately what the right to free healthcare would be," Paul said.
Here's the video:
Over at Salon, Alex Pardee wonders if Paul also believes that lawyers are slaves since the Constitution provides that each person accused of a crime has a right to counsel. But it's Matt Welch over at Reason, a libertarian haven, that has perhaps the most spot on response to Paul's hyperbole:
Could slaves free themselves by changing professions? Do doctors in Switzerland get taken away at gunpoint? To treat the analogy with technical seriousness, even setting aside (as if you could) the colossal weight of America's most lasting shame, is to render it ridiculous, in my opinion.
Exactly. You know what's like slavery, Senator? Actual slavery, which involves forcible labor without compensation. No serious person I know of has ever asserted that doctors should be forced to work without compensation (and if they did, they would be wrong). So, stay away from the dumb rhetoric and get back to do doing things like challenging the neocon orthodoxy in the Senate. This just makes you look ridiculous and makes it harder for people who disagree with you to take you seriously.