Random Bag Searches Coming To D.C. Metro System
Washington D.C.'s 34 year-old Metro system is about to become the latest stage for Security Theater.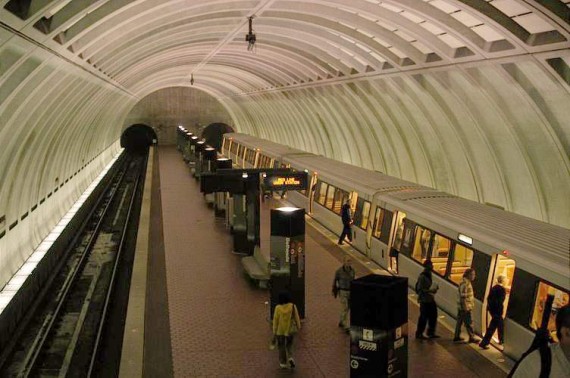 After two arrests of men allegedly plotting terror attacks against the Washington D.C. Metro system, transit police are beginning random bag searches of passengers:
Metro anti-terrorism teams will immediately start random inspections of passengers' bags and packages to try to protect the rail and bus system from attack, transit officials said Thursday.

Police using explosives-screening equipment and bomb-sniffing dogs will pull aside for inspection about every third person carrying a bag, Metro Transit Police Chief Michael Taborn said. The searches might be conducted at one location at a time or at several places simultaneously. If people refuse, they will be barred from entering the rail station or boarding a bus with the item, Taborn said. The inspections will be conducted "indefinitely," he said.

Taborn told Metro's board of directors about the plan during a meeting Thursday. Metro had planned to implement random searches in 2008 during times of elevated threat levels but never conducted any.

Thursday's announcement came six weeks after federal law enforcement authorities arrested Farooque Ahmed, 34, of Ashburn in an alleged plot to bomb Metrorail stations in Northern Virginia. Last week, authorities arrested Awais Younis, 25, of Arlington County on accusations that he made threats on his Facebook page to place pipe bombs aboard Metro rail cars, according to court documents.

However, Metro Interim General Manager Richard Sarles said the inspections are not a response to any specific or heightened threat.

"It's good to vary your security posture," he said, noting that transit agencies in New York, New Jersey and Boston have successfully carried out random checks.

The inspections over the far-flung transit network, which has 86 rail stations and 12,000 bus stops, will be conducted by several dozen officers at most. Metro's trains and buses carry more than 1.2 million passengers every weekday, and officials acknowledge the limitations of the plan.
Two things about this strike me.
First, this is quite obviously more security theater than actual security. Given the size of the Metro system and the relatively small size of the security team that will be conducting the searches, this plan clearly isn't aimed at actually making the Metro system any safer, nor is the fact that the bag searches will be entirely random rather than directed at people who might be, say, acting suspiciously or who fit a certain profile. Much like TSA security at the airports, these searches seem designed more to make riders feel safer than actually making them safer, a fact which seems to be confirmed by the experience of other transit systems:
New York City authorities began random bag searches in the subway system in 2005 after mass transit bombings in London that killed 56 people, said Paul J. Browne, deputy commissioner of the New York police.

Browne said the searches are conducted by some of the 2,500 police officers assigned to the subway system.

"Backpacks and other luggage are checked for explosives using swabs similar to those used at airports," he said in an e-mail.

"We periodically find illegal weapons and drugs, but we have not uncovered explosives as part of a terrorist plot," Browne said. "That's not to say the system hasn't deterred an attack. We rarely know if police presence has deterred an attack. . . . The unpredictability of which stations and at what times inspections take place makes it harder for plotters to plan an attack."
Secondly, its worth noting the initial reaction of Metro riders to this planned up-tick in security:
Sienna Reynaga, a 32-year-old writer from Reston, arrived at the West Falls Church Station with two bags of luggage after returning from Spain.

Reynaga said the inspections will be effective at one thing: slowing everyone down.

"I would have been mad today if somebody checked my bags," she said, laughing, "because it's cold."

Falls Church resident Irv Morgan, 49, said the inspections violate the Constitution.

"I think it will create a sense of unease," he said before boarding an Orange Line train from the West Falls Church Station to attend a Christmas party in the District.

Morgan, a longtime Metro rider, said the system was once efficient and reliable.

"Metro is none of those things these days," he said, adding that the security inspections are "one more level of degradation of what Metro use to be."

(…)

Metro Orange Line riders Lina Dajani, 25, and Kaydia Kentish, 26, said they would not mind the inspections.

"We do it at airports, so it shouldn't be an issue doing it here," Kentish said.

"If it's on everyone, it's kind of a security issue," Dajani said. "I'd rather be safe."
That last reaction is, I think, where most Metro riders will end up being after these procedures are implemented. Since 9/11 we've all grown accustomed to security procedures that, 11 years ago, most of us would have considered unreasonable intrusions on our liberty and privacy, all in the name of safety. That, I think, is the real measure of what terrorism does to a free society. It's not the bombs or the airplanes that hurt us most, but the gradual intrusions into personal freedom that are implemented in response to those threats. Little by little, the freedom of movement we once knew is being chipped away and, in the event that we ever again face a mass terrorist attack with catastrophic loss, the stage will have been set for a ramp up in "security procedures" that will make America an unrecognizable shell of its former self.