Rasmussen: Obama Job Approval At Highest Level In 15 Months
The night before the State Of The Union Address, Barack Obama is in a far better position than many people thought he'd be after November's election results.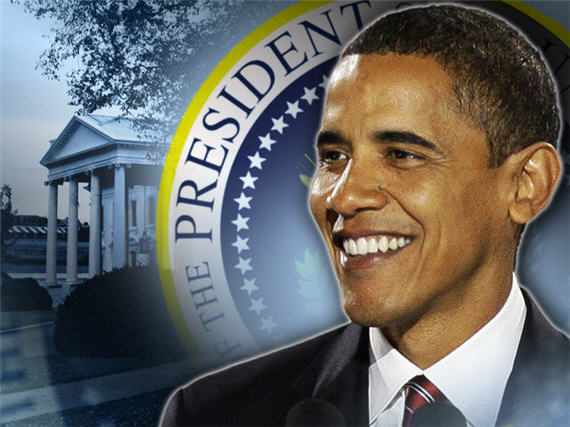 On the eve of the State of the Union Address, there's some good news for President Obama from the poll that has consistently shown him performing the worst:
The Rasmussen Reports daily Presidential Tracking Poll for Monday shows that 31% of the nation's voters Strongly Approve of the way that Barack Obama is performing his role as president. Thirty-five percent (35%) Strongly Disapprove, giving Obama a Presidential Approval Index rating of -4 (see trends).

That's the president's best Approval Index rating since February 1, 2010, nearly a full year ago. Strong Disapproval among Republicans is down to 55%. Among all voters, Strong Disapproval of the president has been consistently lower since mid-December.

The Presidential Approval Index is calculated by subtracting the number who Strongly Disapprove from the number who Strongly Approve.
This "Approval Index" is a metric of Scott Rasmussen's own invention that, quite honestly, seems to be of dubious value in telling us anything about the mood of the public as a whole. When you look at the raw numbers, though, you see where the good news really is:
Overall, 52% of voters say they at least somewhat approve of the president's performance. That's his highest level of total approval in fifteen months, since October 2009.  The president earns approval from 84% of Democrats and 48% of unaffiliated voters. Among all voters, 47% disapprove.
This is clearly a reflection of the same post lame duck, post Arizona, bump in the polls that the President has gotten over the past month or so and, as we head into the State of the Union tomorrow, it's as good a time as any to see where we are today overall: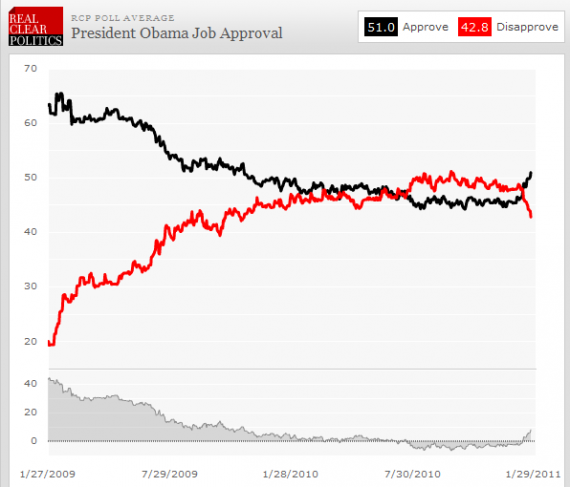 And this is before the State of the Union, which typically results in at least a slight upward tick in poll numbers for any President. So, for a guy whose party suffered historic loses almost three months ago, I'd say that President Obama is in pretty good shape right now.