Rasmussen: Perry 29% Romney 18% Bachmann 13%
The first poll in the wake of Michele Bachmann's victory at Ames and Rick Perry's entry into the race shows a brand new frontrunner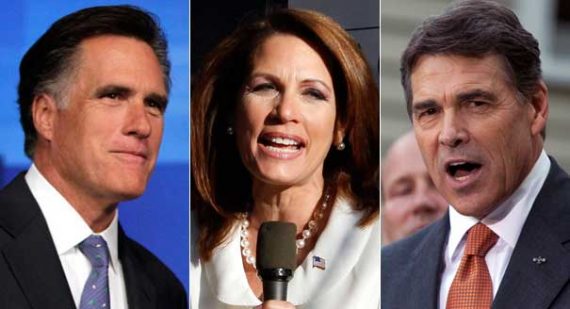 The first poll in the wake of Michele Bachmann's victory at Ames and Rick Perry's entry into the race shows the field being shuffled significantly and, if the numbers hold up, a brand new frontrunner:
Texas Governor Rick Perry, the new face in the race for the 2012 Republican presidential nomination, has jumped to a double-digit lead over Mitt Romney and Michele Bachmann with the other announced candidates trailing even further behind.

The latest Rasmussen Reports national telephone survey of Likely Republican Primary voters, taken Monday night, finds Perry with 29% support. Romney, the former Massachusetts governor who ran unsuccessfully for the GOP presidential nomination in 2008, earns 18% of the vote, while Bachmann, the Minnesota congresswoman who won the high-profile Ames Straw Poll in Iowa on Saturday, picks up 13%.

Texas Congressman Ron Paul, who was a close second to Bachmann on Saturday, has the support of nine percent (9%) of Likely Primary Voters, followed by Georgia businessman Herman Cain at six percent (6%) and former House Speaker Newt Gingrich with five percent (5%). Rick Santorum, former U.S. senator from Pennsylvania, and ex-Utah Governor Jon Huntsman each get one percent (1%) support, while Michigan Congressman Thaddeus McCotter comes in statistically at zero.

Sixteen percent (16%) of primary voters remain undecided.
In the last Rasmussen poll of the GOP field just about two weeks ago, Romney was in the lead with 22% with Perry second at 18% and Bachmann third at 16%, so this represents a significant reshuffling of the deck and a significant surge for Perry of more than 10%. One of the main reasons for Romney's Perry's surge seems to be the fact that he has grabbed a significant portion of self-identified Tea Party supporters away from Michelle Bachmann:
Perry captures 39% of the vote among GOP primary voters who say they are members of the Tea Party, with Bachmann a distant second with 21% support from this group. Perry barely leads Romney among non-Tea Party members 27% to 24%, but this marks a interesting change from the previous survey when Romney held a double-digit lead over Perry among these voters.
In the previous poll, before Perry was a confirmed candidate, he and Bachmann were much closer among the Tea Party supporters:
Perry leads among Tea Party members with 28% support. Bachmann runs second in this group with 22% of the vote, with Romney at 16% closely followed by Cain's 13%. Among primary voters who are not Tea Party members, Romney captures 29% of the vote. Perry (13%), Bachmann (11%) and Paul (10%) follow at a distance.
This is a Rasmussen poll, of course, and we've noted here at OTB some of the concerns with their polling accuracy in the past. Those concerns dealt with General Election polling, though, and the question of whether their samples were too heavily weighted toward Republican voters.  In this case, we're dealing with exclusively Republican voters so I'm not sure that those concerns apply in this case. Nonetheless, the usual caveats apply. That said, we'll need to see some other polling to see if this holds up or if we're looking at a statistical anomaly here. If it does, then the GOP race has entered a very different phase for sure.
UPDATE: See also "Perry Opens Wide Lead (in Rasmussen Poll)"