Reading is Apparently Good For You
Dedicated reading improves our brains and our health---unless it's on a computer screen.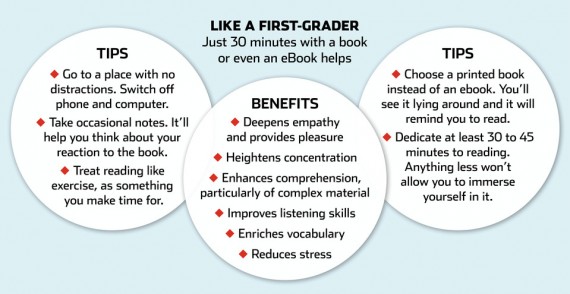 Dedicated reading improves our brains and our health—unless it's on a computer screen.
WSJ ("Read Slowly to Benefit Your Brain and Cut Stress"):
Slow reading advocates seek a return to the focused reading habits of years gone by, before Google, smartphones and social media started fracturing our time and attention spans. Many of its advocates say they embraced the concept after realizing they couldn't make it through a book anymore.

[…]

Slow readers list numerous benefits to a regular reading habit, saying it improves their ability to concentrate, reduces stress levels and deepens their ability to think, listen and empathize. The movement echoes a resurgence in other old-fashioned, time-consuming pursuits that offset the ever-faster pace of life, such as cooking the "slow-food" way or knitting by hand.

The benefits of reading from an early age through late adulthood have been documented by researchers. A study of 300 elderly people published by the journal Neurology last year showed that regular engagement in mentally challenging activities, including reading, slowed rates of memory loss in participants' later years.

A study published last year in Science showed that reading literary fiction helps people understand others' mental states and beliefs, a crucial skill in building relationships. A piece of research published in Developmental Psychology in 1997 showed first-grade reading ability was closely linked to 11th grade academic achievements.

Yet reading habits have declined in recent years. In a survey this year, about 76% of Americans 18 and older said they read at least one book in the past year, down from 79% in 2011, according to the Pew Research Center.

[…]

Screens have changed our reading patterns from the linear, left-to-right sequence of years past to a wild skimming and skipping pattern as we hunt for important words and information.

One 2006 study of the eye movements of 232 people looking at Web pages found they read in an "F" pattern, scanning all the way across the top line of text but only halfway across the next few lines, eventually sliding their eyes down the left side of the page in a vertical movement toward the bottom.

None of this is good for our ability to comprehend deeply, scientists say. Reading text punctuated with links leads to weaker comprehension than reading plain text, several studies have shown. A 2007 study involving 100 people found that a multimedia presentation mixing words, sounds and moving pictures resulted in lower comprehension than reading plain text did.

Slow reading means a return to a continuous, linear pattern, in a quiet environment free of distractions. Advocates recommend setting aside at least 30 to 45 minutes in a comfortable chair far from cellphones and computers. Some suggest scheduling time like an exercise session. Many recommend taking occasional notes to deepen engagement with the text.
While I read several hours most days, I mostly do so on a computer screen of some sort and, yes, that has led to to read more quickly, skimming for the key points, rather than slowing down to engage with the text. How much of that is the form of the text itself and how much is the fact that it has coincided with blogging and therefore finding something to share with readers and comment upon, I can't say.
I have been trying to force myself to read more books, although mostly nonfiction related at least loosely to my work. I seldom take notes, although I do tend to underline and otherwise annotate using a mechanical pencil. Occasionally, though, that engagement will send me to the PC or my iPad or iPhone to answer a question triggered by the text.