Reading the FEC Tea Leaves
There's a lot of money already chasing the 2020 presidential election.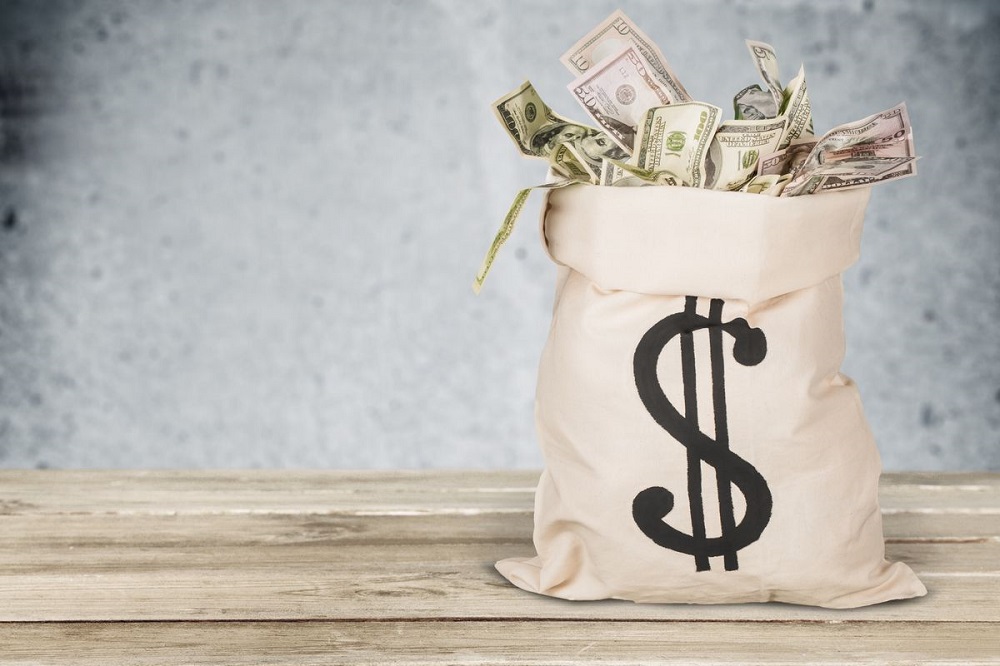 When I saw the MSNBC headline "Wall Street and finance execs spread their donations across the 2020 Democratic field in the first quarter," I was expecting a cynical tale of an industry hedging its bets to ensure that the next President feels beholden. Instead, it was just some anecdotes derived from the latest FEC reports.
Wall Street and finance executives placed their early 2020 bets on a variety of Democratic presidential candidates, from Pete Buttigieg to Kamala Harris, even as the contenders try to distance themselves from big-money donors.


The first-quarter fundraising totals are the latest indication that high-profile Democratic financiers are waiting for the field to thin out before they open their funding networks and checkbooks to potential challengers to President Donald Trump next year.

Some donors have also been eagerly waiting for former Vice President Joe Biden to enter the race before they open their extensive money networks to other candidates, according to people familiar with the deliberations.


Meanwhile, as Democrats vie for limited dollars in a crowded group, Trump's campaign raised a whopping $30 million in the first quarter and has more than $40 million in cash on hand, giving the president a clear edge even as he suffers from low approval ratings.


The early fundraising totals, which were disclosed on Monday in Federal Election Commission filings, show that some players in the financial industry are interested in backing certain candidates early on, including Sens. Cory Booker and Kirsten Gillibrand and former Texas Rep. Beto O'Rourke.


Sen. Bernie Sanders, who led the Democratic fundraising field with an $18 million haul in the first quarter, did not appear to get donations from finance executives. Eighty-four percent of the take came from donations of $200 or less.


Sen. Elizabeth Warren, another longtime critic of Wall Street and big businesses, received few donations from people in the financial industry. Warren raised $6 million, with 70% coming from small donations.
There is no systematic evidence for any of this. It's later followed by listings of a handful of specific, not-particularly-well-known, individuals in the finance industry who wrote checks to specific candidates. And none of them seem to have donated to multiple candidates.
The overall data is much more interesting than the financial sector cut-out: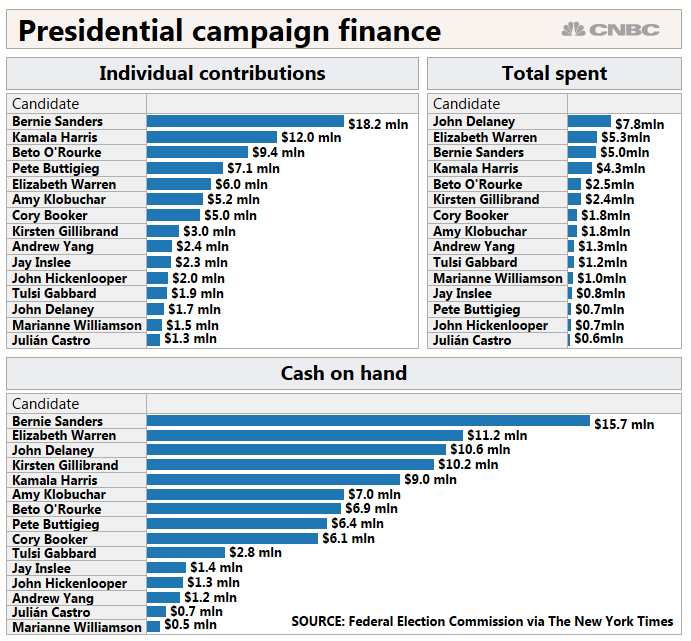 Obviously, Sanders is doing quite well, befitting the 2016 runner-up who came into this cycle as a frontrunner. Harris is doing almost as well—much better than her second-tier standing in the polls would lead us to expect. And O'Rourke and Buttigieg are both raising money at a pace to suggest that the frenzy of media coverage is warranted (granted, there's a chicken-egg situation).
Two other things strike me as interesting.
First, John Delaney—who I needed to Google—is spending a lot of money and somehow still has more left on hand than just about anyone in the field. I don't know where or how he's spending that $7.5 million but it ain't working.
Second, running for President brings out the money. Even candidates with zero shot at winning the Democratic nomination in 2020 are raking in the cash. Marianne Williamson, who I also had to Google, has somehow raised half a million. Who are these people with nothing else to do with their money? And why aren't they donating it to either a candidate who might actually be president or to, say, cancer research? Or, hell, Project Angel Food?