Reaping the Whirlwind
That thing that happens when you sow the wind with conspiracy theories.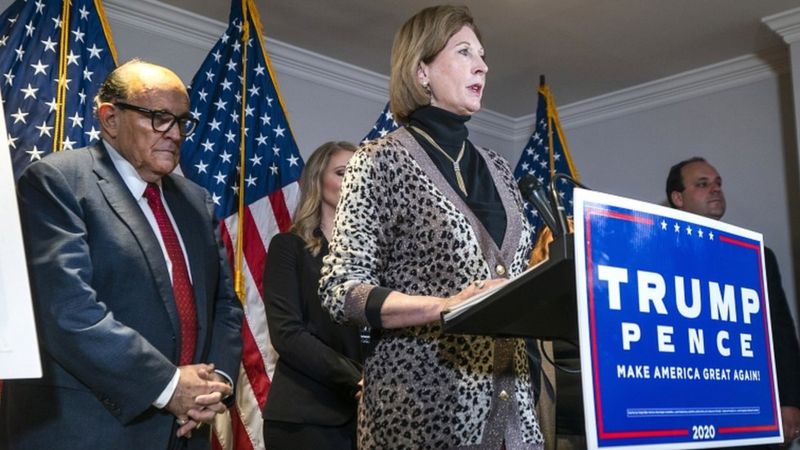 Rich Lowry at Politico: The Conspiracy Theory That Could Hand Joe Biden the Senate.
The two Trump-allied lawyers have made themselves into wrecking balls against the Republican Party of Georgia, whose top elected officials, they allege, are involved in the most dastardly and far-reaching conspiracy in American history.

This might be only a bizarre footnote to the 2020 election, if their charges weren't being amplified by the president of the United States and didn't come at a time when the GOP needs all of its voters to turn out in the two January runoff elections in Georgia that will determine control of the Senate.
The two attorneys, Sidney Powell and Lin Wood held an event yesterday wherein they encouraged Georgia Republicans not to vote in the run-off unless the Governor calls a special session of the legislature to address fraud.
Fox News reports: Pro-Trump attorneys Sidney Powell, Lin Wood urge Georgians not to vote in Senate runoffs without changes
Pro-Trump attorneys Sidney Powell and L. Lin Wood urged Georgians not to participate in a runoff vote that will determine control of the Senate in January until state officials address unsubstantiated claims that President-elect Joe Biden won the White House through voter fraud.

Powell and Wood are not working for the Trump campaign in an official capacity but have waged legal battles on his behalf. Speaking to the president's supporters at a press conference in Atlanta, Powell said state residents should not vote until Georgia overhauls its procedures and ends the use of Dominion voting machines.

"I would encourage all Georgians to make it known that you will not vote at all until your vote is secure – and I mean that regardless of party," Powell said. "We can't live in a republic, a free republic unless we know our votes are legal and secure. So we must have voter ID and we probably must go back to paper ballots that are signed and have your thumbprint on them. We certainly should be able to find a system that can count them, even if it has to be done by hand."
These individuals, who have been empowered by Trump and his allies. Yes, Team Trump has sought to distance itself from their antics, but even so, they are filing lawsuits on Trump's behalf and are selling the exact same narratives about the elections and Dominion voting machines that Trump himself is pushing on Twitter and elsewhere.
Back to Lowry:
According to Wood-Powell, Dominion voting machines were used to rob President Donald Trump of his rightful landslide in Georgia, with Governor Brian Kemp and Secretary of State Brad Raffensperger, both Republicans, in on the fix, aided and abetted by foreign enemies of the United States.

The rot runs so deep that, per the duo, Republicans should boycott the runoffs. Or, as Wood put it at their joint Wednesday rally in Georgia that was even more bonkers than Rudy Giuliani's news conference at the Republican National Committee, the governor should resign and go to jail.

If this turmoil contributes to a Republican debacle, it would be the dumbest and most unnecessary loss since Steve Bannon decided in the 2017 Alabama Senate special election that it'd be a brilliant idea to run Roy Moore, the one Republican noxious and scandal-plagued enough to lose to a Democrat.

[…]

Perhaps Republican voters will ignore all of this come January. But there's a reason parties seek unity before important elections. At best, Wood-Powell are distracting from the GOP message in the races, and at worst, they are convincing persuadable Georgians that it is the Republican Party that needs to be checked, not Joe Biden.

Certainly, the Wood-Powell logic supports sitting this one out. There is no reason to bother voting if Georgia no longer has a democratic system and instead is controlled by politicians on the take who use technology to predetermine the outcome of elections.
Under normal circumstances, the smart money would be on both Republicans to win the runoffs, especially Perdue given that he was less than half a percentage point away from 50% in the first round. Still, "smart" is not a word that should be used in proximity to what Wood, Powell, and Trump are doing at the moment, so all this nonsense could have a real impact on the run-off.
Certainly, Lowry is not the only pro-GOP actor noticing. Here's Newt Gingrich this morning:
If the Republicans lose the Senate via these run-offs, the poetic justice will be profound given that they are the ones that unleashed the kind of crazy talk and behavior that is currently fueling Wood and Powell. It is all baseless talk sans evidence or logic. But that, of course, is the exact way that Trump himself has behaved as a candidate and in office. And it is the mode he is currently engaged in about the election. The contemporary GOP opened this Pandora's Box and then propped open the lid. They own this mess, and Lowry, Gingrich, and the like are all responsible.
If you don't call out conspiracy theories, untruths, and sloppy thinking, it will come back and bite you.