Regarding Hunter Biden
Seeking to have a US citizen investigated by a foreign government based on innuendo is a major problem.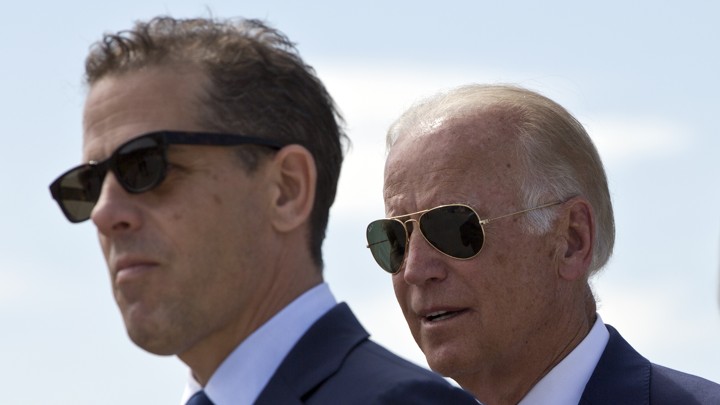 In his now infamous phone call with President Zelensky of Ukraine, Donald Trump asked for two favors. One was in regards to a conspiracy theory that lacks an empirical foundation (which I discussed here) and the other was in regards to an investigation into a private citizen that lacked any evidentiary foundation, which is the subject of this post: the case of Hunter Biden.
Let's stop and pause on the commonality that these requested favors have. They are both baseless; they both grow out of pro-Trump conspiracy theories; and they both are about influencing the 2020 elections.
The server theory is about casting blame for 2016 election interference on Ukraine instead of Russia so as to blunt the findings of the US intel community and those detailed in the Mueller Report. It is also a narrative being pushed by Russian intelligence, and is thus further election interference by the Russians.
Hunter Biden is a topic of discussion because he just so happens to be the son of one of the candidates Trump has a high probability of facing next year at the polls (and the one conventional wisdom thinks is the most electable).
Let's go back to the July 25th phone call and the following from the call summary memo:
The President [Trump]: …There's a lot of talk about Biden's son, that Biden stopped the prosecution and a lot of people want to find out about that so whatever you can do with the Attorney General would be great. Biden went around bragging that he stopped the prosecution so if you can look into it… It sounds horrible to me.
I would note the following formulations: "There's a lot of talk," "a lot of people want to find out about that," and "It sounds horrible to me." These are not statements that come from a position of solid evidence and strong rationales for investigations. No, they are the vague musings of a person who is operating on the level of rumors and innuendo.
Who are these people? Why are they talking? What do they want to find out? The answer is obviously: Trump supporters who want to cast unfounded aspersions. This is not enough to sic another country after a private citizen.
It is important to note that there is no investigation taking place on the US side. The excuse for looking into the matter is basically twofold. One, Hunter Biden's qualifications for being on the board of Burisma, a gas company, were limited (and that is being charitable). Two, Joe Biden, in his capacity as Vice President, was the Obama administration's point man in getting a corrupt Ukrainian prosecutor, Viktor Shokin, ousted from office.
As it pertains to the first point, as James Joyner noted weeks ago, the scandal may simply be what is legal, rather than anything else. Yes, it is clear that Burisma offered Hunter Biden the job because of his last name. And, yes, the amount paid to him underscores the degree to which compensation at the upper levels of corporations can be excessive, to put it mildly.
And let me be clear: I have no interest in defending Hunter Biden, per se. Indeed, everything I know about him suggests a person with questionable judgment at best. The basic litany of publicly known foibles include a discharge from the Navy reserves after testing positive for cocaine (and a general history of substance abuse) and a secret child with a stripper (after initially denying being the father). Even before Trump asked Zelensky for a favor, the New Yorker was asking Will Hunter Biden Jeopardize His Father's Campaign?*
At the same time, the gossip pages have seized on Hunter's tumultuous private life. He has struggled for decades with alcohol addiction and drug abuse; he went through an acrimonious divorce from his first wife, Kathleen Buhle Biden; and he had a subsequent relationship with Beau's widow, Hallie. He was recently sued for child support by an Arkansas woman, Lunden Alexis Roberts, who claims that he is the father of her child. (Hunter has denied having sexual relations with Roberts.)
Even beyond all of that, there is no doubt in my mind that he got the offer to work with Burisma because of his last name and that he showed poor judgment in taking the position, since it clearly always had the chance of causing problems for his father.
Let's return to Trump's actions. Do we want any President of the United States asking a foreign government to launch a criminal investigation of a US citizen because "There's a lot of talk" about that citizen? Moreover, do we want a President of the United States using such a reason for an investigation into a political rival's family?
Let's look at how the Hunter-Burisma connection happened in the first place. From the aforementioned New Yorker piece:
For another venture, Archer [one of Hunter Biden's business partners] travelled to Kiev to pitch investors on a real-estate fund he managed, Rosemont Realty. There, he met Mykola Zlochevsky, the co-founder of Burisma, one of Ukraine's largest natural-gas producers. Zlochevsky had served as ecology minister under the pro-Russian government of Viktor Yanukovych. After public protests in 2013 and early 2014, the Ukrainian parliament had voted to remove Yanukovych and called for his arrest. Under the new Ukrainian government, authorities in Kiev, with the encouragement of the Obama Administration, launched an investigation into whether Zlochevsky had used his cabinet position to grant exploration licenses that benefitted Burisma. (The status of the inquiry is unclear, but no proof of criminal activity has been publicly disclosed. Zlochevsky could not be reached for comment, and Burisma did not respond to queries.) In a related investigation, which was ultimately closed owing to a lack of evidence, British authorities temporarily froze U.K. bank accounts tied to Zlochevsky.

In early 2014, Zlochevsky sought to assemble a high-profile international board to oversee Burisma, telling prospective members that he wanted the company to adopt Western standards of transparency. Among the board members he recruited was a former President of Poland, Aleksander Kwaśniewski, who had a reputation as a dedicated reformer. In early 2014, at Zlochevsky's suggestion, Kwaśniewski met with Archer in Warsaw and encouraged him to join Burisma's board, arguing that the company was critical to Ukraine's independence from Russia. Archer agreed.

When Archer told Hunter that the board needed advice on how to improve the company's corporate governance, Hunter recommended the law firm Boies Schiller Flexner, where he was "of counsel." The firm brought in the investigative agency Nardello & Co. to assess Burisma's history of corruption. Hunter joined Archer on the Burisma board in April, 2014. Three months later, in a draft report to Boies Schiller, Nardello said that it was "unable to identify any information to date regarding any current government investigation into Zlochevsky or Burisma," but cited unnamed sources saying that Zlochevsky could be "vulnerable to investigation for financial crimes" and for "perceived abuse of power."
Reuters (What Hunter Biden did on the board of Ukrainian energy company Burisma) reports the following regarding Hunter Biden's work for Burisma:
Interviews with more than a dozen people, including executives and former prosecutors in Ukraine, paint a picture of a director who provided advice on legal issues, corporate finance and strategy during a five-year term on the board, which ended in April of this year.

Biden never visited Ukraine for company business during that time, according to three of the people.

They also said that his presence on the board didn't protect the company from its most serious challenge: a series of criminal investigations launched by Ukrainian authorities against its owner, Mykola Zlochevsky, a multimillionaire former minister of ecology and natural resources. The allegations concern tax violations, money-laundering and licences given to Burisma during the period where Zlochevsky was a minister.
I will confess to some surprise that Hunter never actually visited Ukraine and it clearly was an over-compensated position (in my opinion) given the amount of work done/level of expertise involved. These facts underscore, to me, that what Burisma wanted was his last name so as to enhance their reputation.
The piece echoes the reporting from the New Yorker:
Zlochevsky, who founded Burisma in 2002, served as a minister under Ukraine's then-President Viktor Yanukovich from 2010 to 2012. Burisma then began adding high-profile names to its board, including Biden and a business associate of his called Devon Archer, in April 2014.

The company has said it had wanted to strengthen corporate governance. According to two sources close to the company, Burisma was also looking to attract international investment as well as expand overseas.

Oleksandr Onyshchenko, a businessman and former member of the Ukrainian parliament who knows the Burisma founder, said it had been Zlochevsky's idea to appoint Biden as a director. "It was to protect (the company)" at a time when it was facing investigations, said Onyshchenko, who left the country in 2016. In the run up to Biden's appointment, a popular uprising led to the removal of the Russian-backed Yanukovich in February 2014.

[…]

According to four sources close to the company, Biden regularly attended Burisma's twice annual board meetings – all of which were held outside of Ukraine.

A source close to the company said Biden took part in strategic conversations and shared his opinions and experience. In between board meetings, "there were constant calls, dialogue, sharing of advice, consideration of different options," the source said. "Expansion to other markets was also discussed," the source added.

Another source close to Burisma said Biden assisted with analysis of oil and gas assets the company was considering buying abroad, though a deal didn't go through. The company was considering possible acquisitions in Europe, Kazakhstan and the United States, the source and another person close to Burisma said.

Both sources said that around the time Biden was appointed, Burisma was also looking to secure a financing deal with foreign investment funds, including one in the United States.

Biden helped to find lawyers to work on this process, before it broke down due to the start of the war in east Ukraine, one of those two sources said. "He was a ceremonial figure," that person added.
Burisma was clearly willing trying to enhance their international reputation by having Americans on their board during. Having the son of the Vice President was clearly a huge bonus. But, again, there is no evidence of wrongdoing by either Biden.
And in the absence of evidence, there should be no investigation. And if evidence does exist, investigations should be initiated by proper authorities, not because of a phone call between heads of state based on "a lot of talk."
---
*And not to excuse the behaviors in question, but as a column in WaPo (The Hunter Biden story is a troubling tale of privilege) notes, Hunter Biden is man whose mother and sister were killed in a car accident that he survived, along with his brother Beau, who later died of brain cancer as an adult. That he might have personal problems is not a surprise, especially substance abuse.