Reid and Angle Neck-and-Neck in NV Polls
Angle is smartly focusing her commercials on the economy, and it is helping her numbers.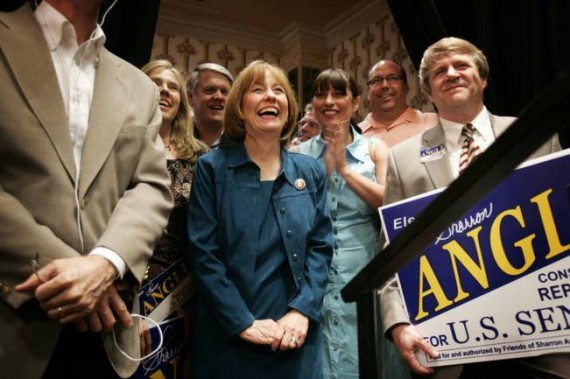 Via the Las Vegas Review-Journal:  U.S. SENATE RACE: Poll: Reid, Angle neck and neck
Sen. Harry Reid and Sharron Angle are locked in a dead heat, says a new poll for the Las Vegas Review-Journal and KLAS-TV, Channel 8 that shows the GOP challenger regaining ground after going on the offensive with a TV ad blaming Reid for Nevada's deep economic troubles.

[…]

The new survey by Mason-Dixon Polling & Research shows Reid and Angle neck and neck. The Senate majority leader would win 43 percent and Angle 42 percent of support from likely Nevada voters if the election were held now. The margin of error is plus or minus 4 percentage points on the statewide telephone survey of 625 registered voters taken Monday through Wednesday.
As I have noted in numerous posts on this race, Angle's best hope is the economy, so her current advertising strategy is smart.
If Angle and her views are the issue come November, then I think she loses.  If it is the economy, she likely wins.