Release Of Inspector General's Report Indicates Hillary's Email Woes Likely To Continue
The Clinton campaign probably thought the email story was behind them. The new report from the State Department's Inspector General shows just how wrong they were about that.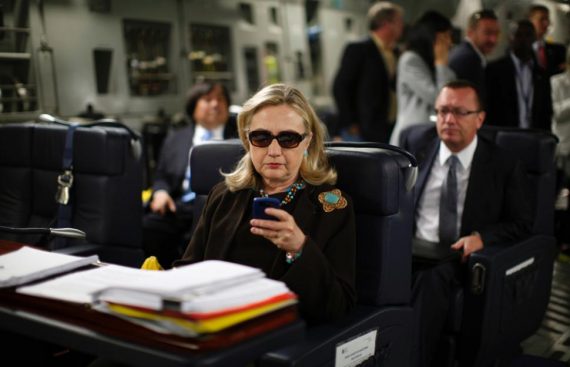 With yesterday's release of the State Department's Inspector General Report, and the prospect of the results of an F.B.I./Justice Department investigation that has been going on for more than a year being released just as the General Election campaign is set to begin, Politico's Josh Gerstein notes that Hillary Clinton's email problems aren't going away any time soon:
A newly issued report on Hillary Clinton's use of a private email server flatly rejects one of her core defenses in the controversy — that she was playing by the rules.

And while the findings of the State Department Inspector General probe don't land any devastating blows against the Democratic front-runner, they provide ample grist to keep questions about her handling of the situation alive as the general election campaign gears up.

On the trail, Clinton has repeatedly claimed that her exclusive use of a personal email account during her four years as secretary of state was authorized by the rules in effect at the time, but investigators from the State Department's Office of Inspector General reached just the opposite conclusion.

"It was not prohibited. It was not in any way disallowed," Clinton said in a debate in March.

"Throughout Secretary Clinton's tenure, the [regulations] stated that normal day-to-day operations should be conducted on an authorized" email system, the report declared. And the inspector general found no evidence that anyone had ever authorized or approved Clinton's email setup.

The official watchdog's finding was hardly a shock, since federal records experts and Clinton critics have been saying for more than a year that her actions were at odds with the policies and best practices State issued to its personnel at the time.

Clinton's campaign claimed the report punctured several conspiracy theories about the email arrangement.

"We think there's a lot in this report that corroborates what we've been saying all along," spokesman Brian Fallon said on MSNBC on Wednesday.

However, details in the report stoke some lingering mysteries about the email imbroglio. The decision by Clinton and many of her senior aides not to cooperate with the inspector general investigation seems certain to compound those concerns and may have made it more difficult for investigators to get to the bottom of some of the unresolved issues, including whether concerns about Clinton's system were bottled up by top officials.

It's the kind of uncertainty that Clinton's political enemies are sure to try and exploit, including likely GOP presidential nominee Donald Trump, who's already pilloried her over the email saga and will likely find new ammunition in this report. "Not good," was his only comment on Wednesday, but his attacks are likely to intensify as the summer settles in.

She'll face the same from Republicans in Congress. "When she won't sit down with the inspector general, it's very hard to understand what she did and did not do," said House Oversight and Government Reform Committee Chairman Jason Chaffetz (R-Utah).
New York Times reporter Amy Chozick notes that yesterday's report, and the ongoing unanswered questions about the circumstances under which th email server was setup and maintained, several of which Gerstein raises in his piece, plays into one of the central problems of her campaign, the fact that notwithstanding her standing in the polls voters don't trust her:
For more than a year, Hillary Clinton has traveled the country talking to voters about her policy plans. She vowed to improve infrastructure in her first 100 days in office, promised to increase funding for Alzheimer's research and proposed a $10 billion plan to combat drug and alcohol addiction.

But as the Democratic primary contest comes to a close, any hopes Mrs. Clinton had of running a high-minded, policy-focused campaign have collided with a more visceral problem.

Voters just don't trust her.

The Clinton campaign had hoped to use the coming weeks to do everything they could to shed that image and convince voters that Mrs. Clinton can be trusted. Instead, they must contend with a damaging new report by the State Department's inspector general that Mrs. Clinton had not sought or received approval to use a private email server while she was secretary of state.

It is not just that the inspector general found fault with her email practices. The report speaks directly to a wounding perception that Mrs. Clinton is not forthright or transparent.

After months of Mrs. Clinton's saying she used a private email for convenience, and that she was willing to cooperate fully with investigations into her handling of official business at the State Department, the report, delivered to Congress on Wednesday, undermined both claims.

Mrs. Clinton, through her lawyers, declined to be interviewed by the inspector general as part of the review. And when staff members raised concerns about the wisdom of her using a nongovernment email address, they were hushed by State Department officials, who instructed them "never to speak of the secretary's personal email system again."

In November 2010, when a State Department aide requested she release her personal email address or start using an official address, Mrs. Clinton said she was open to using a second device or email address but added,"I don't want any risk of the personal being accessible."

Mrs. Clinton's allies on Wednesday jumped on the fact that the report also revealed that Colin Powell, the secretary of state under President George W. Bush, and other State Department officials had also exclusively used personal email accounts. "The inspector general documents just how consistent her email practices were with those of other secretaries and senior officials at the State Department," said Brian Fallon, a Clinton spokesman.

But Mr. Powell is not running for president against a likely opponent, Donald J. Trump, who has now adopted the drumbeat of "Crooked Hillary."

"Crooked Hillary, crooked Hillary, she's as crooked as they come," Mr. Trump said at a rally in Anaheim, Calif.

His attacks came as Mrs. Clinton tried to break through with her own criticism that Mr. Trump had profited from the 2008 housing crisis.

(…)

Mrs. Clinton has long contended that voters care more about issues — like equal pay for women, widely available child care, and making college more affordable — than how she handled her emails as secretary of state. Even her Democratic primary opponent, Senator Bernie Sanders of Vermont, tried to squelch the storm over the private server during the first Democratic debate last fall.

But something has seeped into the electorate. A presidential campaign always contends with incoming fire, but it is also designed to serve as an infomercial to present a candidate's best attributes. Instead, Mrs. Clinton has gone from having a 69 percent approval rating and being one of the most popular public figures in the country when she left the State Department in 2013 to having one of the highest disapproval ratings of any likely presidential nominee of a major party.

Roughly 53 percent of voters said they had an unfavorable opinion of Mrs. Clinton in a new ABC-News Washington Post poll. Some 60 percent of voters said they had an unfavorable opinion of Mr. Trump.

When asked if Mrs. Clinton and Mr. Trump are "honest and trustworthy," 64 percent of registered voters replied "no," according to a recent New York Times-CBS News poll. Ask voters why they don't trust Mrs. Clinton, and again and again they will answer with a single word: Emails.
The Washington Post's Editorial Board is equally scathing:
HILLARY CLINTON'S use of a private email server while secretary of state from 2009 to 2013 has been justifiably criticized as an error of judgment. What the new report from the State Department inspector general makes clear is that it also was not a casual oversight. Ms. Clinton had plenty of warnings to use official government communications methods, so as to make sure that her records were properly preserved and to minimize cybersecurity risks. She ignored them.

The 83-page report declares that "beginning in late 2005 and continuing through 2011," the department revised its Foreign Affairs Manual and "issued various memoranda specifically discussing the obligation to use Department systems in most circumstances and identifying the risks of not doing so." Ms. Clinton didn't.

During her tenure, State Department employees were told that they were expected to use approved, secure methods to transmit information that was sensitive but unclassified, or SBU. If they needed to transmit SBU information outside the department's network, they were told to ask information specialists for help. The report said there is no evidence that Ms. Clinton ever asked, "despite the fact that emails exchanged on her personal account regularly contained information that was marked as SBU." On June 28, 2011, a cable was sent to all diplomatic and consular posts over her signature warning that personal email accounts could be compromised and officials should "avoid conducting official Department business from your personal e-mail accounts." At the time, Ms. Clinton was doing exactly that.

(…)

The department's email technology was archaic. Other staffers also used personal email, as did Secretary Colin Powell (2001-2005), without preserving the records. But there is no excuse for the way Ms. Clinton breezed through all the warnings and notifications. While not illegal behavior, it was disturbingly unmindful of the rules. In the middle of the presidential campaign, we urge the FBI to finish its own investigation soon, so all information about this troubling episode will be before the voters.
As a preliminary matter, it's worth noting that the legality or illegality of what Clinton did was not within the scope of the Inspector General's investigation, that part of the issue is what what the ongoing DOJ/F.B.I. investigation, which deals primarily with the handling of classified information, is about. The Inspector General, on the other hand, was assigned the task of determining whether existing procedures and rules were followed in this matter, and the conclusion is that they most clearly were not. Whether that rises to the level of a criminal act is outside the purview of an Inspector General, and therefore not addressed in the report.
As I said yesterday, this report is unlikely to have any real impact on Clinton's quest for the Democratic nomination. For one thing, at this point she stands less than 100 delegates away from garnering enough support to win the nomination on the first ballot, and will unquestionably go over the top on June 7 with what is likely to be an overwhelming victory in New Jersey and sufficiently good performances in the remaining states to lock Bernie Sanders out of any possibility at all of winning the nomination, which he's effectively at in any case. For another, Sanders has steadfastly refused to discuss the email issue as part of his attacks against Clinton, which quite honestly is an indication that he likely was never serious about running against Clinton to begin with and viewed this campaign more as an effort to push his agenda and move both Clinton and the Democratic Party to the left. Were Sanders serious about running for President, he would have made the point that Gerstein and Chozick here, that these revelations about Clinton and the fact that the report clearly indicates that many of the public statements she has made about the private email server simply aren't true, only serve to reinforce long-standing doubts that the public has about Hillary Clinton's trustworthiness.
Unlike the primary campaign, it's not at all likely that Clinton will be able to easily dodge having to deal with the questions surrounding her use of a private email server. Donald Trump and other Republicans have been talking about the issue for months, for example, and the release of this report means that they'll be talking about it a lot more in the weeks and months to come. Additionally, it's an issue that the media is likely to bring up when interviewing her and campaign surrogates throughout the course of this campaign, especially now that we have an Inspector General's report that clearly indicates that Clinton's explanation for how and why the email server was setup, and whether she received permission to do so before doing so, simply does not comport with the facts and the available evidence. The only good news for Clinton is that, while all of this has contributed to the fact that she enters the General Election race with exceedingly high unfavorable ratings, she is poised to go up against against a Republican rival with even worse favorability numbers, thus giving her an advantage in a race that is likely to boil down to which candidate voters dislike the least. That may be enough for her to win the election, but it's likely to make the extent of what she can actually accomplish as President very limited to say the least.