Rep. Steve King Endorses Racist 'White Nationalism'
Iowa Congressman Steve King is causing controversy yet again with his comments in support of far-right Dutch politician Geert Wilders.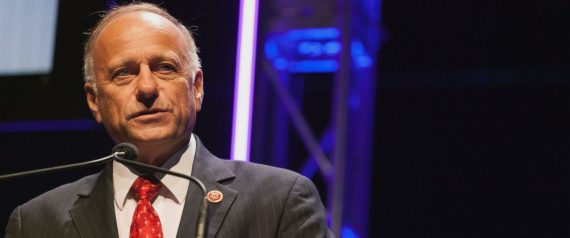 Iowa Congressman Steve King, who initially backed Texas Senator Ted Cruz for President but later became among one of Donald Trump's most ardent supporters in Congress thanks to their shared views on immigration, made headlines overnight with a series of remarks that appear to clearly mimic the white nationalist propaganda of the so-called 'alt-right' that has gained wider prominence in the wake of Trump's victory in the Presidential election:
Representative Steve King, a Republican from Iowa who has a history of making inflammatory statements viewed by many as insensitive or outright racist, was roundly criticized on Sunday for his apparent endorsement of white nationalism.

Mr. King made the remark on Twitter when he shared a story by the Voice of Europe website about the far-right Dutch politician Geert Wilders, who wants to end Muslim immigration and ban the Quran and who has called Moroccan immigrants "scum."

Wilders understands that culture and demographics are our destiny. We can't restore our civilization with somebody else's babies. https://t.co/4nxLipafWO

— Steve King (@SteveKingIA) March 12, 2017

Critics said that Mr. King echoed the principles of white nationalism, the belief that national identity is linked to the white race and its superiority to other races. Self-proclaimed white nationalists emerged as a small but vocal group during the candidacy of Donald J. Trump, celebrating his promises to crack down on illegal immigration and ban Muslims from entering the United States, as well as heralding his presidential victory as a chance to preserve white culture.

David Duke, the white nationalist and former Ku Klux Klansman who called Mr. Trump "by far the best candidate" during the campaign, celebrated Mr. King's comments.

GOD BLESS STEVE KING!!! #TruthRISINGhttps://t.co/oDFel8JDrP

— David Duke (@DrDavidDuke) March 12, 2017

But many people quickly condemned Mr. King. "You, Congressman, are simply a bigot," one person replied. Another person wrote, "You know that you were 'somebody else's baby' too, right? Or do you not understand how this works?"

Representative Carlos Curbelo, Republican of Florida, responded from his personal Twitter account, asking Mr. King to explain himself.

.@SteveKingIA What exactly do you mean? Do I qualify as "somebody else's baby?" #concernedGOPcolleague

— Carlos Curbelo (@carloslcurbelo) March 13, 2017

Representative Ted Lieu, a California Democrat who was born in Taiwan, shared a photo of his sons on Twitter.

Dear Representative Steve King: These are my two babies. –Representative Ted Lieu pic.twitter.com/MHU21jJUrY

— Ted Lieu (@tedlieu) March 12, 2017

And Miriam Amer, the executive director of the Iowa chapter of the Council on American-Islamic Relations, called on Republican Party leaders in the state and nationwide to repudiate the message.

"This racist tweet crosses the line from dog-whistle politics to straight-up white supremacist advocacy," she said in a statement.

A representative for Mr. King did not immediately respond to a request for comment.

Mr. King, who was elected to Congress in 2002, questioned what nonwhites have contributed to civilization at a panel discussion in July about the racial makeup of the Republican Party.

"I'd ask you to go back through history and figure out where are these contributions that have been made by these other categories of people that you are talking about," he said. "Where did any other subgroup of people contribute more to civilization?"
In media appearances this morning, King defended his remarks and doubled down on them: 
Rep. Steve King (R-Iowa) on Monday defended a weekend tweet endorsing the views of a far-right Dutch politician.

"Well, of course I meant exactly what I said," King told CNN's "New Day."

King in a tweet praised Geert Wilders, including a cartoon depicting Wilders plugging a hole in a wall that reads "Western civilization.""Wilders understands that culture and demographics are our destiny. We can't restore our civilization with somebody else's babies," the congressman wrote.

"It's a clear message," King said on Monday. "We need to get our birth rates up or Europe will be entirely transformed within a half century or a little more. And Geert Wilders knows that and that's part of his campaign and part of his agenda."

King went on to criticize illegal immigration to the United States and immigrants who don't "assimilate into the American culture."

"Living in enclaves, refusing to assimilate into the American culture and civilization. Some embrace it, yes. But many are two and three generations living in enclaves that are pushing back now and resisting against the assimilation," he said.

King also emphasized his view that "Western civilization" is "a superior civilization."

"I'd like to see an America that's just so homogenous that we look a lot the same, from that perspective," he said.
As Amber Phillips notes in The Washington Post, King's remarks, which are being widely condemned by Republican leaders back in his home state of Iowa, are not new for him. In fact, King has a long history of remarks that have often either skirted the borderline between normal political commentary and outright racism in his time in Congress, and he has made his disdain for immigrants in general, whether legal or illegal, and Muslims in particular quite clear. This, no doubt, is why he found it so easy to go from being a backer of Ted Cruz to a full-throated defender of Donald Trump. Not only does Trump support most of the same immigration views and policies that King does, but they share the same ridiculous, bigoted views of Islam as those of people such as Pamela Geller and others whose anti-Muslim bigotry is a matter of public. This is also the same Steve King who courts controversy on a regular basis with both his public remarks and actions such as displaying a Confederate flag in his office. It's also been relatively well-known that many who share King's views here in the United States also have a high level of support for far-right European politicians such as Wilder, Marine Le Pen, and Nigel Farage, leader of UKIP, the anti-immigrant, anti-European political party in the United Kingdom. In that regard, King's comments, as detestable as they are, are hardly a surprise.
As for King's insistence that his comments about "somebody else's babies" wasn't racially-based, it's pretty clear that King is being entirely disingenuous here because his comments yesterday are entirely consistent with things he's said in the past. His open support for Wilders, for example, is one clue given the fact that Wilders himself has a long history of making comments that reject entirely the idea of a Europe consisting of anyone other than 'pure' Europeans, whatever that might mean. Additionally, in an appearance in July 2016 on MSNBC, King questioned the notion that anyone other the white people had done much of anything for civilization, and suggested that the non-white world was therefore inherently inferior, a comment which, of course, ignores the extent to which colonialism oppressed people in Africa, Asia, and the Americas in the name of 'civilization' for centuries.  wondered aloud what "sub-groups" have done more for civilization than white people. Given all of that, it's pretty clear what King meant, it's pretty clear it was meant to at least appeal to racists and s0-called white nationalists, and it's pretty clear that King for one is completely fine with this. His fellow Republicans, who have largely remained silent on the matter so far, should be required to comment about whether such views are acceptable when coming from someone so close to the President of the United States.