Repealing Obamacare Proving To Be Harder Than GOP Thought
Repeal and replace is likely to take longer than many Republicans thought it would, but that shouldn't be surprising.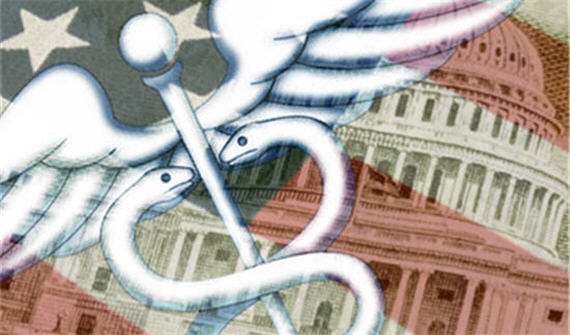 The New York Times reports that Republicans on Capitol Hill are finding that repealing the Affordable Care Act isn't going to be as easy as they thought it was going to be:
WASHINGTON — Congress's rush to dismantle the Affordable Care Act, once seemingly unstoppable, is flagging badly as Republicans struggle to come up with a replacement and a key senator has declared that the effort is more a repair job than a demolition.

"It is more accurate to say 'repair Obamacare,'" Senator Lamar Alexander, Republican of Tennessee and chairman of the Senate health committee, said this week. "We can repair the individual market, and that is a good place to start."

The struggles and false starts have injected more uncertainty into insurance markets that thrive on stability. An aspirational deadline of Jan. 27 for repeal legislation has come and gone. The powerful retirees' lobby AARP is mobilizing to defend key elements of the Affordable Care Act. Republican leaders who once saw a health law repeal as a quick first strike in the Trump era now must at least consider a worst case: unable to move forward with comprehensive health legislation, even as the uncertainty that they helped foster rattles consumers and insurers.

Insurers are threatening to exit the Affordable Care Act's market unless the Trump administration and Congress can quickly clarify their intentions: Will they support the existing public marketplaces, encourage people to sign up and keep federal assistance flowing to insurers, or not?

"We need some certainty around the rules," said Dr. J. Mario Molina, chief executive of Molina Healthcare, which has been a stalwart in the Affordable Care Act market and is making money under the system.

We have a few months, but we don't have a lot of time," he said.

With the official end on Tuesday of what was supposed to be its final open enrollment season, the Affordable Care Act is looking more resilient than it seemed just a month ago. It will still be several days before final enrollment figures are released, and although a surge of last-minute signups failed to have materialize amid talk of repeal, early indications did not point to a collapse.

At their annual retreat last week, in Philadelphia, several congressional Republicans edged away from their powerful promise to "repeal and replace" the Affordable Care Act. It would, they said, be more accurate to say they intend to fix a law that they blame for the cancellation of many insurance policies, soaring premiums and a shrinking choice of health plans in many states.

Many Republicans say their resolve to dismantle the law, a central element of President Barack Obama's legacy, is undiminished. "We are looking to repeal this law, just like we told the voters we were going to do, just like we promised them we would do," said Representative Jim Jordan, Republican of Ohio and a leader of the House's most conservative wing. "After all, there was an election where that was one of the most important issues."

But after waging and winning many elections with a promise to kill it, Republicans still have no agreement on how to replace it. They will, they say, pursue a piecemeal approach because they have no desire to supplant the giant 2010 health law with a single comprehensive Republican plan cooked up in Washington.

When Congress convened this year, Republicans immediately introduced a budget resolution clearing the way for legislation to gut the health law, with strong support from Mr. Trump, who took office 17 days later. But Mr. Trump's rocky start has slowed the momentum, depleting his political capital and dimming prospects for bipartisan cooperation.

In addition, many senators are preoccupied with fights over the confirmation of Mr. Trump's nominees to the Supreme Court and top jobs in his administration. What was once considered Congress's Job No. 1 is being eclipsed for some lawmakers by more immediate matters.

Insurers say Republicans' mixed messages and slowing pace could send premiums soaring next year while making the market much less stable. The deadline to file rates for 2018 is this spring, and insurers say they need time to decide what kinds of plans to offer and to set prices.

"We need stability and predictability," said Marilyn B. Tavenner, the chief executive of America's Health Insurance Plans, the main lobby for the industry.

Unless Congress continues cost-sharing subsidies, to reduce out-of-pocket costs for low-income people, and a reinsurance program, to help pay large claims, she said, more insurers will pull out of the market.

Insurers are also concerned about signs that the Trump administration may not enforce the so-called individual mandate, which requires people to have insurance or face a tax penalty. The penalty, or some way to encourage more participation, is seen as central to having enough young and healthy people sign up to keep premiums low.

"It's very important to indicate how they are going to stabilize the market," said Karen M. Ignagni, the chief executive of EmblemHealth, who was instrumental in the development of the current law.

At the very least, analysts say the uncertainty for insurers could lead to much higher rates. "2018 is a wild card," said Deep Banerjee, who follows insurers for Standard & Poor's.

Many insurers could simply end up walking away, warned Sabrina Corlette, a research professor at Georgetown University who recently surveyed insurers about what they might do. "At a certain point, you can't price high enough to account for that uncertainty," she said.
It should not come as a complete surprise to Republicans or anyone else that repealing the Affordable Care Act and replacing it with some alternative plans is not something that can easily be accomplished overnight. When President Obama was in office, of course, Congressional Republicans didn't have to really worry about the consequences of their vote to repeal the PPACA since it was clear that any such measure would either die in the Senate or be vetoed by the President and it would be impossible to override the veto. Because of that, they were able to vote repeatedly to repeal the PPACA without offering a replacement via votes that were essentially intended to do little more than please the Republican base and as a vehicle for lawmakers to show Republican voters that they were indeed on board with achieving what had become an article of faith among Republican voters. Now that the Republicans hold all of the levers of power, though, they're finding that the details about repeal and replace are quite complicated and that it could take some time before their goal is achieved, assuming that it ever really does happen.
For example, any attempt to repeal the law has to take into account the fact that millions of people, not to mention the entire health insurance and health care industry, has acted in reliance over the past seven years in reliance on the idea that the rules established by the PPACA and by regulatory agencies charged with its implementation and pulling the rug out from under them suddenly would be highly disruptive and potentially disastrous. For insurers and providers, it would mean having to adjust to new rules in a short period of time, which would no doubt prove costly for everyone involved and which could have devasting consequences for some providers and insurers, which would, in turn, make life difficult for patients. At the consumer level, there are many people who have acted in reliance on the rules that the PPACA put on the system such as the prohibition of denial of coverage for pre-existing conditions, the provisions that allow parents to continue providing coverage for children up to the age of 26, and the end of the lifetime cap on coverage. Additional millions are dependent on the tax and other subsidies provided for by the PPACA, which have made otherwise prohibitively expensive premiums at least somewhat affordable. Finally, the PPACA's expansion of Medicaid has added millions more to coverage rolls and been adopted by states in reliance upon continued Federal responsibility for the additional costs of the program. If those payments are discontinued, then these states will be faced with the prospect of either monumentally huge budget deficits that, under state law, must be fixed before a final budget can be passed for a new fiscal year or forcing people off the Medicaid rolls in order to save money. Neither prospect is likely to be palatable to any politician at the state level regardless of their political party.
Because of this, it seems inevitable that any effort to repeal and replace the Affordable Care Act will have to be something nearly as detailed as the PPACA itself. Like the PPACA it will take time for even a party that controls all the levers of power in Washington to accomplish this task, and then additional time to implement the changes. This wouldn't be unprecedented, of course. It took roughly a year and a half for the PPACA to make its way through Congress before it could emerge in a form capable of being passed by both the House and the Senate. After that, there were several years that passed before most of the provisions of the new law even went into effect and, in several cases, the regulatory agencies charged with enforcing various provisions of the law used the discretion granted to them to grant extensions of one kind or another to give insurers, health care providers, employers, and consumers sufficient time to adjust to the new law. The same thing will likely have to happen with whatever it is will come out of the Republican efforts to repeal and replace the PPACA. As noted above, though, we are reaching a point where it is going to become essential that it become clear exactly what's going to happen due to the fact that the uncertainty currently surrounding the issue, combined with increased costs, may lead to more insurers withdrawing from the PPACA marketplace, thus making it harder for consumers to find insurance coverage going forward.
Many Republicans on Capitol Hill seem to be well aware of all of this, and it explains why movement on the repeal of the law has not been as quick as many people seemed to think it would be once President Trump took office. In the House, the GOP Leadership and most of the Republican members of the relevant committees at least seem to be committed to coming up with a serious alternative rather than just taking another vote to repeal the law and sending it to the Senate. In the Senate to itself, meanwhile, Republicans would still have to deal with a possible Democratic filibuster of those parts of any repeal and replace bill that couldn't be voted on via the reconciliation process as well as the fact that their caucus isn't necessarily united. Several Republican Senators, such as Kentucky's Rand Paul, have said that Republicans should not move forward on repealing the PPACA until they have agreed on a replacement that addresses both the issues that would accompany repealing the PPACA and the fact that the pre-PPACA status quo was neither ideal nor sustainable in its own right. Given that, Republican voters will likely find that it could be some time before they get what they want as far as the PPACA is concerned.