Report: James Holmes Claims He Doesn't Know Why He's In Jail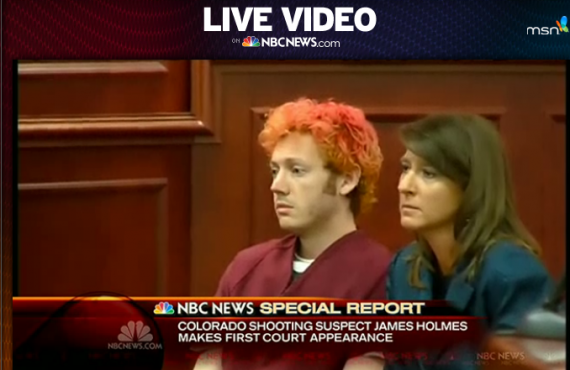 James Holmes is apparently telling his jailers that he doesn't know why he's in jail:
James Holmes, the suspected shooter in last week's movie theater massacre, has told his Colorado jailers he doesn't know why he's locked behind bars, the Daily News reports.

But no one at the Arapahoe County Detention Center is buying Holmes' story, a lockup worker told the News. The jailers who come in contact with Holmes, who is sequestered from other inmates, believe he's faking amnesia.

(…)

While in police custody, Holmes puzzled detectives who supposedly saw him using evidence bags as puppets, according to a KMGH report.

A jail worker told the Daily News in a previous report that Holmes wanted to know how the movie ended.

His courtroom behavior combined with accounts of awkward antics behind-the-scenes raises the question of his mental condition. Experts told ABC News he could be experiencing a genuine psychotic episode or foreshadow an insanity defense from his lawyers.
There have been other reports about odd behavior by Holmes over the week he's been behind bars. Inmates who have been released from the facility since he arrived have told reporters that they could hear someone, presumably Holmes, screaming and howling at all hours of the night for the first several days he was there, for example.  And, of course, Holmes's odd behavior during his court appearance on Monday have led many to speculate about his mental state. The fact that we know now that he was under the treatment of a psychiatrist at the University of Colorado to whom he sent a notebook allegedly filled with odd writings is further reason for speculation about all of this. Whether this is all an act as some of the Sheriff's deputies apparently think or evidence that Holmes is truly unbalanced is unclear. It's certainly possible that Holmes is a sociopath and it's all an act, but it's also possible that he's as detached from reality as Jared Loughner, the man who shot Gabby Giffords. I suspect we'll be hearing about mental examinations of the suspect in the very near future.