Report: Joe Paterno To Retire At the End Of Current Season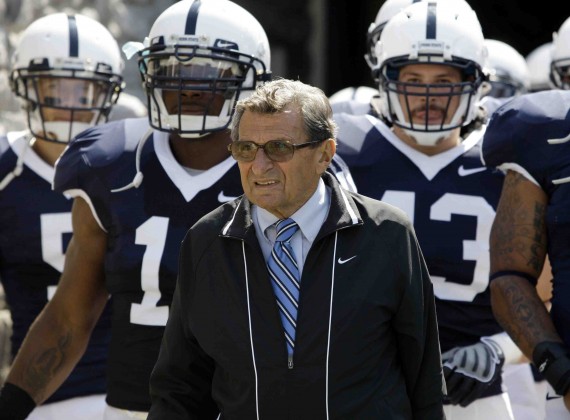 The end of Joe Paterno's coaching career was going to come some day, but I don't think anyone would happen this way:
STATE COLLEGE, Pa. (AP) — A person familiar with the decision says Penn State football coach  Joe Paterno has decided to retire at the end of the season.

The person says Paterno will announce his retirement later Wednesday.
After the revelations about the child sex abuse scandal came out, this was inevitable. This much is clear, though, if this were anyone other than Paterno, they wouldn't be allowed to coach on Saturday against Nebraska (which will be JoePa's final home game at Happy Valley) never mind finish out the rest of the season, which could include the inaugural Big Ten Championship Game and a Bowl appearance given Penn State's current record.
Update: More from ESPN:
Penn State football coach Joe Paterno has decided to retire at the end of the season, saying Wednesday that the effects of a child sex abuse scandal involving former heir apparent Jerry Sandusky have been overwhelming.

"I am absolutely devastated by the developments in this case. I grieve for the children and their families, and I pray for their comfort and relief," Paterno said in a statement released just after initial reports confirming his pending retirement.

"I have come to work every day for the last 61 years with one clear goal in mind: To serve the best interests of this university and the young men who have been entrusted to my care. I have the same goal today.

"That's why I have decided to announce my retirement effective at the end of this season. At this moment the Board of Trustees should not spend a single minute discussing my status. They have far more important matters to address. I want to make this as easy for them as I possibly can.

"This is a tragedy. It is one of the great sorrows of my life. With the benefit of hindsight, I wish I had done more. My goals now are to keep my commitments to my players and staff and finish the season with dignity and determination. And then I will spend the rest of my life doing everything I can to help this university."
Of course, it's possible that the Board of Trustees could decide not to accept Paterno's resignation and fire him on the spot, but one suspects that there's still enough support for Paterno in the Penn State community to let them get away with declining to do that. The more likely target in that regard, I would think, would be the Athletic Director and other university administration who have been charged in this matter.