Report: Paul Ryan Being Vetted For VP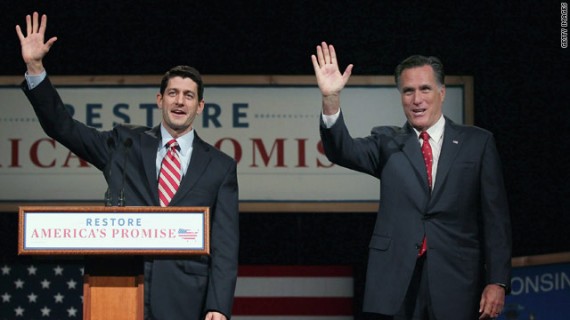 National Review's Robert Costa reports that Wisconsin Congressman Paul Ryan is among those being officially vetted by the Romney campaign for the running mate position:
I'm reliably informed that Representative Paul Ryan of Wisconsin, the Budget Committee chairman, has submitted paperwork to the Romney campaign. Sources confirm that he is being vetted for the vice-presidential nomination.

Ryan, one of the GOP's brightest young stars, is clearly a favorite of Romney allies. But some top Republican officials are wary of plucking him from the House, where he is the party's most influential voice on fiscal issues.

Earlier this week, Romney campaigned with Ryan in Janesville, Wis., Ryan's hometown. Ryan previously stumped for Romney in late March and early April, ahead of Wisconsin's Republican presidential primary.
Given Ryan's popularity among the Republican base, it's not surprising that the Romney campaign would let it leak that they are considering him. At the same time, though, Ryan's association with a budget that isn't necessarily popular among the independent voters that Romney will need to attract in swing states is an argument for not selecting him. Additionally, its worth noting that sitting Members of Congress don't ordinarily get put on national tickets. The last time it happened was when Walter Mondale selected Geraldine Ferraro in 1984, before that it had not happened since Barry Goldwater had selected New York Congressman Bill Miller in 1964. Before that, a Congressman had not been on a national ticket since William Howard Taft selected New York Congressman James Sherman in 1908. So, is it possible Romney will choose Ryan? Yes, but it's not likely.