Report: White House Warned In March About Health Care Website Problems
The mounting troubles of the PPACA continue.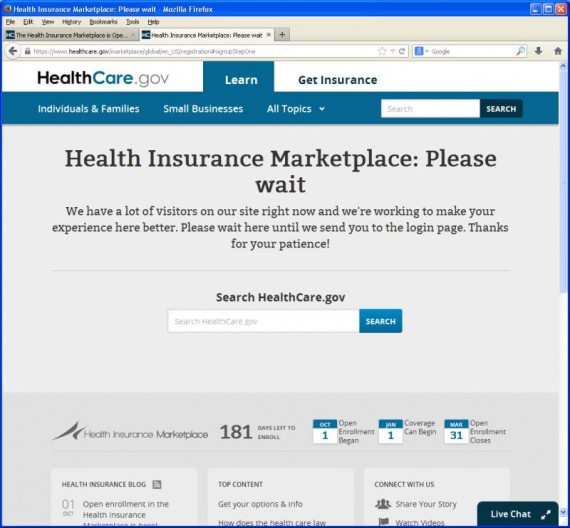 A new report indicates that an outside consultant was warning the White House that the website that was being designed to host  the Federal Obamacare Exchange was fraught with potential problems that could lead to a disastrous launch:
The Obama administration brought in a private consulting team to independently assess how the federal online health insurance enrollment system was developing, according to a newly disclosed document, and in late March received a clear warning that its Oct. 1 launch was fraught with risks.

The analysis by McKinsey & Co. foreshadowed many of the problems that have dogged HealthCare.gov since its rollout, including the facts that the call-in centers would not work properly if the online system was malfunctioning and that insufficient testing would make it difficult to fix problems after the launch.

The report was provided to The Washington Post by the House Energy and Commerce Committee.

This risk assessment, which was encapsulated in a 14-slide presentation, was delivered to senior White House and Department of Health and Human Services officials in four briefings between March 28 and April 8, the committee said.

HHS Secretary Kathleen Sebelius; Marilyn Tavenner, then acting administrator of the Centers for Medicare & Medicaid Services (CMS); and White House Chief Technology Officer Todd Park attended a session about the report on April 4 at HHS headquarters. Obama health policy adviser Jeanne Lambrew and then-White House Deputy Chief of Staff Mark Childress received a briefing April 8 at the White House.

Rep. Tim Murphy (R-Pa.), who chairs the panel's subcommittee on oversight and investigations, said the presentation suggests that, in the run-up to its fall debut, the enrollment system was more troubled than administration officials have let on.

"Despite assurances from Secretary Sebelius, Marilyn Tavenner and [CMS official] Gary Cohen that all was well and on track with the launch of the Affordable Care Act, we now have documents dating back to April that call into question the assertions made to this committee," Murphy said.

The CMS said in a statement that the McKinsey assessment was "part of a standard process to identify potential risks and develop mitigating strategies." It added that "the review was completed six months before the beginning of open enrollment, was in line with industry best practices and was followed by concrete action to address potential risks — as was intended."

White House spokesman Eric Schultz said "flags were definitely raised throughout the development of the Web site, as would be the case for any IT project this complex. . . . But nobody anticipated the size and scope of the problems we experienced once the site launched."

Administration officials noted that the assessment was not a technical review of the Web site's functionality. They said a number of the recommendations were acted upon, including stepping up communication with states and funneling more resources to in-person helpers and the call center.

The document did not predict whether the project's problematic design stage would hamper its rollout but instead made it clear that programs of this scale are ideally pursued in a more orderly process, with "significant testing and revision" before they launch.
This news follows up on an earlier report that the Administration was aware of problems with the website in the weeks prior to the launch, We've also learned that the Administration received warnings from CGI, the main contractor responsible for building the site, that the Federal website was not ready to go live.  Last week, we learned of emails from as early as July that expressed similar concerns that don't seem to have been followed up on. What all of this indicates, obviously, is that there was at least some warning going back as far as the start of this year that there were potential problems with what was obviously going to be the technological centerpiece was troubled to say the least, possibly fatally so, and that there seems to have been very little effort made to ensure that those problems were dealt with. Indeed, as I've noted before, some reports have indicated that the contractors involved in creating the site complained that they were not being given adequate time to test the site prior to launch, although its worth noting that statements from these contractors that were made after the launch may be seen as self-serving given that they are likely to be somewhat self-serving in an effort to forestall any legal efforts to hold the contractors liable for costs of repair or other losses.
Meanwhile, as the November 30th deadline that the Administration itself imposed for the point at which the website would be fixed, there seems to be a conscious effort to downplay expectations:
One person said a more realistic goal was that four out of five people "have a positive experience," which could include being redirected to customer service agents.

White House officials said on Monday that many of the remaining users would turn to call-in or counseling centers because their insurance situations were complicated. But specialists involved in the repair effort said technical issues may frustrate more users than administration officials suggest. And it is unclear how many fixes remain to be made, because the list keeps changing
That's a far cry from saying that the website would be "fixed" by November 30th, though, and if we get to the beginning of December and people are still having problems using the site then the political woes both for the President and his signature legislative accomplishment are just going to continue.
Another problem that the Administration faces is the fact that there may be less time than may people anticipate to get this system up and running:
An editorial in last week's USA Today repeats the common belief about the deadline: "The deadline for signing up for insurance that begins Jan. 1 is Dec. 15."  However, "signing up" for insurance is not enough.  As the Healthcare.gov website states [emphasis added]:

If you enroll in a private health insurance plan any time between October 1, 2013 and December 15, 2013 and make your first premium payment, your new health coverage starts January 1, 2014.

(…)

However, paying the premium is not necessarily a simple matter.  An online chat with a Healthcare.gov representative revealed that the site is not recommending using the exchange to make the initial premium payment. The representative was not even completely sure the option was being offered.  Here is an excerpt from the chat [emphasis added]:

Healthcare.gov Representative:  To have coverage effective January 1, 2014, you must make your first premium payment by December 15, 2013. Your health insurance company can tell you how to make your premium payment. If you do not make a payment on December 21, 2013, you may have to fill out another application.

TWS:  I can't make a payment through healthcare.gov?

Rep:  It may give you that option when you complete your enrollment.

TWS:  If I don't pick a plan until 12/15, won't it be too late for my info to go to the insurance company, them to bill me, and me to make a payment by 12/21?  Seems pretty tight.

Rep:  You must make your first premium payment by 12/15/13 for your coverage to begin January 1, 2014. If you make your payment by the 21st, your coverage will begin in February 1, 2014.

TWS:  You said above "It may give you that option" to pay on healthcare.gov.  Does that mean it's not available yet?

Rep:  We are still experiencing some technical difficulties with the website, which is why it would be best to possibly go through the insurance company to make your first premium payment.
This throws yet another wrench into the process, at a point at which there would be only 15 days after the November 30th deadine for anyone who wants to have their insurance kick in by January 1st to make their first premium payment. Given that this part of the deadline isn't being widely reported, it's not even clear that enough people will be able to act in time, especially if website difficulties continue past that date. If that's the case, can we expect more delays of the PPACA's deadline? I wouldn't be surprised at all.