Representative Democracy 'Not a Day at the Beach'
Nancy Pelosi is tired of Democrats voting to please their constituents.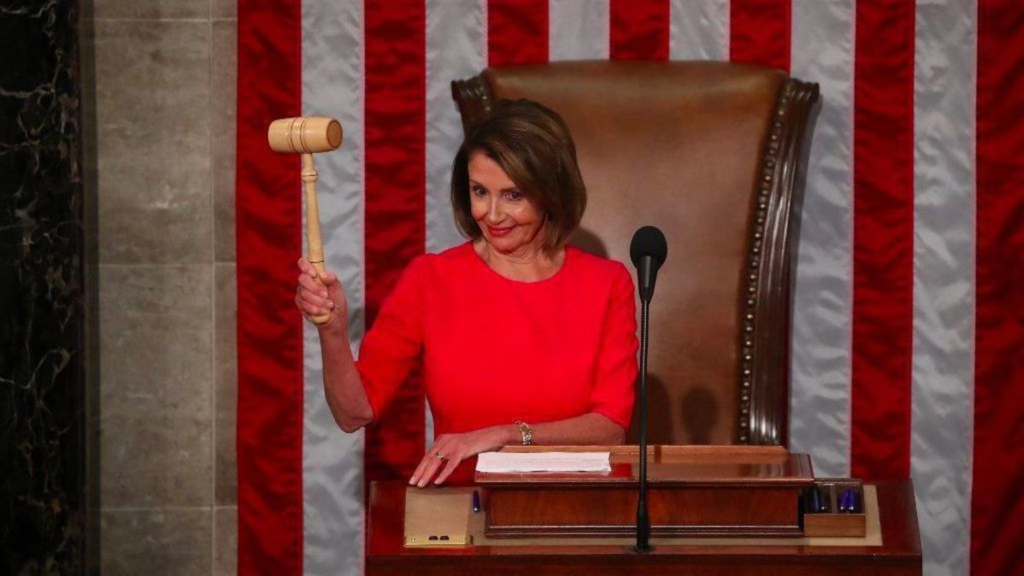 A bizarre look behind the curtain at POLITICO ("'This is not a day at the beach': Pelosi tells moderate Dems to stop voting with GOP"):
House Democrats held an emotional debate behind closed doors Thursday over how to stop losing embarrassing procedural battles with Republicans — a clash that exposed the divide between moderates and progressives.

Speaker Nancy Pelosi (D-Calif.) took a hard line at the caucus meeting, saying that being a member of Congress sometimes requires taking tough votes.

"This is not a day at the beach. This is the Congress of the United States," Pelosi said, according to two sources.

Pelosi also said vulnerable Democrats who had the "courage" to vote against the Republican motions to recommit would become a higher priority for the party leadership and the Democratic Congressional Campaign Committee.
In theory, at least, each of the 435 Representatives are there to, well, represent their districts. They're not there to vote lockstep with party leaders as though we had a parliamentary system. Taking a "hard vote," in essence, is voting against the wishes of one's constituents which, well, one shouldn't do—unless in exchange for enough others taking "hard votes" on another issue to, in the exchange, better benefit one's constituents than would have been the case without such exchange.
So, what problem is Pelosi trying to solve?
Pelosi argues that Democrats must stick together on procedural votes, which is the traditional view of party leaders on both sides of the aisle. Hoyer and Clyburn, however, have suggested that moderate members can vote with Republicans if they think it will improve their political standing.

Republicans have already won two motions to recommit this Congress, including a Wednesday vote that angered Ocasio-Cortez and other progressives. In contrast, Republicans stuck together and never lost a single such motion when they controlled the House from 2011 to 2019.
Thus far—well beyond the point where most would have stopped reading (I have skipped several paragraphs from the original story in excerpting here)—this seems like a complaint over a team sports mentality rather than anything substantive. Finally, we get to something meaningful:
The latest defeat came on Wednesday, as the House debated legislation requiring background checks on all gun sales — a position overwhelmingly favored by Democrats. When Republicans moved to amend the bill to require Immigration and Customs Enforcement be told of any undocumented immigrant who tries to buy a gun, 26 Democrats voted with the GOP. The language was added to the gun bill, spoiling an important Democratic legislative achievement.
First, there was no "legislative achievement," important or otherwise here. This measure will be dead on arrival when it hits the Senate. So, at best, there's the ability to campaign on the issue in two years.
Second, it's not obvious to me why a popular amendment—as evidenced by being able to get bipartisan support—"spoils" the bill. It does nothing to diminish whatever public safety gains passage would achieve and aids in the enforcement of another existing law that has actually gone through the Constitutional process of having been passed in identical form in both Houses of Congress and signed by the President of the United States. Win-win, no?
An earlier GOP motion condemning anti-Semitism was successfully attached to a House resolution barring U.S. involvement in the Yemeni civil war. That maneuver, which was backed by every Democrat, later caused parliamentary problems in the Senate and upended Democratic attempts to challenge President Donald Trump's foreign policy.
So . . . an amendment that passed unanimously in the House later caused "parliamentary problems" in the Senate. Okay.
And these are the only two instances of the problem. Not just two instances cited as examples. The only two incidents. Granted, we're pretty early into this Congress, so it may be the first two of many. But, thus far, I'm not seeing an argument in favor of requiring Democrats in highly-contested or Republican-leaning districts to take "hard votes" that might cost them their jobs and the Democrats the majority come 2021.
During the closed-door meeting on Thursday, Pelosi said Democrats who vote for the Republicans' motions are putting pressure on other vulnerable colleagues who would prefer to stick with the party.

"We are either a team or we're not, and we have to make that decision," she said.
That's easy: You're not a team!  You're 235 Representatives (plus 3 non-voting delegates) out of 435 who happen to have gotten elected under the same party label. But you're there to represent people from far-flung districts that have wildly different cultures, interests, and concerns. It would be absurd, indeed, for all 235 to vote in lockstep on every issue.
Pelosi told reporters afterward that she thinks Democrats should simply vote against the GOP motions, saying to do so otherwise gives Republicans "leverage." But Pelosi didn't endorse the idea, which some lawmakers support, of changing House rules and nixing the procedural vote altogether some lawmakers support.
It seems to me that Pelosi has this backwards. That is, to the extent that the House holds votes, Representatives must be free to vote their conscience. But I'm highly amenable to an argument for eliminating procedural votes to the extent they're viewed as political "gotchas" rather than substantive legislative amendments.
Now, I get that Pelosi, as caucus leader, has a different view of the institution than do the individual lawmakers, particularly those in unsafe seats. And I'm even sympathetic to the notion that these "hard votes" put more progressive members of the caucus into a tough spot, as the amedments water down the bill from their standpoint. But, as a wise woman once pointed out, legislating is no day at the beach.
Beyond that, this is exactly the wrong time for Pelosi and company to be promoting a team sports mentality. While it may lead to minor wins on progressive legislation that's going to die in the Senate, perhaps setting up big contrasts for the 2020 cycle, there are bigger fish to fry at the moment.
Democrats and erstwhile Republicans like myself alike ought want Republican Representatives and, especially, Republican Senators to vote their conscience to stop the egregious excesses of their party leader, President Trump. Indeed, we're currently hoping that Republican Senators do the right thing and cross the aisle to vote down Trump's unlawful declaration of a national emergency to siphon funds appropriated to the Defense budget to build his idiotic border wall. But, if the party delegations are supposed to "take one for the team" to demonstrate party unity, why would they take that risk?