Representative Government and Line Drawing
A complicated concurrence to Steven Taylor's recent postings.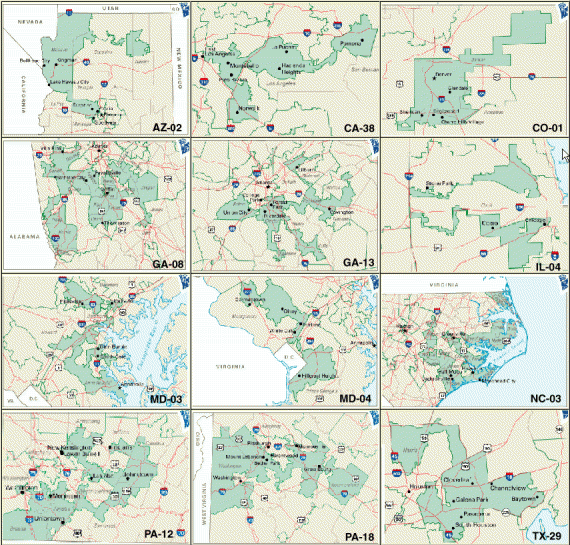 In "Skewed Majorities are Bad for Democracy" and "A Weak Defense of Extreme Gerrymandering," my colleague Steven Taylor, a nationally recognized expert on electoral politics, persuasively argues that the American voting system is inherently unrepresentative and that this has been exacerbated by the increasing sophistication of politicians drawing electoral boundaries to skew outcomes for partisan advantage. On both counts, I wholeheartedly agree.
He begins the first post thusly:
The following should be obvious:  in a representative democracy the goal is to populate government in a way that is, as the name suggests, representative of the citizenry.
On that, too, I agree. He follows that with a rather significant caveat:
This is more complicated than it sounds, and there are various impediments for optimal representativeness (and arguments, both practical and philosophical over what that even means).
The rest of the post illustrates that but elides a rather important controversy: who and what are being represented?
Unequal representation is baked into our system at the national level. For reasons practical and philosophical (mostly the former), the Framers gave each state the same representation in the Senate despite the fact that, at the time of the so-called Great Compromise, the most populous state, Virginia, had 691,937 citizens and the least populous, Delaware, had only 59,096–a difference of nearly 12 to 1. They compounded this by having the president selected by an Electoral College with each state having a voting strength determined by adding its number of Representatives and Senators. Those living in small states have an outsized representation, in some cases tremendously so.
Until the 1960s, this was the norm within states, too. Baker vs. Carr, heard in 1961 and decided the following year, ruled that Tennessee's state legislature violated the Equal Protection Clause of the 14th Amendment because of the great disparity in the population of districts owing to the lines not having been redrawn in decades. Because the U.S. Constitution granted plenary power to the state legislatures to govern such matters, the very jurisdiction of the federal courts to even rule on the issue was controversial. The Justices were deeply divided, with three concurrences and two dissents in addition to Justice John Brennan's majority decision.
This precedent spurred a series of follow-on cases, most notably Gray vs. Sanders (1963), which announced the famous "one person, one vote" principle, and  Reynolds vs. Simms (1964), which held that, "The right of suffrage is denied by debasement or dilution of a citizen's vote in a state or federal election."
In the latter case, Chief Justice Earl Warren's majority opinion rejected Alabama's contention that, since the U.S. Senate was based on geography, it was perfectly reasonable for state legislatures to operate in a similar fashion:
It is one conceived out of compromise and concession indispensable to the establishment of our federal republic. [Footnote 55] Arising from unique historical circumstances, it is based on the consideration that, in establishing our type of federalism a group of formerly independent States bound themselves together under one national government. Admittedly, the original 13 States surrendered some of their sovereignty in agreeing to join together "to form a more perfect Union." But at the heart of our constitutional system remains the concept of separate and distinct governmental entities which have delegated some, but not all, of their formerly held powers to the single national government. The fact that almost three-fourths of our present States were never, in fact, independently sovereign does not detract from our view that the so-called federal analogy is inapplicable as a sustaining precedent for state legislative apportionments. The developing history and growth of our republic cannot cloud the fact that, at the time of the inception of the system of representation in the Federal Congress, a compromise between the larger and smaller States on this matter averted a deadlock in the Constitutional Convention which had threatened to abort the birth of our Nation.
Earlier in the decision, he famously observed,
Legislators represent people, not trees or acres. Legislators are elected by voters, not farms or cities or economic interests. As long as ours is a representative form of government, and our legislatures are those instruments of government elected directly by and directly representative of the people, the right to elect legislators in a free and unimpaired fashion is a bedrock of our political system. It could hardly be gainsaid that a constitutional claim had been asserted by an allegation that certain otherwise qualified voters had been entirely prohibited from voting for members of their state legislature. And, if a State should provide that the votes of citizens in one part of the State should be given two times, or five times, or 10 times the weight of votes of citizens in another part of the State, it could hardly be contended that the right to vote of those residing in the disfavored areas had not been effectively diluted. It would appear extraordinary to suggest that a State could be constitutionally permitted to enact a law providing that certain of the State's voters could vote two, five, or 10 times for their legislative representatives, while voters living elsewhere could vote only once.
I find that argument extremely persuasive. Indeed, Steven and I are both on the record as being against the unrepresentativeness of both the United States Senate and the Electoral College, seeing the United States as a single nation of coequal citizens rather than a confederation of fifty states with sovereign interests. But it's nonetheless fair to acknowledge that this is by no means a universal view; indeed, it may well be a minority opinion.
While he was on the losing side, Justice John Marshall Harlan II made an argument consistent with the American understanding of things in one of his final dissents, in aforementioned Baker vs. Carr:
It is surely beyond argument that those who have the responsibility for devising a system of representation may permissibly consider that factors other than bare numbers should be taken into account. The existence of the United States Senate is proof enough of that.  […] I would hardly think it unconstitutional if a state legislature's expressed reason for establishing or maintaining an electoral imbalance between its rural and urban population were to protect the State's agricultural interests from the sheer weight of numbers of those residing in its cities.
Americans seem not all that troubled by the fact that two of our last three presidents, George W. Bush and Donald Trump, were elected to the highest office in the land despite their opponent getting the most votes. Aside from the fact that the disparities of the Electoral College are simply organic to the system, many are persuaded that it makes sense to ensure that those who live in rural areas aren't overwhelmed by those who live in the more populous urban centers. While it seems weird to me, that Hillary Clinton got nearly three million more votes that Trump is countered with "yeah, but only if we count California."
While the original thirteen states had some primordial claim to sovereignty, both because they were independent entities before joining together to form the United States and because they were equals under the Articles of Confederation, there's no similar logical claim for most of the other thirty-seven states. Yet most accept unequal representation.
It's not completely crazy, then, that we'd do the same at lower levels of representation. While I'm personally persuaded by Warren's logic, it overturned the norms of the American experience. As Harlan noted, it seemed perfectly reasonable that farm interests should be balanced against manufacturing interests and that various economically and socially distinct regions of a given state be represented as units regardless of the will of the larger majority.
While I see no good argument for extreme gerrymandering on partisan grounds, I'm sympathetic to the notion that it might be reasonable on other grounds.
I would be opposed, for example, to governing Virginia with, say, 50 or 100 representatives chosen at-large. While that might theoretically be the fairest way to represent the people of Virginia, it would quite probably mean that the interests of those of us living in urban and suburban centers would completely dominate the agenda. True representation has to take into account local variation of interests.
Similarly, while I ultimately think it a bad idea, I'm not unsympathetic to the "majority majority" district concept. Absent intentional concentration of "minority" voters into districts, it's quite probable that "majority" ethnicity representatives will win a disproportionate share of the seats.  Absent racial gerrymandering, a state with a third African-American voters and two-thirds white voters will likely have nothing but white representatives.  That's not inherently a good outcome.
In his 1996 classic A Mathematician Reads the Newspaper, John Allen Paulos defended the much-lampooned voting proposals of failed Bill Clinton civil rights division nominee Lani Guinier:
"Imagine," he suggests, "that representatives to the national assembly of the new country of Perplexistan split along ethnic lines–45 percent, 44 percent, 7 percent, and 4 percent, respectively. Any two of the first three ethnic groups may form a majority coalition, but the smallest party is a dummy (one with no power). Thus, despite the fact that the third group's representation is much smaller than that of the first two groups and only slightly larger than that of the fourth group, the first three groups have equal power and the last group has none.

"The Banzhaf power index of a group, party, or person is defined to be the number of ways in which that group, party, or person can change a losing coalition into a winning coalition or vice versa."

Guinier's proposal, he continues, "would grant to each voter a number of votes equal to the number of contested seats in the district. Under this so-called cumulative voting procedure, the voter could distribute his or her votes among the candidates, spreading them about or casting them all for a single representative. Although animated by a desire to strengthen the Voting Rights Act and facilitate the election of minority representatives, this proposal need make no essential reference to race and would help any marginal group to organize, form coalitions and attain some power."

Paulos goes on to point out that such tinkering with election procedures is not unheard of, and then he shows that any system to apportion power will have "undesirable consequences and fault lines." "Not whether but how we should be democratic is the difficult question," he writes, "and an open experimental approach to it is entirely consistent with an unwavering commitment to democracy."
So, while Steven and I are very much in agreement on the current controversy—partisan gerrymandering is bad for our democracy and simply unrepresentative—it's worth remembering that there are many ways in which representation may take place. While I'm a believer in the general principle of "one person, one vote," I'm also sympathetic to the need to ensure that subgroups and regions, not simply the universal majority, get representation. And I acknowledge that these two views are at odds with one another. That is, the more we ensure that minorities (whether of the racial, partisan, regional, religious, cultural, etc.) are taken into the account, the less representative the system is of the wishes of the whole.