Republican Apocalypse … Now?
David Brooks joins the long line of commenters predicting the GOP's demise.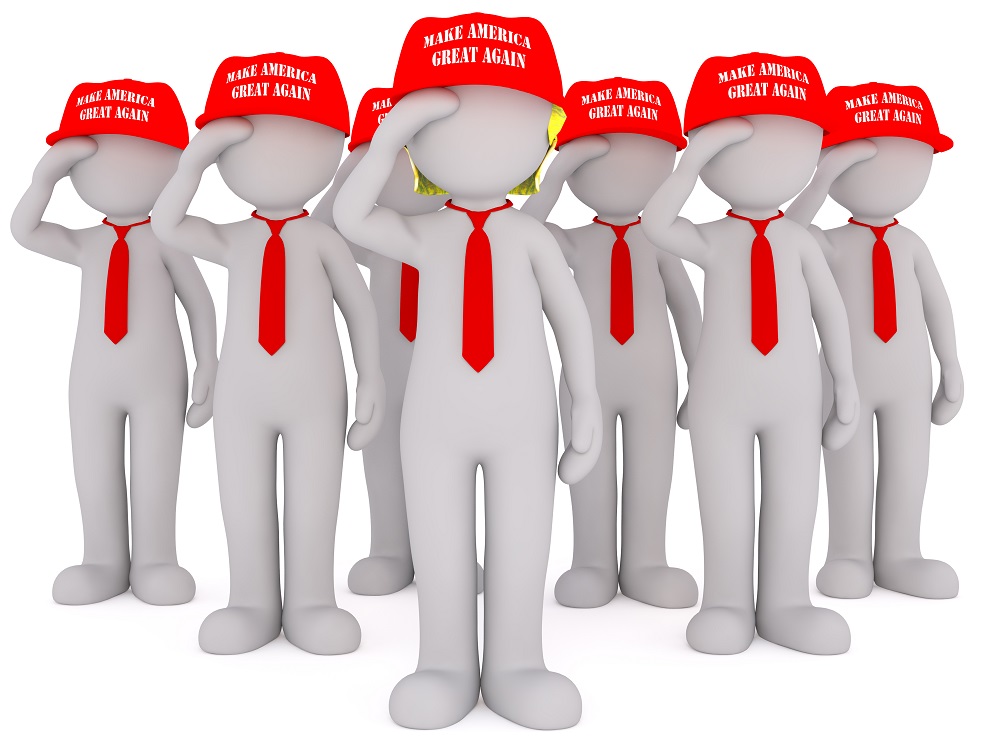 Analysts have been predicting the demise of the Grand Old Party for years, arguing that a base consisting of old, white people is unsustainable. The erstwhile Republican David Brooks says it's finally going to happen this time.
The generation gap is even more powerful when it comes to Republicans. To put it bluntly, young adults hate them.


In 2018, voters under 30 supported Democratic House candidates over Republican ones by an astounding 67 percent to 32 percent. A 2018 Pew survey found that 59 percent of millennial voters identify as Democrats or lean Democratic, while only 32 percent identify as Republicans or lean Republican.


The difference is ideological. According to Pew, 57 percent of millennials call themselves consistently liberal or mostly liberal. Only 12 percent call themselves consistently conservative or mostly conservative. This is the most important statistic in American politics right now.


Recent surveys of Generation Z voters (those born after 1996) find that, if anything, they are even more liberal than millennials.

—New York Times, "The Coming G.O.P. Apocalypse: Stumbling blind into the age of diversity."
This is somewhat different than, albeit related to, the rationale relied upon by previous doomsayers:
In 2002, John B. Judis and Ruy Teixeira wrote a book called "The Emerging Democratic Majority," which predicted electoral doom for the G.O.P. based on demographic data. That prediction turned out to be wrong, or at least wildly premature.
Folks like Judis and Teixeira argued that, as Hispanics increased their share of the population and old whites died off, the Democrats would gain the upper hand. Additionally, they saw an alliance forming between young voters, women, and racial minorities along ideological lines. While some of that indeed came to pass, the transformation was slower than projected because, as it turned out, Hispanics aren't a monolith and many of them found common cause with Republicans.
But Brooks nonetheless thinks the tide is turning and the result inevitable if the GOP doesn't radically shift its policies.
But it's hard to look at the generational data and not see long-term disaster for Republicans. Some people think generations get more conservative as they age, but that is not borne out by the evidence. Moreover, today's generation gap is not based just on temporary intellectual postures. It is based on concrete, lived experience that is never going to go away.


Unlike the Silent Generation and the boomers, millennials and Gen Z voters live with difference every single day. Only 16 percent of the Silent Generation is minority, but 44 percent of the millennial generation is. If you are a millennial in California, Texas, Florida, Arizona or New Jersey, ethnic minorities make up more than half of your age cohort. In just over two decades, America will be a majority-minority country.


Young voters approve of these trends. Seventy-nine percent of millennials think immigration is good for America. Sixty-one percent think racial diversity is good for America.

They have constructed an ethos that is mostly about dealing with difference. They are much more sympathetic to those who identify as transgender. They are much more likely than other groups to say that racial discrimination is the main barrier to black progress. They are much less likely to say the U.S. is the best country in the world.
Brooks is almost certainly right that these folks won't age out of tolerance. And, while the Republican Party seemed to grasp this and made some inroads with minority voters as far back as George W. Bush's "compassionate conservative" campaign, the base ultimately rejected that push with the Tea Party and, especially, Trump.
These days the Republican Party looks like a direct reaction against this ethos — against immigration, against diversity, against pluralism. Moreover, conservative thought seems to be getting less relevant to the America that is coming into being.


Matthew Continetti recently identified the key blocs on the new right in an essay in The Washington Free Beacon. These included the Jacksonians (pugilistic populists), the Paleos (Tucker Carlson-style economic nationalists), the Post-Liberals (people who oppose pluralism and seek a return to pre-Enlightenment orthodoxy). To most young adults, these tendencies will look like cloud cuckooland.
I'm a 53-year-old Southern white man, veteran, and voted for every Republican Presidential nominee from 1984 through 2012 and I think it sounds cuckoo.
Despite his dire predictions, Brooks is relatively optimistic:
The most burning question for conservatives should be: What do we have to say to young adults and about the diverse world they are living in? Instead, conservative intellectuals seem hellbent on taking their 12 percent share among the young and turning it to 3.


There is a conservative way to embrace pluralism and diversity. It's to point out that there is a deep strain of pessimism in progressive multiculturalism: blacks and whites will never really understand each other; racism is endemic; the American project is fatally flawed; American structures are so oppressive, the only option is to burn them down.


A better multiculturalism would be optimistic: We can communicate across difference; the American creed is the right recipe for a thick and respectful pluralism; American structures are basically sound and can be realistically reformed.
I no longer share Brooks' optimism, largely because I believe his premise wrong.
For years, I remained within the GOP fold even while criticizing the direction in which it was headed because I saw signs that reform was possible. While the grassroots of the party were going harder right, they continued to nominate saner voices like Bush, John McCain, and Mitt Romney at the top.
And, historically, we've maintained the current two-party system since 1860 because the parties were what political scientists call catch-all parties and naturally evolved over time in response to changing social mores and voter preferences. It seemed inevitable that the Republican Party would become more appealing to black and Hispanic voters and more tolerant on the social issues because, well, that's what had always happened. Indeed, I'd seen the Democratic Party go from virtually unelectable at the Presidential level to virtually unbeatable within my own time being keenly interested in politics.
It hasn't happened, though, and all the signs point in the opposite direction. The party has gone much harder right on some issues and doubled down on its nativism. And it's because Brooks is fundamentally wrong: American structures are broken and can't be realistically reformed.
The Senate and Electoral College, designed as a necessary compromise in turning a confederation of 13 independent states into a union, magnify the power of retrograde voters while substantially muting the forces Judis, Teixeira, and Brooks point to. And the Constitution is essentially not amendable, given a requirement to get consent of three-fourths of the states.
So, the 2016 election, which should have been a wake-up call for the GOP in which the most unpopular Democratic nominee in memory received 3 million more votes than the racist, xenophobic, misogynistic Republican wound up being instead a victory because of those broken institutions. And what should have been a wave election rebuking Trumpism in 2018 wound up being a mixed message, as Republicans actually increased their majority in the Senate—and thus solidified control over the judiciary.
The generational revolution to which Brooks points only matters if it's not concentrated in the major metropolitan areas. Otherwise, the red states stay red and there are enough of them to win the White House occasionally and stop progressive legislation via the Senate when they don't. And perhaps have a backstop on the Supreme Court for another generation just in case.