Republican Controlled States Making It Harder For Democrats To Vote
A pattern continues.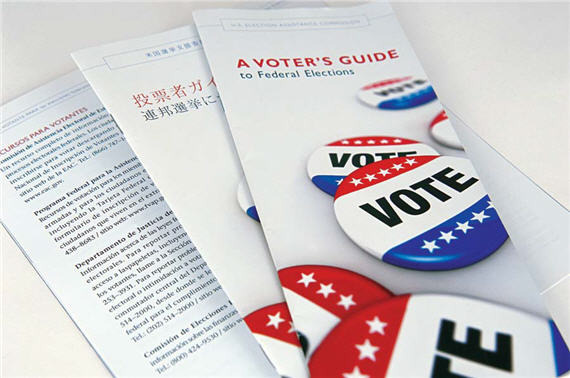 Republicans are continuing a pattern of making it harder for Democrat-leaning groups to vote.
NYT ("New G.O.P. Bid to Limit Voting in Swing States"):
Pivotal swing states under Republican control are embracing significant new electoral restrictions on registering and voting that go beyond the voter identification requirements that have caused fierce partisan brawls.

The bills, laws and administrative rules — some of them tried before — shake up fundamental components of state election systems, including the days and times polls are open and the locations where people vote.

Republicans in Ohio and Wisconsin this winter pushed through measures limiting the time polls are open, in particular cutting into weekend voting favored by low-income voters and blacks, who sometimes caravan from churches to polls on the Sunday before election.

Democrats in North Carolina are scrambling to fight back against the nation's most restrictive voting laws, passed by Republicans there last year. The measures, taken together, sharply reduce the number of early voting days and establish rules that make it more difficult for people to register to vote, cast provisional ballots or, in a few cases, vote absentee.

In all, nine states have passed measures making it harder to vote since the beginning of 2013. Most have to do with voter ID laws. Other states are considering mandating proof of citizenship, like a birth certificate or a passport, after a federal court judge recently upheld such laws passed in Arizona and Kansas. Because many poor people do not have either and because documents can take time and money to obtain, Democrats say the ruling makes it far more difficult for people to register.

Voting experts say the impact of the measures on voter turnout remains unclear. Many of the measures have yet to take effect, and a few will not start until 2016. But at a time when Democrats are on the defensive over the Affordable Care Act and are being significantly outspent by conservative donors like the Koch brothers, the changes pose another potential hurdle for Democratic candidates this year.

Republicans defend the measures, saying Democrats are overstating their impact for partisan reasons. The new rules, Republicans say, help prevent fraud, save money and bring greater uniformity to a patchwork election system.

"We think they're stoking these things for political gain," said Alex M. Triantafilou, the chairman of the Hamilton County Republican Party in Ohio. "We think there's an effort here to rally the Democratic base in a year that they otherwise wouldn't be rallying."

Democrats and other critics of the laws say that in the face of shifting demographics, Republicans are trying to alter the rules and shape the electorate in their favor. Those most affected by the restrictions are minorities and the urban poor, who tend to vote Democratic.
Let's stipulate that there can be multiple, overlapping motivations for rules changes. For example, while the evidence for the sort of voter fraud that could be stopped by showing ID cards and birth certificates is virtually non-existent, these restrictions are actually quite popular with the electorate. And there are both philosophical and fiscal reasons to support having a single Election Day or at least a compressed election period rather than a long polling period.
Indeed, there's a gut-level appeal to the "uniformity" and "fairness" arguments behind some of the recent measures:
Last year, the Supreme Court struck down a central provision of the 1965 Voting Rights Act. The decision allowed a number of mostly Southern states to alter their election laws without the prior approval once required from the Justice Department. A few weeks later, free of the mandate and emboldened by a Republican supermajority, North Carolina passed the country's most sweeping restrictions on voting.

The law did away with same-day voter registration and a popular program to preregister high school students to vote. It cut early voting to 10 days from 17, mandated a strict photo identification requirement that excluded student and state worker IDs and ended straight-ticket party voting, all of them measures that are expected to hurt Democrats, election law analysts said. The Supreme Court decision also cleared the way for Texas to institute its strict photo identification requirements.

In February, the Ohio legislature moved to reduce early voting by one week, do away with registering and voting on the same day prior to Election Day, and place new restrictions on absentee ballot application mailings. And a little over a week ago, the Wisconsin Legislature sent a bill to Gov. Scott Walker, a Republican, to shorten early voting, including cutting it altogether on weekend days.

In so doing, Republicans in these states shifted their strategy away from concerns over fraud, which have proved largely unfounded, to a new rationale that suggests fairness: uniformity.

Republican lawmakers and election officials argue that to avoid voter confusion and litigation urban and rural counties should follow the same rules.

In Ohio, the hodgepodge of rules raised concerns in both parties. Some urban counties had large enough budgets to send out absentee ballot applications and some smaller rural ones did not, election board directors said. Early voting hours also varied.

"Every voter should have an equal opportunity to vote under the same set of rules," said Ohio's secretary of state, Jon A. Husted, a Republican.

In addition, Gov. John R. Kasich, a Republican, signed a measure that cut "Golden Week," during which voters could register and vote on the same day, over concerns about potential fraud. He also signed a measure that shifts the responsibility of automatically mailing absentee ballot applications to the secretary of state, instead of counties. The law leaves it up to the Legislature to finance the process, which until now was paid for by counties.
There's an emotionally satisfying argument to be made for all of these measures. But, of course, there are pretty strong counterarguments to the notion that sparsely populated rural areas and densely packed urban areas should operate under identical rules. How to balance the perfectly reasonable goals of the appearance of equality with the practicalities of giving people a reasonable opportunity to vote is a legitimate debate.
That said, the pattern of states and localities where Republicans control the rule making enacting election rules that just so happen to disadvantage the demographic groups most inclined to vote for Democrats is too consistent and widespread to ignore. That the Republican party is increasingly reliant on older white voters makes these moves seem to be a rather transparent means of eking out a few more wins while they still can.
Are states controlled by Democrats altering the rules in ways that benefit their party, too? You bet.
As the battle over voting laws escalates, Democrats are intensifying their own efforts to make voting more accessible. Richard L. Hasen, an election law expert at the University of California, Irvine, said Democrats had their own partisan agendas for doing so since an expanded electorate would benefit mostly Democrats.

"It's not just out of the goodness of their own hearts they are doing this," he said.

In the last year Democrats have made a concerted effort to make it easier for people to sign up to vote, including online, and to cast their votes. This push has been most effective in Democratic-controlled states like California, Colorado and Maryland. But even other states, like Arizona and Kansas, have instituted online registration.
But, rather obviously, there's a difference here: one side is working to make it harder for their opponents to vote while the other is working to make it easier for their supporters to vote. Those aren't equivalent.
It's possible, I suppose, to take expanding the voting pool too far. Efforts to make it easier for non-citizens to vote, for example, would be suspect. Removing restrictions on prisoner, or even convicted felon, voting would reasonably be controversial. But simply expanding polling hours or simplifying the registration process with the goal of making it easier for those paid by the hour to cast their ballot are rather hard to paint as sinister. Making it more difficult, especially when do so redounds almost exclusively to the benefit of your political party, not so much.