Republican Donor Class Says Trump Is Falling Dangerously Behind In Fundraising
Top Republican donors are becoming increasingly concerned that Donald Trump isn't paying enough attention to raising money for the General Election campaign.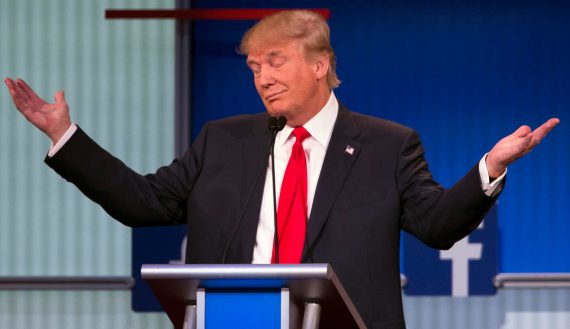 Meg Whitman, who ran as the Republican candidate for Governor of California in 2010, ripped Donald Trump at a closed-door meeting organized by Mitt Romney:
Meg Whitman, the chief executive of Hewlett Packard Enterprise, railed Friday against Donald J. Trump at a closed-door meeting of Republicans in Park City, Utah, comparing him to demagogues like Hitler and Benito Mussolini.

Ms. Whitman's comments came at Mitt Romney's annual retreat of Republican donors, leaders, and business executives, and were confirmed by three attendees who heard her remarks, but declined to be identified because the meetings were private. They were first reported by The Washington Post.

Ms. Whitman, according to one of the attendees, warned the gathering that if they compromised their principles this one time to win an important election, they would be entering fraught territory. "What happens next time?" she asked, implying it could lead to more compromises and more candidates like Mr. Trump.

Ms. Whitman, who ran for governor of California in 2010 and was Mr. Romney's 2012 finance co-chairwoman, was part of a group of major donors who mounted an effort to stop Mr. Trump during the primaries through paid advertising. She has been explicit about her disdain for him.

"I won't be voting for Donald Trump," she told CNBC in March. "Look at the comments he's made about women, about Muslims, about reporters. It's just repugnant."

The group at the retreat represented a mix of the Republican Party, divided between those who have said they cannot support Mr. Trump, like Mr. Romney, and those who have grudgingly endorsed him, like Paul D. Ryan, the House speaker, who was Mr. Romney's running mate in 2012.

If the attendees were mixed on Mr. Trump, they were decidedly bullish on the party's 2012 ticket. The two largest applause lines, said one of them, were statements that "Mitt Romney should have been president" and that "Paul Ryan should run for president."

For those unwilling to support Mr. Trump, there was talk of writing in Mr. Romney, simply not voting in the presidential race, or even supporting Gary Johnson, the Libertarian Party's nominee.

In an emailed statement, Mr. Trump dismissed Ms. Whitman's comments. "I never met Meg Whitman, but the job she is doing at Hewlett Packard is not a very good one," Mr. Trump said. "Based on the disastrous campaign she ran in California, and the tens of millions of dollars she wasted, I have learned a lot from her. I do not want her support."
Although Whitman herself apparently didn't say it directly, at least one of the other attendees reported that Whitman seemed inclined to back Hillary Clinton under current circumstances, although it's unclear if he means that she would publicly support Clinton or that she would vote for Clinton but not otherwise actively participate in the campaign. It's likely that we'll find that Whitman is not alone in her opinion. With the exception of people like Sheldon Adelson and Foster Fries, most of the big fundraisers and donors on the right tend toward the more moderate style of conservatism of Mitt Romney and Jeb Bush rather than Tea Party conservatism, and very few of them seem at all inclined to fall in line with the idea of a Republican Party led by Donald Trump. Aside from ideology, though, these are donors who are interested in winning elections, and it's clear that they believe that Trump is making decisions right now that threaten to doom not only his campaign in the fall but also down ballot races, especially for the Senate, where the GOP is in danger of losing the control that they regained only two years ago depending on what impact Trump has on races in swing states such as Ohio:
PARK CITY, Utah — Donald Trump is trying to win over a skeptical Republican donor class, but they've closed their wallets — and they're angry.

On Friday afternoon, at an exclusive Republican donor retreat here hosted by Mitt Romney, frustration boiled over. During an off-the-record question-and-answer session with House Speaker Paul Ryan, Meg Whitman, the billionaire Hewlett Packard chief executive officer, confronted the speaker over his endorsement of Trump. Whitman, a major GOP giver who ran for California governor in 2010, compared Trump to historical demagogues like Adolf Hitler and Benito Mussolini and wanted to know how the speaker could get behind him.

At another discussion session during the day, which featured top Romney alumni Stuart Stevens and Matt Rhoades, Ana Navarro, a Republican contributor and ubiquitous cable news personality, called Trump a "racist" and a "vulgarian and a pig who has made disgusting comments about women for years." (Neither Whitman nor Navarro would comment.)

Even Ryan, who has endorsed Trump despite criticizing his behavior, joked during his presentation on Friday that in a recent conversation with magician David Copperfield, he said that he wished he could make him disappear.

The incidents, which were relayed by three sources who were present — one of whom described them as "shocking" — illustrates the intense anger coursing through the GOP donor community. Far from letting go of their white-knuckled opposition to Trump, they're stewing in it.

"I've been on the record with a statement saying I'm not supporting Donald Trump, and that hasn't changed in four months," said Whitman, who helped bankroll TV ads against Trump during the Republican primary. She wouldn't reveal which candidate she'd back in November, and said she didn't intend to make a decision until later on.

"Right now, I'm undecided, and undecided means I'm not doing anything," said John Rakolta, a Michigan construction company executive who was a top Romney fundraiser. "I haven't seen that 'pivot' that we'd need to see from someone who's capable of being the next president of the United States."

The annual Experts and Enthusiasts summit, which brings together Romney's expansive network of deep-pocketed contributors, served as a powerful reminder of the high hurdles Trump faces in courting the Republican money crowd. This week, Trump slashed his original fundraising expectations, saying he no longer believed he needed to raise $1 billion. Some of his top fundraisers think he'll struggle to top $300 million, a figure that's less than a third of what Romney raised in 2012 and a small fraction of what Hillary Clinton is expected to bring in.

Some are convinced the situation is growing increasingly bleak. In an interview here, Spencer Zwick, Romney's former finance chair and one of the most prominent fundraisers in Republican politics, said that some of Romney's donors would stay on the sidelines — and that others would even give to his Democratic opponent.

"I'm sure you'll see some that end up supporting Secretary Clinton," he said.

The interest in Clinton, however peripheral, was on display this week. On Friday, Republican pollster Frank Luntz stood before the approximately 250 attendees and asked them who they planned to vote for. Trump got the most claps, but Clinton got a few as well, said two people who were in the room. One person clapped loudly for Libertarian nominee Gary Johnson.

Even among those who say they'll support Trump, though, there's little appetite to give. Frank VanderSloot, an Idaho billionaire who oversees a nutritional supplement company, said he was behind Trump but hasn't donated because the New York businessman has so far succeeded in running a low-budget campaign that's centered on free media attention.

"Who knows if he'll need our money?" he asked.

Many here are shifting their attention to down-ballot races. Zwick, who was courted by a number of 2016 GOP contenders and met with Trump, has been tapped to run Ryan's finance operation. Rakolta said he'd also become heavily involved in the battle to protect the House majority and recently hosted a fundraiser to benefit Ryan. VanderSloot, meanwhile, said he planned to meet with Romney over the weekend to discuss Senate races.

"We are doing everything we can to put our money in the right places and to save the Senate," VanderSloot said.

And while they may be reluctant to admit it, some are starting to think about the next presidential election — in 2020.
Even those donors who have not ruled Trump out completely are getting worried that Trump isn't focusing fundraising to the extent that he needs to and that this will put both his campaign and down-ballot races in danger in the fall:
Republican fund-raisers are beginning to fret that Donald Trump does not comprehend the magnitude of the challenge before him, warning that if he fails to execute the basic tasks of fund-raising during a critical six-week stretch, he will find himself badly outgunned this fall.

Over barbeque dinners and en-suite receptions on the grounds of this five-star retreat nestled in the Wasatch Mountains, associates of Mitt Romney's $1 billion presidential campaign swapped concerns with one another that Trump is failing to play catch-up quickly enough. There is hope that Trump can reverse fortunes with a fund-raising swing that began this week, but Republicans worry that he is poised to squander the weeks leading up to the GOP convention.

Obvious bundlers haven't even been contacted. A small-dollar operation is nonexistent. And the fund-raising agreement with the Republican National Committee continues to wobble.

"The fund-raising intensity is missing — totally," said John Rakolta Jr., a former national finance chair for Romney who said he is flabbergasted to not have received a single phone call from Trump's team. "Who is driving the bus?"

Republicans here stress that the alarm bells have not yet rung: Trump still has five months to assemble a finance team, and several here said they could see themselves coming to his aid if he displayed more maturity as a candidate and tamped down his controversial rhetoric. And given Trump's command of media, more bullish fund-raisers predict that he could survive even a $500 million fund-raising gap against Hillary Clinton's experienced operation.

Spencer Zwick, the much-praised Republican finance operative who led Romney's efforts, said raising $500 million was doable. But Zwick, like several other Republican fund-raisers here, asserted that Trump needed to significantly quicken his fund-raising clip before the convention, after which he will have little time for fund-raising.

And in advance of an event in his hometown of Boston on Monday, Zwick, like Rakolta, said he had received zero contact about it.

"You've got to have an army of people who are out there working for you, and I don't know that they do yet," said Zwick, recalling how Romney raised $100 million in this month four years ago. "I don't know how much Donald Trump wants to spend time raising money.

Yet the contrast with the Romney fund-raising juggernaut was on jarring display at the Education and Enthusiasts ideas conference here this week, as Romney's vast orbit of business partners, friends from the 2002 Winter Olympics and political allies roamed the lodge. The refrain, echoed again and again in hushed conversations on the sidelines: Romney built this over decades. Trump has half a year.

And his campaign does not seem urgent, although he would need to raise more than $80 million a month to meet the $500 million mark. After missing out on the windfall of low-dollar cash that could've come Trump's way after each of his primary victories, his campaign is not set to launch a low-dollar digital fund-raising operation until around the Republican convention in mid-July, according to a person with knowledge of the plan.

Trump's campaign didn't respond to a request for comment for this story Friday afternoon. But Trump's national finance chairman, Steven Mnuchin, told CNN's Erin
Burnett on "OutFront" in an interview that aired Friday that the majority of the funds will come in during "the latter half of the summer."

"You have to understand we literally just started this in the last four weeks," said Mnuchin, who didn't disclose the amount of money that the campaign has raised so far.

Meanwhile, the Trump high-dollar fund-raising operation is showing signs of duress, people here say. A joint fund-raising agreement was hatched last month to split proceeds between the RNC and the Trump campaign. And while the first joint fund-raisers have gone well, RNC chair Reince Priebus has phoned some associates expressing frustration that Trump wants to direct dollars to his own ambitious plans, according to a person who has spoken directly with Priebus, which includes quixotic bids to win deep blue states like California and New York.
As many pundits have observed, notwithstanding the fact that he has met with Republican National Committee and Congressional officials Trump still seems to want to stay in the mode he has been in for the past year, which primarily involves making speeches to supporters, appearing on cable news, and tweeting from the comfort of his office in Trump Tower. All of that may have worked during a primary in which opposition to him was divided up among sixteen other candidates, but it's not likely to work in a General Election where he only has one opponent, but an opponent who promises to be well-funded by donations that could total as much as a billion dollars. In addition to the advantages this gives Clinton to put together a ground campaign and get out the vote effort, not to mention a competent media campaign. In reality, fundraising for the General Election is something that should have started months ago if not earlier. The longer he delays, the harder it will be, and if he continues to alienate the Republican donor class it will become even harder.