Republican National Committeewoman: Obama Is A Muslim
The "Obama is a Muslim" myth isn't just a conspiracy theory for the birther crowd, apparently:
The Republican ranks have, by and large, cautiously avoided weighing in on recent poll numbers showing that a healthy portion of the American public believes that President Barack Obama is a Muslim.

Wary of the cultural sensitivities such discussions entail, the de facto response seems to be the one offered by Senate Minority Leader Mitch McConnell (R-Ky.) on Sunday: "The president says he's a Christian," McConnell said on NBC's "Meet the Press." "I take him at his word. I don't think that's in dispute."

There have been a few notable exceptions. Congressional candidate Tom Ganley said last week that he did not have "a position on whether he's a Muslim" only to walk back his remarks amidst the uproar. No one in the official GOP tent, however, has fully embraced the rumor. Until now.

Last Friday, a Republican National Committee woman Kim Lehman, responding to an article about the polls in Politico, accused the publication of trying "to protect Obama" by denying his true religious heritage.

"BTW he personally told the muslims that he IS a muslim," wrote the Iowa RNC member. "Read his lips."
Here's the tweet itself which, somewhat surprisingly, Lehman has not deleted: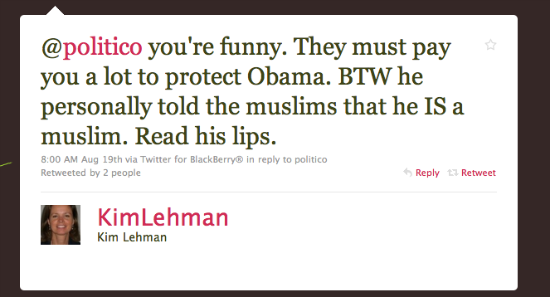 Of course, Obama said no such thing:
Obama's speech in Cairo did include discussion about his father's Muslim faith. But the president also made it abundantly clear, both then and many times since, that he was a practicing Christian. Asked why she didn't believe the empirical and overwhelming evidence, Lehman replied:

"Again, going back to his speech… he would have said I'm a Christian and I'm from the Christian religion and we can work together. It didn't appear to me he said Christianity was part of his religion."
But, of course, facts don't matter to people like Lehman. One wonders how long she'll remain on the RNC.