Republican Obsolescence: Ideas, Not Technology
NYT Magazine asks "Can the Republicans be Saved From Obsolescence?"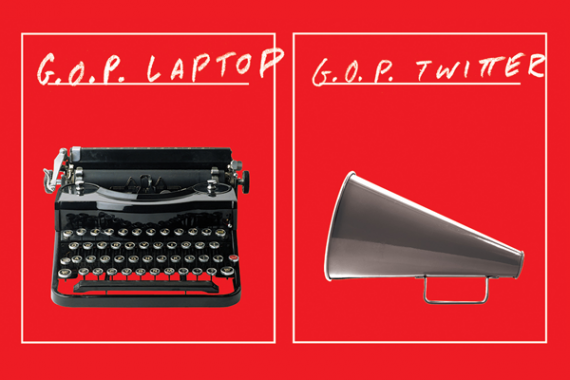 Robert Draper has a fascinating piece in the NYT Magazine titled "Can the Republicans be Saved From Obsolescence?" It details "the ways in which Democrats have overwhelmed Republicans with their technological superiority."  Based on a presentation by Red Edge, a conservative software company, the piece points out things like:
"1.25 million more young people supported Obama in 2012 over 2008."
[W]hile the Romney campaign raised slightly more money from its online ads than it spent on them, Obama's team more than doubled the return on its online-ad investment.
"Obama was the very first candidate to appear on Reddit. We ask our clients, 'Do you know what Reddit is?' And only one of them did.
Then we show them this photo of Obama hugging his wife with the caption 'Four more years' — an image no conservative likes. And we tell them, 'Because of the way the Obama campaign used things like Reddit, that photo is the single-most popular image ever seen on Twitter or Facebook.' Just to make sure there's plenty of salt in the wound."
Romney's senior strategist, Stuart Stevens, may well be remembered by historians, as one House Republican senior staff member put it to me, "as the last guy to run a presidential campaign who never tweeted."
While Romney's much-hyped get-out-the-vote digital tool, Orca, famously crashed on Election Day, Obama's digital team unveiled Narwhal, a state-of-the-art data platform that gave every member of the campaign instant access to continuously updated information on voters, volunteer availability and phone-bank activity.
There's much more of that in the piece, which I commend to you in its entirety. There's little doubt that Team Obama has been, going back to the 2008 campaign, light years ahead of any political team—of either party—on mastering technology and social media.  It's a substantial advantage that the Republicans would do well to seek to overcome.
But it's a distraction. If Romney and Obama had switched campaign teams—databases, strategists, money managers, bloggers, etc.–it's possible that Romney would have narrowed the gap. He may well have carried Virginia and Florida, two highly competitive states that traditionally lean Republican and where the contest was close. But Obama would have still won the election easily.
Former Houston Oilers and New Orleans Saints coach Bum Phillips famously remarked of Don Shula, the legendary coach of the Miami Dolphins, "He can take his'n and beat your'n and take your'n and beat his'n." Obama had that sort of advantage over Romney this cycle.
For one thing, Obama's simply a much better politician. He's a natural schmoozer who connects well with large crowds. Romney, well, is not.
Beyond that, though, the Republican Party is still running on a platform designed to solve the problems of the Carter Administration. The world has changed but the Republican message hasn't.
Democrats aren't dominating Republicans among young voters because they're more savvy at deploying Twitter, Facebook, and Reddit but because they're proposing policies that appeal to young voters. While Republicans are fighting against gay rights and slashing funding for schoolteachers and student loans in the name of fiscal discipline, Democrats are offering free healthcare and proposing funding programs that benefit young people by increasing taxes on rich, old people.  More clever hashtags aren't going to solve that problem. Nor is putting Mitt Romney—or Marco Rubio—on Reddit.
Nor, I confidently predict, will Republicans close their 90 point gap among black voters by evoking the name of a rapper who's been dead fifteen years or their 70 point gap among Hispanics by trotting out Marco Rubio to give a message that Newt Gingrich could have given when "Thug Life" was in theaters.
By all means, fix the delivery system. But it won't help if it's being used to deliver the same message.