Republican Party's Future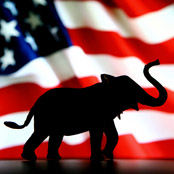 My Palin Derangement Syndrome post got a number of thoughtful responses, especially for a weekend post.
My fellow Jacksonville State alumnus Stacy McCain, a Palin fan, thinks the internal debate on her role in last week's defeat and her future as a Republican Party standard bearer is one we should have. He objects strenuously, though, to the tone of some of her opponents. His difference with me is that he thinks I place too much emphasis on foreign policy wonkery, both because the wonks are often wrong and because foreign policy debates are a moving target and a dicey strategy for building a winning coalition.
Domestic politics is permanent. The economy is always relevant. The ceaseless growth of the Washington bureaucracy continues to intrude into the lives of ordinary Americans. The Department of Education is still an unconstitutional travesty that ought to be abolished. Social Security is still a disastrous Ponzi scheme. The entitlement mentality is still an insult to the Tocquevillean spirit of the nation. These arguments may not be as popular in the short term as pointing at a mustachioed foreign dictator and screaming "Hitler!" but they have the basic virtue of being true.
From a center-left perspective, Kevin Drum believes more of my fellow conservatives should share these concerns about Palin but, alas, he thinks I'm clinging to an old view of Republicanism, writing, "For a movement that decided long ago that slogans and shibboleths mattered while serious policy discourse was merely a distraction, a candidate who showed no interest in domestic policy before the age of 44 is the perfect public face."
Mark Lilla expands on that view at some length in a must-read WSJ piece, "The Perils of 'Populist Chic.'"
For the past 40 years American conservatism has been politically ascendant, in no small part because it was also intellectually ascendant. In 1955 sociologist Daniel Bell could publish a collection of essays on "The New American Right" that treated it as a deeply anti-intellectual force, a view echoed a few years later in Richard Hofstadter's influential "Anti-Intellectualism in American Life" (1963).

But over the next decade and a half all that changed. Magazines like the Public Interest and Commentary became required reading for anyone seriously concerned about domestic and foreign affairs; conservative research institutes sprang up in Washington and on college campuses, giving a fresh perspective on public policy. Buckley, Irving Kristol, Nathan Glazer, Daniel Patrick Moynihan, Gertrude Himmelfarb, Peter Berger, Jeane Kirkpatrick, Norman Podhoretz — agree or disagree with their views, these were people one had to take seriously.

[…]

So what happened? How, 30 years later, could younger conservative intellectuals promote a candidate like Sarah Palin, whose ignorance, provinciality and populist demagoguery represent everything older conservative thinkers once stood against? It's a sad tale that began in the '80s, when leading conservatives frustrated with the left-leaning press and university establishment began to speak of an "adversary culture of intellectuals." It was a phrase borrowed from the great literary critic Lionel Trilling, who used it to describe the disquiet at the heart of liberal societies. Now the idea was taken up and distorted by angry conservatives who saw adversaries everywhere and decided to cast their lot with "ordinary Americans" whom they hardly knew. In 1976 Irving Kristol publicly worried that "populist paranoia" was "subverting the very institutions and authorities that the democratic republic laboriously creates for the purpose of orderly self-government." But by the mid-'80s, he was telling readers of this newspaper that the "common sense" of ordinary Americans on matters like crime and education had been betrayed by "our disoriented elites," which is why "so many people — and I include myself among them — who would ordinarily worry about a populist upsurge find themselves so sympathetic to this new populism."
Stacy jokes that Jax State grads shouldn't be siding with the elites. Recently, Ace had a lengthy diatribe against self-anointed elites in a memorable comments thread. But Lilla identifies the elitism with which I side: a meritocratic, intellectual one rather than one of birthright and pedigree. A movement built on know-nothingism — indeed, outright hostility to higher education — is bound to fail.
The Republican Party will be consigned to permanent minority status if it continues down its present course. It is increasingly becoming a white, Southern party. Even though I'm both white and Southern, it's obvious to me that we have to expand our appeal beyond hard-core Evangelicals and anti-elitists that to get back Virginia, North Carolina, the Midwest, and West.
I'm not advocating turning the GOP into a centrist party. For reasons John Hawkins identifies and others, it won't work. Rather, I'm calling for a return to Ronald Reagan's vision of a Big Tent that offers enough to attract a broad coalition. It's not 1980. We can't simply dust off Reagan's platform. The bottom line is that, however unappealing it is to die-hards, Social Security and the Department of Education are here to stay.
Quite likely, so is legal abortion. Roe v. Wade was seven years old when Reagan ran. When Bill Clinton came to office after twelve years of Republican control of the White House, it was twenty years old. George W. Bush is leaving, after eight more years of Republican control, with Roe still largely intact and 36 years old. The younger generation, then, have grown up with abortion as a simple fact of life and have no interest in changing that.
Nor is the boogeyman of homosexuality going to do it. Despite another string of victories last Tuesday for anti-gay marriage amendments, the fact of the matter is that for those under 50 — certainly, under 40 — homosexuality is normal. While a majority still oppose granting gays the right to enter into an agreement with the name "marriage," most support gay unions under a less sacred label. A decade from now, the debate will seem silly and running on the issue will further marginalize the party.
A majority Republican Party, then, is going to have to figure out a way to keep social conservatives without abortion and gays as shibboleths and without alienating libertarian-minded right-of-center voters. It's inconceivable how it's done so long as the Democrats are winning among college graduates.
A return to fiscal sanity is perhaps the best rallying cry in the short term, one that'll be made easier in opposition. (After all, it'll be Democratic priorities that we can be frugal about rather than our own.) Beyond that, though, there will need to be a lot of spade work in rebuilding an intellectual rationale for conservatism beyond cutting taxes and anti-elitism.
Note: An outline form of this post was inadvertantly published earlier. My apologies for the confusion.