Republican Presidential Race A Dead Heat
The race for the Republican nomination is as tight as ever, and so far nobody seems to be emerging as a clear front-runner.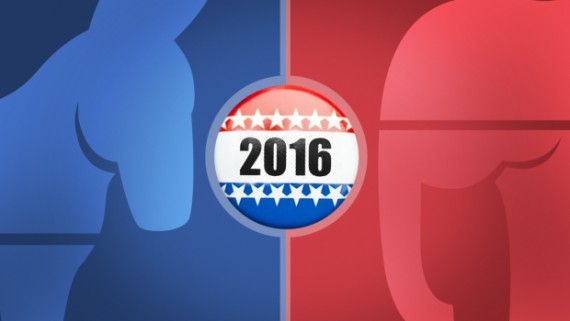 The race for the Republican nomination is as tight as ever, with a new Quinnipiac national poll showing five candidates tied for first place and several other candidates on their heels in a race that seems unlikely to see any significant breakthroughs until debates begin in August:
The Republican field for 2016 is growing increasingly top-heavy, with no clear front-runner emerging in the latest nationwide Quinnipiac University poll released Thursday.

Grabbing 10 percent apiece among Republican voters are former Florida Gov. Jeb Bush, Ben Carson, former Arkansas Gov. Mike Huckabee, Florida Sen. Marco Rubio and Wisconsin Gov. Scott Walker.

Kentucky Sen. Rand Paul received 7 percent, Texas Sen. Ted Cruz 6 percent, Donald Trump 5 percent, New Jersey Gov. Chris Christie 4 percent. Ohio Gov. John Kasich and former Hewlett-Packard CEO Carly Fiorina each received 2 percent.

"Safe to say, the 2016 Republican presidential primary is anyone's race. With no front-runner and identical numbers for the top five contenders, it's a horse race which can only be described as a scrambled field — at least so far," said Tim Malloy, assistant director of the poll.

Asked which candidate they would definitely not support, 21 percent responded that they would not back Trump. The next closest was Bush at 17 percent, and Christie was close behind at 15 percent.

Among all voters, 46 percent say Paul is honest and trustworthy, tops among all candidates, though just 26 percent of Democrats responded that way.
This poll shows a closer race than some other recent national polls, and the polling average reflects that by putting Bush, Walker, and Rubio at the top while candidates such as Huckabee, Carson, Paul, and Cruz make up what would roughly be called the middle of the pack. Left at the bottom are candidates like Chris Christie, Rick Perry, Rick Santorum, and Carly Fiorina, all of whom are averaging between five percent and one percent in the polls right now. Most immediately, of course, this is important due to the fact that Fox News and CNN have announced that the first Republican debate on August 6th would only be open to the candidates who are in the top ten in the polling average in the most recent polls. Right now, that would mean declared and potential candidates such as Fiorina, Rick Santorum, Bobby Jindal, Lindsey Graham, and New York Governor George Pataki, who entered the race today, would be excluded. Unless these candidates can find a way to break out of the pack, this will continue to be the case heading through August and the lack of media exposure is likely to further doom their campaign. Exclusion from the first debates, combined with a bad performance at the Iowa Straw Poll later in the month, could go a long way toward winnowing out the Republican field before we even get to Labor Day.
National polls don't tell us the full story of the race for the nomination, of course. Polling at the state level is generally far more informative, especially polling in the early states such as Iowa, New Hampshire, and South Carolina. There isn't really any news to report on that front, though, because there hasn't been any new polling in any of these states since the beginning of May. So, while there may well have been movement in Iowa, New Hampshire, or South Carolina, we don't really have any way of knowing that. Given that, these national polls, which are generally easier for polling companies to conduct for logistical reasons, are the best guide that we have to what's going on in the Republican race and what they are telling us right now is that the Republican race is closer than we've seen in previous election cycles, and it's entirely possible it will stay that way until the debates start.